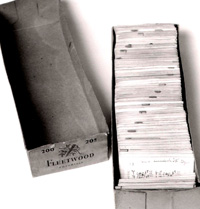 Fleetwood \'cigarette-carton file, \' labeled \"B Inscr. Evans\' order\" containing Kober\'s annotated transcriptions of ca. 1800 Knossos Linear B tablets. Dimensions: l. 27 cm; h.4.7 cm.; w. 8 cm. PASP archives. Photograph courtesy of Chris Williams, UT Classics.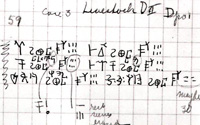 Entry slip for the tablet now known as Knossos Ce 59. Dimensions: l. 7.6 cm.; h. 5.1 cm. PASP Archives. Photograph courtesy of Chris Williams, UT, Classics.

Alice Elizabeth Kober. Courtesy of L.A. Voight.
American Classicist and Archaeologist, Alice Kober received her Ph.D. from Columbia University in Classics in 1932, having already begun her teaching career at Hunter College. She joined the faculty of the Brooklyn College classics Department in 1932 and, at her death in 1950, was Associate Professor there. Although Kober excavated in Greece with the American School (1939), her main interest was in decoding the Minoan script. To this end she studied many ancient languages and received a Guggenheim Fellowship which allowed her to travel to Crete to study the inscriptions at Knossos. She also traveled to England, where she consulted the files of Sir Arthur Evans, and studied with John Myers at Oxford. Her premature death cut short her dream of deciphering the linear script.
Author of biography: Laura A. Voight
Includes bibliography? No
Download biography (in PDF format)