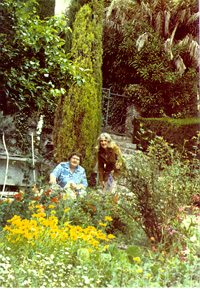 Claireve Grandjouan, 1970.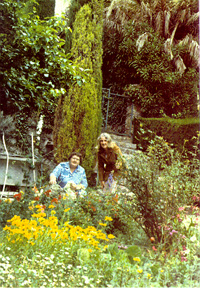 Claireve and sister Fleur in the garden of the family house in Mongins, France, 1972.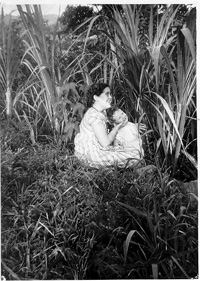 Claireve and sister Fleur on Guadeloupe, 1940.
French born Classical archaeologist and art historian who lived in many countries during her formative years. A stay in Beirut as a child introduced her to archaeology and excavations by Maurice Dunand at Byblos. With her perapetitic parent-educators, she spent WW2 in Martinique, the U.S. and Switzerland. After the war the family immigrated to the U.S. and she attended high school on Long Island after which she entered Bryn Mawr (1947), graduating in three years. She was accepted at the American School of Classical Studies at Athens, excavated in the Agora. After one year, back at Bryn Mawr to begin graduate study, returning to Athens to work on her dissertation, earning her degree in 1955. The topic:"Plastic Lamps and Terracottas from the Agora," appeared as Agora VI. Homer Thompson convinced CG to move to New York to assume the General Secretaryship of the Archaeological Institute of America (1962-68), which made her editor ex-officio of the Bulletin. From 1963-68 taught at New York University and then joined the faculty of Hunter College in 1968, becoming chair of the Dept. of Classics in 1969. She reworked its curriculum, hired new faculty, developed a vast slide collection, and taught 5 to 6 courses a year on the archaeologies of the entire ancient world. From 1968 on, she was in demand as a public speaker, lecturing to audiences at major museums. Stimulating, amusing, and well informed on a wide variety of area studies, she was the consummate educator and also indulged in fiction writing.
Author of biography: Marjorie Susan Venit
Includes bibliography? Yes
Download biography (in PDF format)