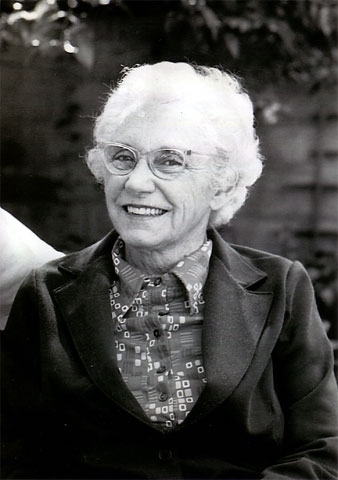 Isabelle Kelly Raubitschek. Courtesy M. Raubitschek Hopmann.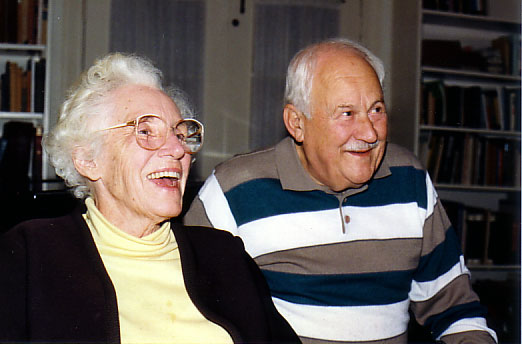 Isabelle and husband Professor.
American born Classicist and art historian who became an Associate Professor of Art at Stanford University and was a collaborator with her Classics professor husband Anton Raubitschek. Her early schooling was in Boston, the city of her birth, but she attended college at Barnard in New York City, A.B. 1935, studying under the archaeologist Margarete Bieber, who would remain a life-long friend. She went on to graduate studies in the Department of Art and Archaeology at Columbia University where her dissertation advisor was William Bell Dinsmoor.. In 1936 she attended the Sorbonne, studying archaeology under Charles Picaard, then studied at the American School of Classical Studies in Athens in 1937-38 and, while in Athens, met Toni Raubitschek, her future husband. She received her Ph.D. in 1943 from Columbia for her dissertation on "Ionicizing-Doric Architecture." Toni Raubitschek migrated to the U.S. and the couple married in 1941 while they both had jobs in Princeton. Later he was hired by Yale and the couple moved to Connecticut and had three children. Their fourth child was born in Princeton after Toni joined its faculty, where he taught in the Department of Classics for 16 years. In 1952, Isabelle became the head of the Latin Department at Miss Fine's School in Princeton and taught there until moving to California in 1963, where she joined the faculty of San Francisco State University, becoming head of its archaeology Department. In 1966 she joined the faculty of Stanford University as a lecturer in the Department of Art, being promoted to Associate Professor in 1974. She also became a curator of ancient art at the Leland Stanford Museum and published the Hearst Hillsborough vases (1969). Between 1971 and 1975 she made frequent trips to Greece and found in the excavations at Isthmia near Corinth the source for her major professional accomplishment as an archaeologist. At the invitation of Oscar Broneer and his successor Elizabeth Gebhard, she researched the metal objects other than armor and coins, found at this excavation at the Sanctuary of Poseidon at Isthmia. She returned to Corinth for a lengthy stay in 1984 to continue her on-site research. She died in 1988 shortly after completing the manuscript for her book on the metal sculpture, vases, tools, jewelry and horse trappings found there.
Author of biography: P. Terrence Hopmann
Includes bibliography? Yes
Download biography (in PDF format)