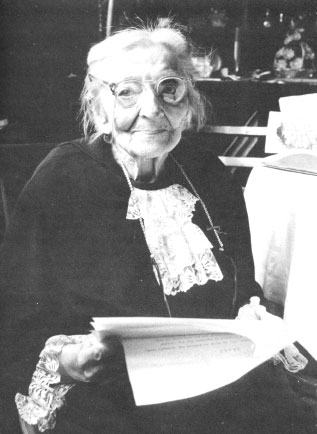 Margarete Bieber in 1971, by Eric Magnuson.
A distinguished classical art historian, Margarete Bieber (1879-1978) was born in 1879 in present day Poland. She attended school locally, studied classics in Berlin and Bonn, and in 1907 completed her doctoral studies. Bieber temporarily resided in Rome and published several museum collections. Winning a prestigious travel fellowship, she visited ancient sites until 1914, and in 1915, during World War I, she worked for the Red Cross in Berlin and conducted archaeological seminars in Berlin's Archaeological Department. Some of her important publications date to this period—treatises on theater masks, the portraitures of Socrates and Aristophanes, the costume of tragedy, and Amazon chitons.

With resolve, Bieber desired to be appointed professor at a German university. Although discriminated against because she was a woman, in 1919, she was to realize this dream. Later due to government financial exigencies her university position was cut, but from 1927 she continued to direct the Archaeological Institute at the University of Giessen. Continuing her research devoted to Greek clothing and ancient theaters, she was appointed associate professor—the highest rank possible for a woman. From 1931-1932 she traveled, and in 1932 adopted a daughter, Ingeborg (Inge).

Because she was of Jewish ancestry, the "cleansing" of the universities subjected her to a forced retirement in 1933. She sold her possessions, left Germany for Oxford, and in 1934, she traveled to the U.S. where she taught at Barnard College, before joining Columbia University's Department of Fine Arts and Archaeology. An energetic professor, Bieber also sustained an impressive publication record. In 1939 she became an American citizen and wrote her seminal work, The History of the Greek and Roman Theater.

Bieber officially retired from Columbia in 1948, but taught in the Columbia School of General Studies as well as at Princeton University. Having been awarded many honors, she continued to publish. Until her death in 1978, Margarete Bieber was a celebrated scholar and devoted teacher who bequeathed a rich and lasting legacy of archaeological scholarship.

Author of biography: Larissa Bonfante and Matthias Recke
Includes bibliography? Yes
Download biography (in PDF format)