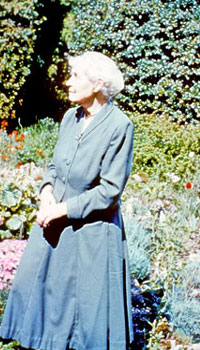 Reproduced by permission of J.K. Aldred.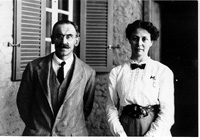 Nina M. Davies and husband, Norman de Garis Davies.
Archaeological artist, born in Greece of Scottish parents, who trained as an artist in London. She met her future husband, the archaeologist Norman de Garis Davies in Alexandria Egypt in 1906. Although he worked for George A. Reisner at Giza and James H. Breasted between 1905 and 1907, de Garis Davies accepted a position with the Metropolitan Museum of Art as head of the graphic section of their new expedition to Egypt in 1907 and Nina, now married to him, began painting as soon as the couple settled in Thebes, assisting her husband in the tombs. From 1913-14 Nine as a paid part-time worker for the Metropolitan, but the wealthy English Egyptologist Alan H. Gardiner recognized the value of the paintings she was producing and acquired as much of her paintings as possible between 1909 and 1929. Many of these appeared subsequently among the 104 published in the two volumes of Ancient Egyptian Paintings, sponsored by Gardiner and J. D. Rockefeller, Jr, a project that was completed in 1936. Nina's paintings enjoyed public exhibitions in London, Bruxelles and Oxford. Also from about 1920 to the early 1930's Nina produced numerous paintings for the Metropolitan Museum of Art, which today has over 120 of her works. In the days before color photography, such artists were necessary for any expedition desiring to publish ancient wall paintings. Nina is specifically credited for plates in publications such as The Tomb of Amenemhet and The Tomb of Huy. The couple worked for the Egypt Exploration Fund of London's Theban Tomb Series, resulting in five volumes and later Nina contributed plates for the Mond Excavations at Thebes publication of the tomb of Ramose. After her husband's death in 1941, Nina organized his objects, books and papers and reorganized the material for his publication of the Temple of Hibis in el-Kharga Oasis III. She also aided Gardiner in his editing of Seven Private Tombs at Kurneh. She painted facsimiles of all sides of the wonderful box of Tutankhamun a masterpiece of miniature painting, the publication appearing in 1962.
Author of biography: Nigel Strudwick
Includes bibliography? Yes
Download biography (in PDF format)