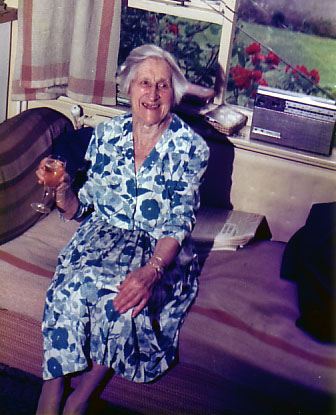 Sylvia Benton at home. Courtesy of H. Waterhouse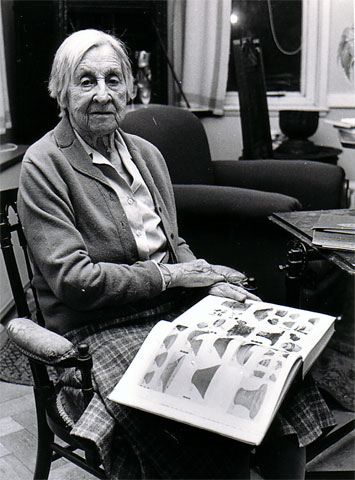 Sylvia Benton with her book. Courtesy of H. Waterhouse.
Born in India of British parents, Sylvia Benton was educated in England and read Classics at Girton College, Cambridge from 1907-10. She then gained a Teachers Training Certificate and taught in several schools until travel in Greece in the 1920's awoke an enthusiasm for archaeology. After helping with Heurtley'sexcavations in Macedonia she settled in Oxford where Prof. J. L. Myres encouraged her to enter Lady Margaret hall and read for the Diploma in Classical Archaeology which she obtained in 1932, followed by a B. Litt in 1934. Working in Greece in 1929 and 1930, she explored the Ionian Islands and discovered the Astakos cave, which she dug in 1932, and also the important Minoan site in Kythera. In Ithaca, once again working with Heurtley, she investigated a collapsed cave on Polis Bay, whose floor was submerged. After pumping she successfully excavated this stratified site, finding artifacts from the Mycenaean through Dark age to late classical times. After World War II, during which she performed war work and was injured in the blitz in London, she returned to Greece to prepare for the publication of the Astakos excavation, but severe earthquakes in Ithaca in the early 1950's led to extensive salvage and restoration work in two museums as well. Although known for her Greek archaeology, Sylvia Benton also excavated in Scotland at the Sculptor's Cave at Coresea on the Moray Firth, work which improved knowledge of the history of the Bronze Age in northern Europe.
Author of biography: Helen Waterhouse
Includes bibliography? Yes
Download biography (in PDF format)