With the Humanitarian Innovation Initiative at the University's Watson Institute, Dr. Adam Levine and colleagues hope to improve the effectiveness and accountability of disaster preparedness, humanitarian response and post-emergency reconstruction through scholarship.
From the horror of the Ebola epidemic in Liberia to the urban slums of Bangladesh, where annual springtime rains bring cholera and dehydration to thousands of children, Dr. Adam Levine has worked to foster collaboration between two well-meaning fields that are nevertheless often culturally at odds: relief and research. A medical veteran of those crises and others, Levine believes that academic rigor and perspective can make humanitarian work more effective and evidence based, and that aiding disaster relief can engage academia directly in saving many thousands of imperiled lives.
Now, through the Humanitarian Innovation Initiative (HI2) that Levine has founded at Brown University's Watson Institute for International and Public Affairs, he hopes to greatly expand the opportunities for students to learn, researchers to study, and humanitarians to heal together.
"Getting these two very different cultures to work together is not going to happen naturally, but it can still happen with some dedicated work and advanced planning," said Levine, an associate professor of emergency medicine at the Warren Alpert Medical School and a physician at Rhode Island Hospital. "That's a big part of what HI2 is really supposed to be about — bringing together academics from Brown University and elsewhere with humanitarian practitioners in the field to develop projects that can improve care in future emergencies."
With two years of seed funding from Watson, the initiative has launched with six affiliated faculty members and a full-time program coordinator. The initiative will include several programs (listed below) including fellowships to support academic and humanitarian practitioners around the world and a spring speaker series on campus. The initiative also includes several classes, such as "Human Security and Humanitarian Response: Increasing Effectiveness and Accountability," which Levine taught for the first time last spring.
Levine has also published several research papers this year that both explain the difficulty and exemplify the value of conducting research during relief missions.
A humanitarian-academic career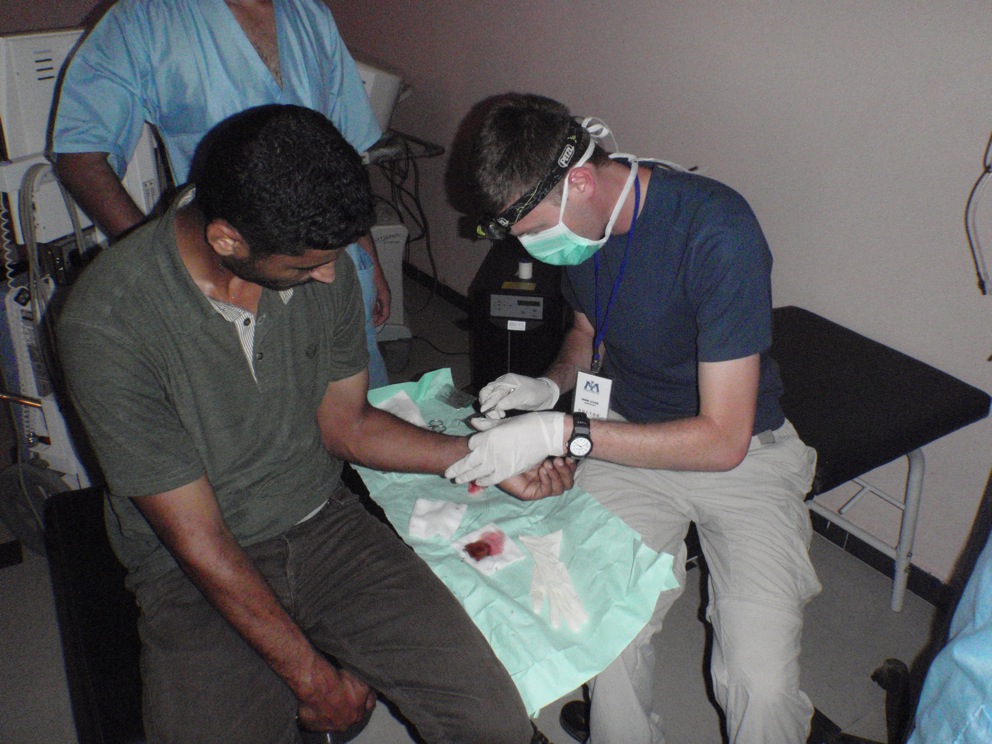 Misery in Misrauta. Levine cares for a patient in Misrauta, Libya. Courtesy Adam Levine
Ever since his medical and public health training at the University of California at San Francisco and then residency at Brigham and Women's and Massachusetts General hospitals in Boston, Levine has pursued dual interests in global health and emergency medicine. As a student in 2000 he visited the premier hospital for HIV in Mexico. The next year he traveled to rural Maharashtra, India, where he observed training of local health and sanitation workers.
After residency, with not only those interests but also the courage to run toward suffering and danger rather than away, he began practicing medicine in humanitarian work. His first experience was treating patients after the January 2010 earthquake in Haiti as a volunteer with International Medical Corps. He has since served humanitarian needs in Rwanda, Libya and South Sudan.
"All of the humanitarian situations in which I've responded have been very different from each other," he said.
But there are still generalizable lessons about what worked and what didn't that can be learned through research. That's something Levine has seen in his work, which has been focused on improving acute care in resource-limited settings. It's a major goal he'd like to advance further through the initiative.
In his work in Dhaka, Bangladesh, he has collaborated with local doctors and nurses at icddr,b, a research hospital that treats thousands of children suffering from dehydration, often due to cholera. Levine led the development of a simple but accurate and sensitive way to assess the severity of that dehydration. The method, described recently in The Lancet Global Health, is important to humanitarian work because it can quickly help care providers ensure that they provide the right treatment for the right children. Overtreatment of children with only moderate dehydration, for example, can waste precious resources needed by children with more severe dehydration.
In Liberia during last year's ebola crisis, Levine and International Medical Corps integrated research into their work, even though they were also racing to set up and then treat patients in ebola treatment units. They worked to trial the potential medicine ZMapp, and Levine and colleagues also developed and tested a technology for remote monitoring of ebola patients' vital signs and medical status to make care more effective and efficient.
Such integrations require substantial advance planning and a blending of organizational cultures that pursue the goal of alleviating suffering with different benchmarks and different timeframes in mind. Levine discussed the differences and how they can be overcome earlier this year in the essay "Academics are from Mars, humanitarians are from Venus: Finding common ground to improve research during humanitarian emergencies" in the journal Clinical Trials.
"Academics work over years to develop and answer focused research questions in highly controlled settings," Levine wrote. "Humanitarian responders, on the other hand, must act within days or weeks to provide lifesaving aid to vulnerable populations in highly complex and chaotic environments."
Programs of a new initiative
On Syria
The humanitarian crisis in Syria is unprecendentedly tragic, Levine says in this brief Watson Institute video.
The new initiative is Levine's solution to creating more collaboration between academics and aid workers. It features several programs that will enhance teaching and research and support people working at the nexus of humanitarian and academic work.
Faculty affiliates: Six affiliated faculty members at Brown — Dima Amso, Robert Blair, Catherine Lutz, Selim Suner, Nina Tannenwald and Sarah Tobin — compose a team with a diversity of disciplines ranging from cognitive, linguistic and psychological sciences, to engineering and surgery, to Middle East studies and political science and international affairs.
Classes: Including Levine's class, the initiative will be home to six undergraduate courses taught by affiliated faculty, covering not only humanitarian response, but also post-conflict reconstruction, human rights and disaster preparedness.
Speaker series: Lectures in Levine's class this spring will include a series of three public lectures discussing the West African ebola epidemic, the refugee crisis in Syria and the future of Colombia as rebels and the government attempt to reconcile after decades of combat.
International fellows: The initiative will support 25 international fellows who work and teach in countries that have been or can be flashpoints of humanitarian need. These relationships began when these scholars and humanitarians visited Brown as part of the Brown International Advanced Research Institutes program.
Research: Several initiative faculty members have ongoing research, and as the initiative grows, Levine said he expects to begin supporting new projects as well.
"The world of humanitarian response today is in many ways where medicine was 50 years ago, when we practice based on anecdote rather than evidence," Levine said.
The efforts of the initiative will help to systematically discover what's working and what could work better.
"Right now we're just hitting the starting line," Levine said.
For more, please click here.