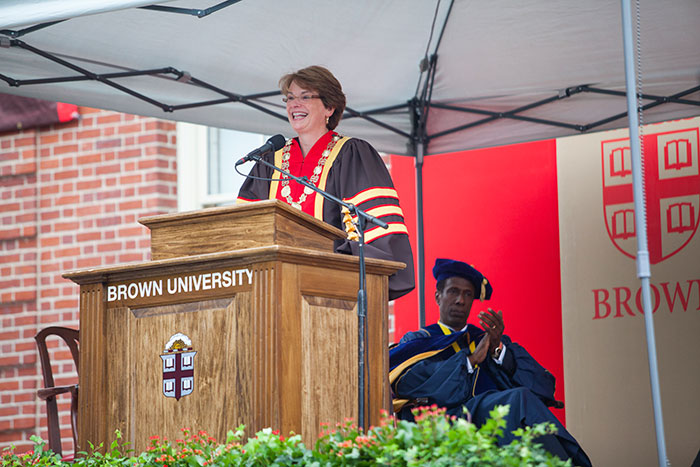 Members of the Brown community — faculty, staff, alumni, parents and students — it is my great pleasure, as president of Brown University, to declare the 253rd academic year open!
I want to extend a special welcome to the members of the entering classes of the graduate school, medical school and the college. Among them are:
144 dedicated medical students
785 talented master's and doctoral students
10 brilliant Resumed Undergraduate Education scholars — students who have gained life experience after high school before coming to Brown
54 incredibly perceptive transfer students
And of course 1,682 exceptional first-year students, the core of the stellar class of 2020
Our new students are entering Brown at an important moment in higher education. This is a time of fierce debate about the capacity of colleges and universities to truly prepare students for confronting difficult, complex issues that society faces today.
One of the hot-button issues is freedom of expression and the supposed coddling of American college students. Some are concerned that colleges are becoming places that stifle expression in the interest of protecting students from ideas and perspectives they don't want to hear. Safe spaces and trigger warnings are held up as the poster children of overprotective universities.
Students and their families reading the headlines may be scratching their heads wondering what this all means, when their focus is simply to get the education they signed up for. Frankly, much of the conversation in the media is muddled. Terms like "safe spaces" and "trigger warnings" are thrown around without precise definitions. References to "freedom of expression" are often made without any articulation of what exactly freedom of expression means in the context of a university, and why it is important. The tenor of the conversation stands in contrast to what we expect of our students: the expression of ideas with accuracy and integrity, and without hyberbole.
This is a good opportunity to think about our values as a community and, at the same time, clear up some misconceptions so we can focus on the reasons we're all here.
Let me start with freedom of expression. A common misunderstanding is that this is a First Amendment issue. However, the First Amendment of the Constitution covers government-imposed restrictions on speech. Private colleges and universities like Brown actually are allowed to restrict the expression of ideas and beliefs within their campuses, if they choose to do so.
But it's important to be clear on this point: Most private colleges and universities, including Brown, do not make this choice. I'll repeat that: We do not make this choice. Instead, we protect the rights of members of our communities to express a full range of ideas, however controversial.
Why?
The answer is that freedom of expression is an essential component of academic freedom, which protects the ability of universities to fulfill their core mission of advancing knowledge. Suppressing ideas at a university is akin to turning off the power in a factory. As scholars and students, our responsibility is to subject old truths to scrutiny and put forward new ideas to improve them. It is through the dynamic and creative process of testing, advancing and contesting ideas that we move knowledge and understanding forward. That's why all of us are here. That's what the academic enterprise of teaching, learning, innovating and discovering is all about.
This process of creating knowledge can be rocky and contentious. History shows us that many scientists have been branded as crackpots, or worse, for putting forward important new ideas. Notable examples were the introduction of the theories that germs cause disease, that smoking causes lung cancer and that there is such a thing as manmade climate change.
At universities, we also advance understanding about issues of justice and fairness, and these discussions can be equally, if not more, difficult. From the earliest days of this country, college campuses have been at the vanguard of fierce debates about slavery, war, women's rights and racial justice. These discussions create uncomfortable moments, and they should. We're talking about discussions that create seismic shifts in how we treat each other as people and recognize the rights of individuals. These arguments, debates and even protests are essential to our work and to society at large. If we don't have these debates — if we limit the flow of ideas — then in 50 years we will be no better than we are today.
So, yes, academic freedom — including freedom of expression — is very important at this University. Brown doesn't condone censorship. All members of our community are free to advance and debate ideas, hold forums for discussion, and invite speakers of their choosing to campus. We do not sanction interference with our colleagues' rights to enjoy academic freedom. And, it should be stressed that these rights extend equally to all members of our community, from the most senior tenured professors with distinguished academic pedigrees, to undergraduate students who may be the first in their families to attend college. Each and every one of you brings valuable perspectives and experiences to this campus. Each and every one of you belongs here. Don't forget it.
You may not be surprised to hear that I don't share the view that American college students want to be protected from ideas that make them uncomfortable. Just the opposite. Each and every day, I see students, with their eyes wide open, confronting really hard issues. Over the past few years our students have addressed topics that make many people very uncomfortable indeed — racism, sexual assault, religious persecution. These are tough problems with no easy answers. For many members of our community, these issues are not theoretical abstractions but part of their lived experiences, adding a sense of immediacy and urgency to the discussions. Brown students do not want to hide from these and other challenging issues, and I would not insult you by suggesting otherwise.
As for "safe spaces" — the term is used in so many different ways that it is impossible to discuss it without being precise about its meaning. As I understand it, the term came out of the women's movement nearly 50 years ago and was used to refer to consciousness-raising groups and forums where women's rights issues were discussed. Then it was extended to denote spaces where LGBTQ violence and harassment wouldn't be tolerated, and then extended yet again to mean places where students from marginalized groups can come together to feel comfortable discussing their experiences and just being themselves.
If this is what a safe space means then, yes, Brown has them. Proudly. More generally, you will find many opportunities at Brown, through clubs and organizations, to get to know students who share similar backgrounds and interests — religious, political and otherwise. In her memoir "My Beloved World," which many of you read this summer, Supreme Court Justice Sonia Sotomayor talks about her appreciation of a group she joined at Princeton, for students of Puerto Rican heritage. Although she made it a point to develop friendships with people from different backgrounds, that group gave her a much-needed anchor in a place that was unlike anything she had experienced before.
Maybe this isn't what the critics of "safe spaces" mean. But, if not, then I am not sure what they mean. Brown got a query from a reporter just last week asking if we have a designated list of safe spaces on campus, and if there is one in every building. What on earth are they referring to? Idea-free zones staffed by thought police, where disagreement is prohibited? I can assure you that there are no such places at Brown. Our students would not stand for them.
My final point — one that I think is often missed in the media debates — is this: Universities like Brown are doing something very difficult and very important. We are grappling with how to create peaceful, just and prosperous societies that achieve harmony despite our differences.
We live in a society that often feels more divided and rancorous than ever, fractured along the lines of race, ethnicity, income and political beliefs. I could cite statistics for you about growing income inequality, or increasing racial tensions, or widening political polarization — but I expect you know these things already. We have the exciting but daunting challenge of finding new ways to come together.
This is not easy. With the right of academic freedom comes the moral responsibility to think hard and carefully about how that right is exercised in the service of society.
Every person here has a choice.
Each of us is free to mirror what we too often see in the world around us: to be mean-spirited, to engage in divisive rhetoric, and to stoop to name-calling and labelling in the hope of pummeling others who don't share our views into submission or silence.
But each of us is also free to aspire to do better: to value others, even as we may disagree with them, to treat people with respect and dignity, to listen to others, and to appreciate and learn from the rich diversity of backgrounds and experiences of the people who comprise this amazing community.
As Justice Sonia Sotomayor said in reference to her own college experience, to build bridges, not walls.
And over and over again — not every time, certainly, but much more often than not — I see members of the Brown community making the second of these two choices. I hope all of you will do the same. I have great confidence in the intellectual openness, integrity and goodness of the Brown community — in all of you — and I am thrilled that you are here to join us in our work.
And with this, I'll draw my remarks to a close. I'll say as a final point that I know you don't want coddling, but I expect that you will receive and give kindness and understanding. I hope you're excited about becoming part of a vibrant community of scholars, committed to advancing knowledge and understanding so that, when you return to Brown for your 5th or 15th or 50th reunions, we will know more and be better than we are today.
Now, to introduce our keynote speaker: I mentioned earlier the role of creativity in advancing knowledge. This is a subject that Andrew Campbell, professor of medical science and our new dean of the Graduate School at Brown, will address. During his 22 years at Brown, Dean Campbell has made major contributions as a teacher, scholar and administrator. He has been a passionate advocate of engaging undergraduate and graduate students in the process of discovery. Dean Campbell has always understood that graduate students come from a spectrum of life and family circumstances. So it has long been a priority for him to create an academic environment that not only accommodates all financially, but offers the empathy and guidance students need to perform their best, in all aspects of university life.
I am honored and delighted that he is leading Brown's graduate school. Please join me in welcoming him.