The Warren Alpert Medical School of Brown University is serving as a catalyst in the transformation of the Jewelry District into a Knowledge District, bringing jobs, foot traffic, and economic vitality to this part of downtown Providence.
Members of the Community
13 percent of all practicing physicians in Rhode Island are graduates of Alpert Medical School
More than 1,700 physicians—or 43 percent of all Rhode Island physicians—are affiliated with Alpert Medical School
Many important health programs –Pawtucket Heart Study, Shape Up RI, Rhode Island Free Clinic and National Children's Study— were initiated by the Medical School and its hospital partners
The Alpert Medical School and its seven hospital partners provide the majority of care for the state's uninsured. Residents in the medical school's training programs provide the bulk of this care.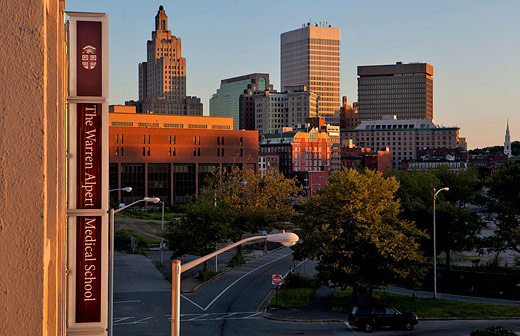 Investing in Rhode Island
Brown invested $174 million in new research and educational facilities from fiscal year 2003 to 2007, providing work for the local construction industry
Health care is the largest employer in Rhode Island, providing more than 70,000 jobs or 11 percent of all Rhode Island jobs
Academic medicine alone employs 28,249 people in RI and contributed $218 million in state revenue in 2008
The total economic impact of academic medicine in Rhode Island exceeds $4 billion
The Medical School and its teaching hospitals bring nearly $213 million in research funds annually to the state, most from federal agencies and out-of-state sources
Medical visitors added $139 million to the Rhode Island economy in 2008
An Economic Engine
10 of the 20 fastest growing occupations are health care-related
A job in health care has an 30 percent greater economic impact than other jobs
Health care will generate 3.2 million new wage and salary jobs between 2008 and 2018, more than any other industry
The annual economic impact of each primary care doctor in the community is $1.5 million
The return on investment for every $1 invested in research is $7
Every $1 invested by the state in medical education yields at least $5, often more