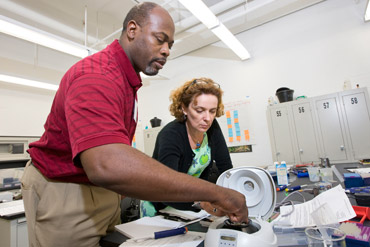 In addition to its full-time undergraduate and graduate programs, Brown offers southeastern New England residents a variety of opportunities for continuing education.
The Brown Continuing Studies program allows adult learners to enroll in a wide range of courses across the University. In 2010-2011, 375 Providence-area residents enrolled in 39 different courses at Brown.
During 2010-2011, 33 high school biology teachers from Rhode Island schools — along with 8 Brown graduate students — participated in Project ARISE. The NIH-funded program helps to develop the teachers' ability to integrate bioinformatics, neuroscience and physiology into their classrooms.
A two-year certificate program in infant and child mental health trains licensed professionals in the developmental and behavioral dimensions of children up to age 5. The certificate is aimed at master's degree and doctoral level health practitioners from nursing, psychology, pediatrics and other disciplines. The program is sponsored by the Center for the Study of Children at Risk, the Alpert Medical School, Women & Infants Hospital, and the Brown University Office of Continuing Education.
Brown faculty members teach courses at Pfizer's Pharmaceuticals' research and development center in Groton, Connecticut that allow Pfizer employees to earn a master's degree in biology. In 2010-2011, 88 employees enrolled in these courses. Since the program's inception, more that 100 Pfizer employees have earned master's degrees in biology from Brown.