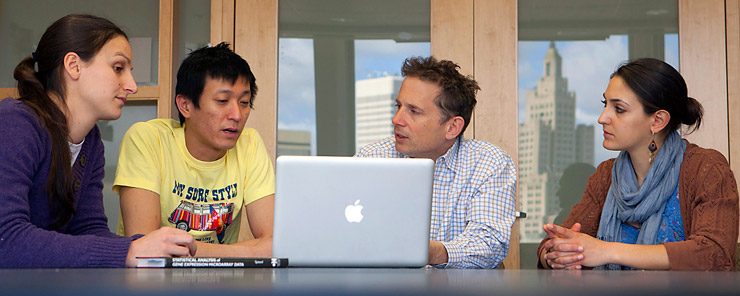 Brown has a well established track record for educating students who go on to start and run companies. In 2012 Forbes published the results of an analysis prepared by LinkedIn, using the latter company's database of more than twenty million college graduates. The study ranked U.S. colleges and universities according to the number of companies with at least ten employees started by their alumni. Brown was ranked 13th.[2]
During the past few years Brown has significantly expanded the opportunities it offers for students who are interested in entrepreneurship, both through its formal curriculum and through other programs.
At the undergraduate level, the C.V. Starr Program in Business, Entrepreneurship and Organizations (BEO), launched in 2005, offers concentrations in business economics, entrepreneurship and technology management, and organizational studies. Students in the second of these tracks must complete a sequence of courses in one of several technology areas — such as biotechnology, nanotechnology, information technology or energy — and courses in entrepreneurship. In their senior year, teams of students also work together to conceive and develop a business plan for a new technology-based business. The program also offers seniors the option of developing a plan for a new social venture. Since 2009, 52 students have participated and have each received $4,000 grants alongside yearlong training and advising to turn their ideas into action.
Brown's Entrepreneurship Program (EP) is a student-run club, founded in 1998, that helps students and other members of the University community start businesses. The centerpiece of the program is its annual business plan competition, which helps students develop plans for new ventures, and awards cash prizes totaling $50,000 to the most promising entries. In the past decade, more than 200 teams of Brown students have participated in the contest. EP also sponsors lectures and panel discussions with successful entrepreneurs, arranges mentorships, and provides access to a network of more than 900 entrepreneurs.
The Program in Innovation Management and Entrepreneurship (PRIME), launched in 2006, is a master's degree program for science and engineering students who want to learn how to apply their technical skills in the development of new products, processes and companies. Coursework emphasizes business fundamentals like finance, forecasting, and operations as well as technology management and development. As part of the two-semester program, students have an opportunity to develop a technology business idea into a fully-formed business plan.
The Brown Venture Launch Fund provides very-early-stage seed money to help students develop ideas for new ventures. Each year, the Fund awards 8 to 12 initial grants of $500 to $1,500 to help students explore a new venture idea, and 4 to 5 grants of $4,000 to begin developing a venture. Since 2011, 16 new ventures have collectively been awarded $50,000.
In October 2012 Brown joined with Betaspring – a Providence-based business accelerator for high-growth technology start-ups – the University of Rhode Island and the Greater Providence Chamber of Commerce to announce creation of a new consortium called the Founders League, dedicated to strengthening Rhode Island's entrepreneurial ecosystem and to supporting the growth of high-potential start-ups. The Founders League will focus on:

Building a community of entrepreneurs who can draw strength from each other and from the consortium members;
Educational programs, co-working space, networking events and other programming; and
Physical space for start-ups and for Founders League programming at Betaspring's headquarters in Providence.
BEO, the Entrepreneurship Program, the Brown Venture Launch Fund are also important resources for students interested in social entrepreneurship. Brown alumni and students' engagement in the development of social ventures is discussed below in Part Five.
---
[2] Forbes.com, August 1 2012