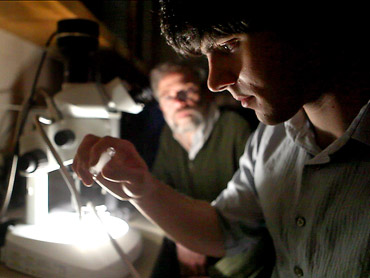 Scientific discovery and technological innovation have been among the most important sources of economic growth in the U.S.
Since the Industrial Revolution, the growth of economies throughout the world has been driven largely by the pursuit of scientific understanding, the application of engineering solutions, and continual technological innovation. Today, much of everyday life in the United States and other industrialized nations….is the product of investments in research…[1]
Since at least the 1950's, America's research universities play an important role in this process. Universities — with strong financial support from the federal government — account for about 55 percent of all spending on basic scientific research in the U.S.[2] Today, university research remains one of America's greatest sources of competitive advantage.
Brown's research enterprise contributes to the vitality of Rhode Island's economy in several ways.
Each year, Brown attracts millions of dollars in research funding from sources outside Rhode Island — most of which is spent locally.
Research conducted at Brown expands the boundaries of knowledge in areas that are likely to be continuing sources of innovation and economic growth in the years ahead — including areas of particular concern to Rhode Island companies and communities.
Opportunities to participate in advanced research projects helps Brown students prepare for jobs in the knowledge economy.
The "intellectual capital" created by researchers at Brown provides a foundation for the creation of new products and services, new businesses, and new jobs.
This part of the report addresses the first three of these impacts of University research; and Part Four examines Brown's role in technology transfer and the development of new businesses.

---
[1] Committee on Prospering in the Global Economy of the 21st Century, Rising Above the Gathering Storm, p. 42.
[2] The Science Coalition, Sparking Economic Growth, April 2010, p. 3.