Brown University also contributes to the economies of Rhode Island and Providence by attracting students and visitors from around the country and the world. Spending by students and visitors supports employment in a variety of local industries; including housing, restaurants, hotels, retailing and entertainment.
Student spending
Brown enrolled 8,768 undergraduate and graduate students in the 2008-09 academic year, and 400 students during the summer. Based on data provided by the University, we estimate that students living in a dormitory or Brown-owned apartment annually spend an average of about $3,300 off-campus on miscellaneous personal expenses; and students living off-campus, about $11,400. To calculate the impact of summer students, we assumed that summer students would spend a quarter of the amounts spent during the academic year.

In addition to its own undergraduate and graduate students, Brown offers an extensive program of pre-college summer courses, each lasting from one to four weeks. For purposes of this analysis, we assume that these students are enrolled for an average of two weeks, and spend an average of $150 off-campus during their time at Brown.
Based on the assumptions outlined above, Appleseed estimates that in fiscal year 2011, off-campus spending by Brown students totaled $61.1 million.
Table 5: Estimates of off-campus spending by Brown students, FY 2011
| | | | |
| --- | --- | --- | --- |
| Living arrangements | Number of students | Spending per student | Total spending |
| Academic year on-campus | 4,894 | $3,300 | $16,150,200 |
| Academic year off-campus | 3,874 | $11,400 | $44,163,600 |
| Summer on-campus | 400 | $825 | $330,000 |
| Summer pre-college | 2,975 | $150 | $446,250 |
| | | | $61,090,050 |
As with spending by the University itself, money spent by Brown students generates economic activity and jobs in Rhode Island, both directly and indirectly. Appleseed estimates that student spending of $61.1 million in fiscal year 2011 directly supported more than 600 full-time equivalent jobs; and through the multiplier effect, another $29.0 million in economic output and 220 FTE jobs.
Visitor spending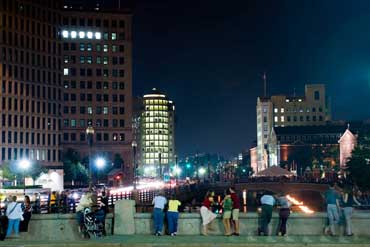 Like the University and its students, visitors to Brown spend money while they are in Providence that generates economic activity and jobs in Rhode Island. Based on data and estimates provided by Brown University, we can estimate that there were approximately 120,000 visitors to the Brown campus during fiscal year 2011. This includes prospective students and their parents, relatives and friends who attended commencement ceremonies, participants in academic meetings and conferences and visitors attending athletic and performing arts events.
The impact of these groups varies. By definition, all of those for whom University departments book hotel rooms are out-of-town overnight visitors. And with many students coming to Brown from outside Rhode Island, it is reasonable to assume that a great majority of prospective students who visit the campus, commencement guests, reunion alumni and participants in family weekends are similarly from out of town.
Assuming that they stay an average of two days in Providence, we estimate that local spending by out-of-town visitors totaled approximately $15.2 million in fiscal year 2011. This spending directly supported 218 FTE jobs in Rhode Island; and an additional 64 FTE jobs and $8.4 million in economic output through the multiplier effect.