Pheochromocytoma
Clinical History
43 year old female with a history of hypertension and atrial fibrillation being investigated for abdominal pain and vomiting was incidentally found to have a 3cm right sided adrenal mass on CT. She subsequently had a right adrenalectomy.

Gross Examination
Grossly the lesion measured 2.7 x 2.5 x 2.2cm, was tan in colour and well circumscribed. The remaining adrenal was slightly compressed.

Microscopic Examination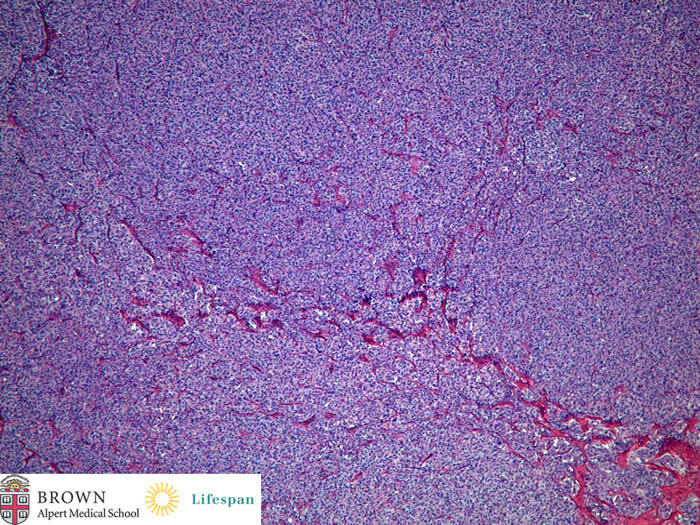 At low magnification, the lesion appears to have a nested, characteristic "zellballen" architecture.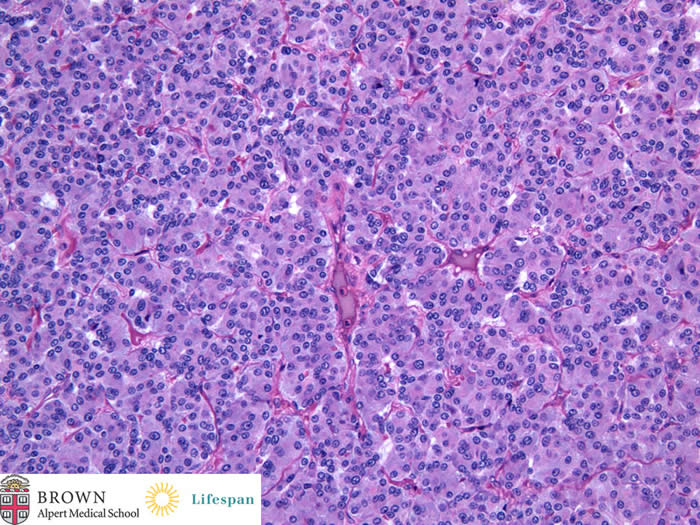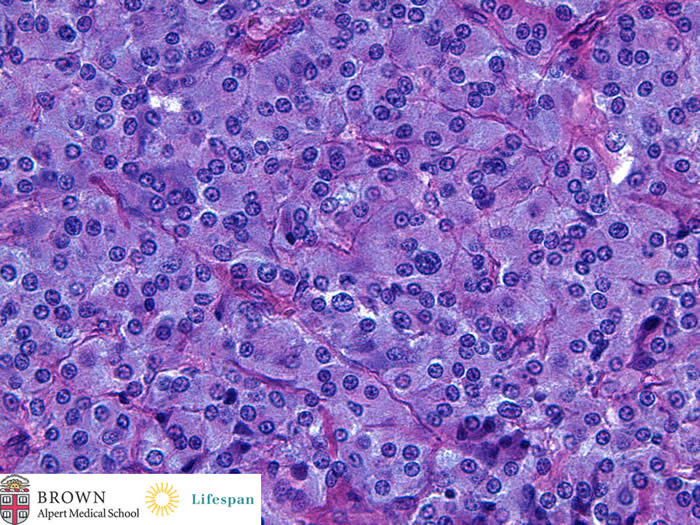 The tumor cells are comprised of large cells with basophilic cytoplasm with prominent nucleoli. No vascular invasion, necrosis or mitotic figures were identified.
Diagnosis
The lesion was identified as a benign pheochromocytoma.
Discussion
The major differential diagnosis of this case is that of a malignant pheochromocytoma. Features which would suggest this are capsular or vascular invasion, extension into surrounding perirenal fat, expanded, large confluent nests, diffuse growth, necrosis, increased cellularity, tumor cell spindling, profound cellular and nuclear pleomorphism, cellular monotony, nuclear hyperchromasia, macronuclei, increased mitotic figures, atypical mitotic figures and absence of hyaline globules. Unfortunately, no single morphologic characteristic can be used to determine the behavior of these lesions. Somatic genetic studies have demonstrated that chromosome 11 alterations, loss on chromosomes 6q and 17p, VHL and TP53 mutations were all more common in malignant pheochromocytomas.
Another controversial issue is that of tetraploidy and aneuploidy which has been shown by some authors to be an indicator of aggressive behavior, while refuted by others.
Reference
DeLellis RA, Lloyd RV, Heitz PU, Eng C (Eds.): World Health Organization Classification of Tumors. Pathology and Genetics of Tumours of Endocrine Organs. IARC Press: Lyon 2004
Contributed by Sonja Chen, MD and Douglas Gnepp, MD