Condyloma (Vaginal)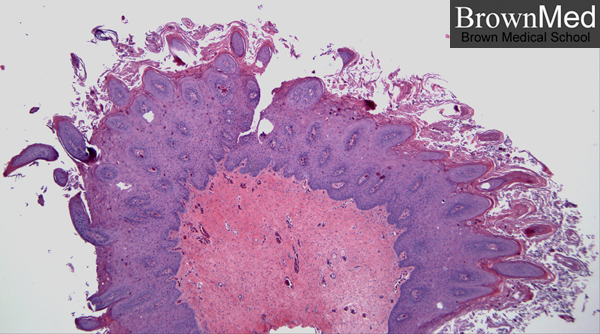 This vaginal biopsy is from a 28 year old woman who, on vaginal examination, exhibited a raised white mucosal lesion with a "spiky" surface around the mid-vaginal vault.  This low power magnification is from the spiky lesion.  Note the papillary squamous projections showing squamous acanthosis (widening of the parabasal layer), on a fibrovascular finger-like core, marked parakeratosis (flattening of the pink surface squamous cells with retention of small, buttonlike nuclei).
In addition to the previously-described findings, note a neutrophilic infiltrate of inflammatory cells. The most likely HPV serotypes to cause this lesion are 6, 8, or 11, which tend to cause benign, exophytic, genital warts involving the vulva, the vagina, and the cervix. 
The whole lower genital tract is at risk and the patient will have to be followed closely for the development of higher grade squamous intraepithelial lesions or invasive cancer, if she is exposed to high risk serotypes, mainly 16, 18, 31, and others.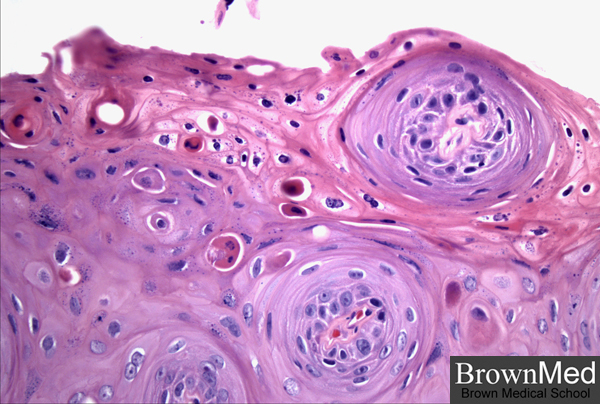 In this high power magnification the fingerlike papillae are cut in cross section but the parakeratotic layer is evident and contains rare koilocytes (the pathognomonic cell of human papilloma virus).  Two koilocytes are located inferior and to the left of the most superficial round papillae; one is binucleated and both show paranuclear clear spaces.
Contributed by Dr. Dwayne Lawrence