Nasopharyngeal angiofibroma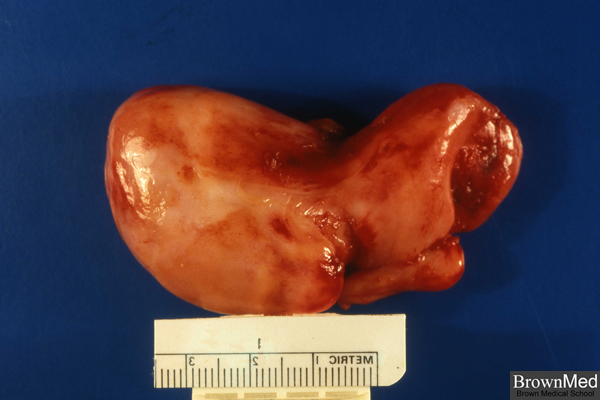 Juvenile nasopharyngeal angiofibroma are benign neoplasm consisting of vascular and fibrous tissue.  The resected angiofibroma as shown here is a large, single, sessile, red-pinkish mass that previously occupied the nasopharynx.  Angiofibromas can also be pedunculated or polypoid.

Small and large vessels of various shapes and fibrous stroma are present in angiofibroma (left).  Single layer of thin endothelial cells line these vessels. Moreover, elastic fibers and smooth muscle are absent in these vessels.  The branches of external carotid artery typically provide the blood supply to these vessels.  The fibrous stroma is better depicted in trichrome-stained tissue (right).
Juvenile nasopharyngeal angiofibroma (JNA) is relatively rare neoplasm with locally invasive property that predominantly occurs in men in their 20s. It commonly occurs in the posterior nasopharyngeal wall. Patients typically present with unilateral nasal obstruction, and epistaxis that may be associated with facial swelling, nasal discharge, sinusitis, headache, and/or anosmia. Differential diagnosis includes: inflammatory nasal polyps and choanal polyp. With a high clinical suspicion of JNA, biopsy of the tissue (if necessary) should be performed with extreme caution. Treatment is transverse palatal excision of the tumor. Vascular embolization prior to surgical resection may be performed to better control the bleeding during the operation. In tumors that invade into the cranial cavity, estrogen therapy or radiotherapy can be attempted to shrink to the tumor. Prognosis is excellent following surgical intervention with low recurrence rate.