BMES 2019 - Philadelphia, PA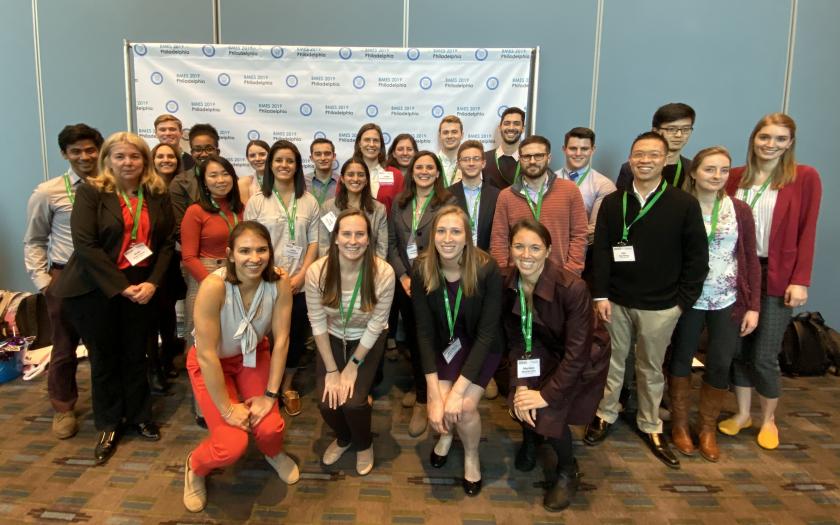 Conference perspective from undergraduate Joseph Urban '21:
My experience at BMES was a culmination of my involvement so far with each of the labs in which I conduct research. I presented a poster featuring my project from the previous two summers, which focused on designing and developing a coronary artery-on-a-chip model for studying interactions between an engineered coronary artery and surrounding epicardial fat tissue. This work was conducted in the BellasFATLab at the Bioengineering Department of Temple University under the supervision of Evangelia Bellas. I was fortunate to have multiple students and professors come to my poster and express interest and curiosity about this work, and I also explored the poster area to discuss students' research in similar areas of vascular tissue engineering.
Much of my time at the conference was spent with my colleagues from either the Bellas lab or the Darling lab here at Brown. Three of my lab mates from Temple—Jennifer Hammel, Mike Struss, and Anthony Berger—and one of my lab mates from Brown—Robert Gutierrez—each presented podium talks. Seeing members of one of my labs spontaneously attend talks from the other epitomized the collaborative nature of the conference.
I volunteered as a monitor at the rapid resume review, and I was fortunately able to discuss my resume with two different professors and receive thoughtful and valuable advice. Tips ranged from general formatting adjustments to specific wording changes, and even beyond the resume to interview strategies. This portion of the conference ended up being one of the most valuable, as I felt like I had come away with concrete takeaways for improving my presentability to both graduate schools and companies.
I spent significant time moving from booth to booth at the graduate school fair, learning an incredible amount about different research focuses and philosophies between schools (and receiving a mega-dose of sugar from all the candy and ice cream!).
Overall, the conference was incredibly inspiring and thought-provoking. The assembly of experts and students from diverse areas within biomedical engineering offered a vivid image of just how interdisciplinary the field is. My conversations with other students about their research at the poster sessions motivated me to continue working toward creating my own impactful contributions to the field of microfluidic tissue and organ modeling. I have become much more open to the prospect of pursuing a career in academia, and I now tentatively plan to pursue a combined M.D-Ph.D. degree with the goal of integrating my perspective as a physician into effective engineering design.
Posters and presentations by Brown students and faculty at the BMES annual meeting:
Thursday, October 17
Posters
9:30AM-5PM Exhibit Hall DE
P-TH-130 The Role of Mechanosensing in the Neutrophil Response

L. Hazlett, J. Nett, J. Reichner, C. Franck.

P-TH-289 Engineering Smart Biomaterials with Immunomodulatory Cues for Revascularization Therapy

L. Freda, N. Bloise, K. Coulombe, L. Visai, F. Munarin.

P-TH-305 Temporal Heterogeneity of Adipose-Derived Stem Cell Immunomodulatory Capacity
P-TH-327 Targeting Chemoresistant PGCCs Through Disruption of Osmotic Stress Response

B. Xuan, D. Ghosh, J. Jiang, M. Dawson.

P-TH-432 DNA-Inspired Janus Base Nanotubes for Hydrophobic Drug Delivery

S. Sun, W. Zhang, Z. Shen, H. Yu, Y. Li, Y. Chen.

P-TH-512 Development of a Concussion Risk Function for a Youth Population Using Head Linear and Rotational Acceleration

E. Campolettano, E. Smith, R. Gellner, A. Maerlender, M. Kelley, D. Jones, J. Urban, J. Stitzel, S. Bellamkonda, C. Tierney, J. Crisco, A. Ajamal, J. Beckwith, R. Greenwald, G. Brolinson, S. Duma, S. Rowson.

P-TH-547A Method for Quantifying Antibody Persistence on a Cell Surface

M. Dempsey, O. Woodford-Berry, E. Darling.

P-TH-652 Design of a Novel Dry EEG Electrode Headset

M. Gray, M. White, W. Hairston, J. Bradford.

P-TH-893 Development of a Novel 3D Organoid Model to Investigate the Role of Matrix Remodeling on Ovarian Cancer Progression and Metastasis

C. Mejia Pena, T. Skipper, J. Hsu, M. Dawson.

P-TH-894 Modeling the Ovarian Cancer Microenvironment with Alginate-Gelatin Microspheres

T. Skipper, C. Mejia Peña, M. Dawson.

P-TH-899 Senescent MSCs Prime the Tumor Niche for Breast Cancer Progression

D. Ghosh, C. Mejia Pena, N. Quach, B. Xuan, A. Lee, M. Dawson.

P-TH-922 Ovarian Cancer Exosome Heterogeneity Differentially Triggers Biophysical Changes in Ovarian Cancer Stromal Cells

A. Lee, D. Ghosh, N. Quach, M. Dawson.

P-TH-945 Numerical Study On Pruning Effects Of Brain Vasculature In Zebrafish

A. Blumers, M. Yin, H. Nakajima, Y. Hasegawa, G. Karniadakis.
Talks
8:30 AM - 8:45 AM Room 120A Cell-Matrix Interactions, Cellular and Molecular Bioengineering
Programming Cellular Mechanophenotype using Magnetically-Aligned Nanofiber Architectures  
A. Hruska, M. Adler, I. Wong.
1:30 PM - 2:00 PM Room 119A Hydrogels II, Biomaterials
Responsive Multifunctional Hydrogels for Detecting and Treating Bacterial Infections  
D. Alkekhia, S. Shukla, C. Deusenbery, A. Shukla.
2:15 PM - 2:30 PM Room 121C Vascularized Tissues as Predictive Models for Disease, Drug Testing, and Regeneration, Cardiovascular Engineering
In Vitro Modeling of Host-Implant Vascular Connections In A Complex Physiological System  
R. Kant, C. Bare, K. Coulombe.
2:30 PM - 2:45 PM Room 118A Mechanobiology in Tissue Engineering, Tissue Engineering
An Integrated Experimental-Computational Approach to Designing Bespoke Collagen Microfiber Architecture in Tissue Scaffolds for Anisotropic Mechanical Performance  
N. Kaiser, Y. Bai, V. Srivastava, K. Coulombe.
4:30 PM - 4:45 PM Room 115B Targeted or Responsive Drug Delivery Systems, Drug Delivery
Fungi-Responsive Hydrogels for the Delivery of Antifungal Therapeutics  
N. Vera-Gonzalez, A. Shukla.
4:45 PM - 5:00 PM Room 125 Cerebrospinal Biomechanics, Biomechanics
Cavitation Induced Neural Cell Injury as a Model of Blast Traumatic Brain Injury  
H. Cramer III, J. Estrada, C. Franck.
Friday, October 18
Posters 9:30AM-5PM Exhibit Hall DE
P-FRI-23Mass-Added Density Modulation for Sorting Cells Based on Differential Surface Protein Expression

S. Sarnik, B. Sutermaster, E. Darling.

P-FRI-155Characterizing Transitions In Tissue Architecture Using Topological Data Analysis

D. Bhaskar, Z. Neronha, S. Leggett, I. Wong.

P-FRI-317A Rapid Method for Label-free Enrichment of Rare Trophoblast Cells from Cervical Samples

C. Bailey-Hytholt, S. Sayeed, M. Kraus, R. Joseph, A. Shukla, A. Tripathi.

P-FRI-479Investigating the Effects of the Toxicant Domoic Acid in 3D Human Neural Microtissues

A. Washington, J. Sevetson, D. Hoffman-Kim.

P-FRI-654Rapid Fabrication of a Flow-Focusing Droplet Generator to Produce Cell Mimicking Microparticles

R. Dubay, J. Fiering, E. Darling.

P-FRI-836Self-assembled Janus Base Nano-Matrix Enhanced Mesenchymal Stem Cell Migration and Adhesion

L. Zhou, A. Yau, H. Yu, L. Kuhn, W. Guo, Y. Chen.
Talks
8:00 AM - 8:15 AM Room 126A Biomechanics of Biomaterials, Biomechanics
On the Epicardial Prestrained Confinement and Residual Stresses  
X. Shi, Y. Liu, K. Copeland, S. McMahan, S. Zhang, J. Butler, Y. Hong, M. Cho, P. Bajona, H. Gao, J. Liao.
4:15 PM - 4:30 PM Room 125 Force Measurement Methods in Mechanobiology, Biomechanics
In Situ Force Probes for the study of cell-Dense Neotissues  
R. Gutierrez, M. Rahaman, H. Kesari, E. Darling.
4:15 PM - 4:30 PM Room 119A Natural and Bioinspired Biomaterials II, Biomaterials
Development of a Model Placental Lipid Bilayer  
C. Bailey-Hytholt, T. Shen, A. Tripathi, A. Shukla. 
Saturday, October 19
Posters 9:30AM-5PM Exhibit Hall DE
P-SAT-993D Printed Self-Adhesive Hydrogels As Modular LEGO-Like Microfluidic Components

E. DuBois, T. Valentin, C. Machnicki, D. Bhaskar, F. Cui, I. Wong.

P-SAT-344 Multicellular Spheroid Invasion in Magnetically-Aligned Nanofiber Architectures

M. Adler, A. Hruska, I. Wong.

P-SAT-548 Targeted Antifungal Liposomes for the Treatment of Systemic Fungal Infections

L. Langlois, N. Vera-Gonzalez, C. Bailey-Hytholt, A. Shukla.

P-SAT-588 Coronary Artery-on-a-Chip System for Studying Vessel Interactions with Epicardial Adipose Tissue

J. Urban, M. Struss, E. Bellas.

P-SAT-747Regional Distributions of Strain in Patients with Lung Edema

A. Rocha, G. Motta Ribiero, T. Winkler, M. Vidal Melo, K. Hibbert, R. Harris, E. Bajwa, B. Thompson.
Talks
9:15 AM - 9:30 AM Room 124 Cancer Mechanobiology I, Cancer Technologies
Profiling Multicellular Invasion and the Epithelial-Mesenchymal Transition using 3D Traction Force Microscopy  
S. Leggett, M. Patel, T. Valentin, C. Franck, I. Wong.
9:15 AM - 9:30 AM Room 117 Engineering Tissue Development & Morphogenesis, Stem Cell Engineering
Engineered iPSC-derived Human Liver Platform for Hepatitis B Virus Drug Discovery  
Y. Yuan, C. Lin, J. Li, S. Khetani.
2:00 PM - 2:15 PM Room 115A Nanotechnologies for Global Health, Nano and Micro Technologies
Impact of Phthalate Environmental Toxicants with Lipid Structures  
C. Bailey-Hytholt, T. Puranik, A. Tripathi, A. Shukla.
3:30 PM - 3:45 PM Room 120A Cardiac Electrophysiology in Development, Disease, and Drug Screening, Cardiovascular Engineering
Development of an In Vitro Screening Platform for Pro-Arrhythmic Toxicity Testing Using Human 3D Cardiac Microtissues  
C. Kofron, T. Kim, F. Munarin, K. Williams, U. Mende, B. Choi, K. Coulombe.
4:00 PM - 4:15 PM Room 121C Cardiac Repair and Regeneration, Cardiovascular Engineering
Maturation of Calcium Handling in hiPSC-Cardiomyocytes Drives Excitation-Contraction Coupling  
A. Minor, K. Coulombe.
4:30 PM - 4:45 PM Room 118A Advanced 3D Printing Biomaterial II, Biomaterials
Magnetic Targeting of Stem Cells Using Super-susceptible Iron Oxide Nanocrystal Clusters  
L. Zhang, K. Jiang, Q. Zhang, S. Tong, V. Colvin, G. Bao.