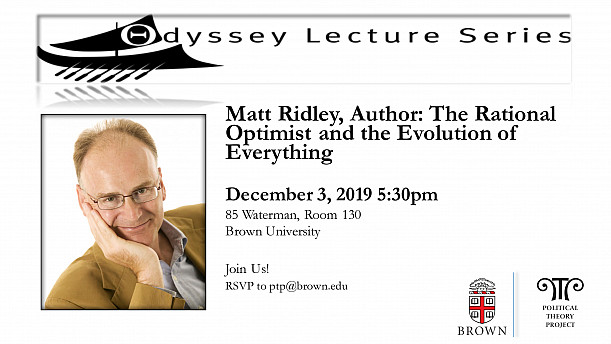 The Political Theory Project is proud to welcome Matt Ridley, author of The Rational Optimist and The Evolution of Everything for a public lecture on December 3, 2019 at 5:30pm. Matt Ridley is the author of provocative books on evolution, genetics and society. He argues that human beings' ability to connect, collaborate and cooperate gives our species an often underestimated capacity for change and social progress. Matt worked for the Economist for nine years as science editor, Washington correspondent and American editor, before becoming a self-employed writer, speaker and businessman. He currently writes the Mind and Matter column in the Wall Street Journal and writes regularly for The Times.
For tickets please click here. 
The mission of the PTP is to foster the study of those institutions which contribute to societies that are free, prosperous, and fair.