Celebrate Every Body Week 2017: February 27th-March 3rd
A week to raise awareness about eating disorders and promote positive body image on campus.
Events sponsored by Brown Health Promotion in collaboration with Brown Counseling and Psychological Services, Brown Recreation, Lifespan Hospital, and the Yoga and Mindfulness (YAM) student group.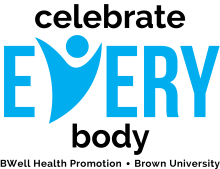 Concerned about food, weight, or body image? Take a self-assessment.
A free and anonymous eating disorder self-assessment from the National Eating Disorders Association is available.  This screening takes only a few minutes, and can be an important first step to encourage students to get connected with campus resources.  Click here for a list of campus resources. 
Health Promotion Information/Affirmation Table: 
Nelson Fitness Center
Monday, February 27, 2017
4-6pm
AND
Sharpe Refectory (the Ratty)
Tuesday, February 28, 2017
12-2pm
We will be kicking off Celebrate Every Body Week with two information tables. Stop by one of our locations to pick up free giveaways, goodies, and body positive affirmations as a reminder to appreciate, nourish and respect your body this week—and every week.  There will also be information about eating disorders, body image, and the campus resources available to students with these concerns.
Celebrate Every Body themed yoga classes at the Brown/RISD Hillel ​
In honor of Celebrate Every Body Week, the Yoga and Mindfulness (YAM) student group will be dedicating this week of classes to appreciation, celebration, and exploration of the body.  Delight in the body and its grace, while finding the fullness of our practice as a meeting point between the physical and the spiritual.  We will come together as a positive community as we soar through vigorous and soothing practices.  Find a class that fits your interest.  Classes are free with a suggested donation of $3. Check out the class schedule.
FREE Zumba classes during Celebrate Every Body Week at the Nelson Fitness Center
Shake off the stress and dance it out during a Zumba class! It's an exhilarating, easy-to-follow, Latin-inspired dance fitness-party appropriate for all fitness levels, no dance experience needed. Warning: it's highly addicting! No advanced sign-up required. Check out the class schedule here. 
LEARN MORE AND GET YOUR QUESTIONS ANSWERED AT A SPECIAL PRESENTATION THIS WEEK:
One Size Does Not Fit All: An expert panel discussion
Wednesday, March 1, 2017
List Art Building 110
6:30 p.m. - 8:30 p.m. 
RSVP to the Facebook Event
Please join us in a discussion that seeks to dispel common myths and uncover truths about eating and body image concerns. The featured panelists are: Abigail Donaldson, MD, director of the Eating Disorder Program at Hasbro Children's Hospital; Elizabeth Didie, Ph.D, psychotherapist in private practice; Erin Lane-Aaronian, Psy.D, psychotherapist at CAPS; and Tracy Bergeron, RD, nutritionist at Health Services. Students will have the opportunity to join small group discussions and/or submit questions for the panelists anonymously. This event is free in recognition of Brown's Celebrate Every Body Week.
If you or someone you know may be struggling with eating or body image concerns, help is available:
Campus Resources
An eating disorder can have short and long-term health consequences, and can impair your capacity to develop in all the ways you can and should at this time in your life.  If you think your relationship with food, exercise, or body image is becoming a problem, or if after taking the online eating disorder screen professional help is indicated, get support right away from one or all of the following campus resources.   
Counseling and Psychological Services
401.863-3476
Health Services 
401.863-3953
Health Services Nutritionist 
401.863-2794
All of these services are confidential and free for Brown students.