Achebe Colloquium on Africa
The Achebe Colloquium on Africa, convened at Brown University by the famed Nigerian novelist Chinua Achebe, brings together an international group of scholars, officials from African governments, the United Nations, the United States, the European Union, and other organizations for intense deliberation and exchange of ideas on the importance of strengthening democracy and peace on the African continent.
Chinua Achebe (1930-2013)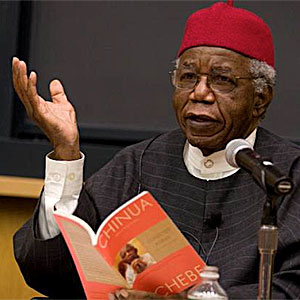 For many decades, Professor Achebe worked to build greater understanding of Africa through his uncompromising political commentary, social critique, and creative writing.
Born in Ogidi, an Igbo village in Nigeria, Chinua Achebe studied at University College (now the University of Ibadan). His first novel, Things Fall Apart, is the most widely read work of African fiction, having sold more than 12 million copies in English alone. It has been translated into 50 languages. His other prominent works include No Longer at Ease, Arrow of God, A Man of the People, and Anthills of the Savannah.
Professor Achebe was the recipient of numerous honors. He was awarded the Man Booker International Prize for outstanding fiction in 2007 and the 2010 Dorothy and Lillian Gish Prize, one of the largest and most prestigious awards in the arts. Among his more than 40 honorary degrees is an honorary Doctor of Humane Letters from Brown University, where he served in the Department of Africana Studies as the David and Marianna Fisher University Professor and Professor of Africana Studies and founded the Chinua Achebe Colloquium on Africa, an initiative dedicated to his life's work to foster greater knowledge of Africa.