Latest News

BBII 2020 Awards Announced

August 2020. Brown Biomedical Innovations to Impact (BBII) made its second round of awards last month. Five projects led by Brown University research teams have each been awarded $100,000 to help translate their scientific discoveries into commercial products that benefit patients. Below is an overview of the selected projects.
Advancing gene therapy for osteoarthritis: Qian Chen, a professor of orthopedic research and medical science, is developing a gene therapy treatment for post-traumatic osteoarthritis (PTOA). PTOA is a condition caused by physical trauma, such as sports injuries and fractures, which affects about 5.6 million people in the U.S. annually. His laboratory is developing genetic treatment of PTOA through non-viral delivery of the IL-1Ra gene, using a technology called Nanopieces that it has established. The goals are to develop the first disease-modifying drug for PTOA and to increase the commercial potential for Nanopieces to become a platform technology for broader gene therapy delivery.
Making therapeutic drugs safer for the heart: During the development process, new drugs must be tested for harmful effects on the heart, called cardiotoxicity, and this project aims to develop a more predictive human cell-based test to establish safe drug exposures. The team of Kareen Coulombe, an assistant professor of engineering and medical science, Bum-Rak Choi, an associate professor of medicine (research), and Ulrike Mende, a professor of medicine, has built a new human cardiotoxicity testing platform using engineered 3D human heart microtissues from stem cells to quantify dose-dependent changes in electrical activity. The project's comprehensive arrhythmia risk assessment of test compounds is aimed at streamlining drug development, reducing the risk for life-threatening cardiac arrhythmias and advancing safe drugs for patients.
Developing antibodies to fight malaria:  Jonathan Kurtis, chair of pathology and laboratory medicine at the Warren Alpert Medical School, is developing antibody-based therapeutics for malaria. Malaria is a leading cause of death in developing countries, infecting hundreds of millions of individuals and killing more than 450,000 children each year. The spread of parasites resistant to compounds threatens recent progress achieved by antimalarial campaigns and underscores the urgent need to identify new antimalarial therapeutics. In previous work, Kurtis and his team discovered PfGARP, a previously unrecognized vaccine candidate. In this project, the lab will focus on developing highly effective monoclonal antibodies targeting PfGARP.
Analyzing infants' cries for signs of opioid withdrawal: Barry Lester, director of the Center for the Study of Children at Risk at Brown's Warren Alpert Medical School, is searching for signs in newborn infants of opioid withdrawal or Neonatal Abstinence Syndrome (NAS). His lab's technology provides an objective measure of their cries and could improve the accuracy of NAS diagnosis. The research team is developing a handheld device to be used by nurses and physicians that will use a cloud-based algorithm to determine if an infant's cry meets criteria for NAS. Improving the diagnosis would provide better treatment for these infants, reduce hospital stays and lower costs, the researchers say. 
Evaluating the effectiveness of antifungal nanoparticles: Anita Shukla, an assistant professor of engineering, is working to reduce dangerous fungal infections that have high mortality rates and often involve long-term and costly treatment. This research will involve antifungal liposomal nanoparticles developed in the lab, which have the potential to overcome challenges including reducing toxicity of anti-fungal compounds. The lab will complete in vitro and in vivo characterization of nanoparticles enhanced with fungi-targeting agents and investigate their effectiveness.
Karen Bulock, managing director of BBII, said the goal of commercial development program launched by the University in 2018 "is to support biomedical technologies that need additional work to become products that have commercialization potential," explaining there is often a gap between the time when federal research funding ends and private investors are ready to invest.
BBII, an accelerator fund that supports academic biomedical technologies that have potential for making a substantial impact in health care, is run by the University's Division of Biology and Medicine in collaboration with Brown Technology Innovations, part of the Office of the Vice President for Research. Press release. 
Patents in July: Novel Materials and Methods for Drug Delivery

August, 2020. Last month, Brown received a US Patent (#10,722,468) for drug delivery research led by Dr. Edith Mathiowitz, Professor of Medical Science and of Engineering.
Therapeutic drug compounds that are based on proteins or other biologics have become increasingly common and important. But the harsh conditions in the stomach and gastrointestinal tract make delivery of these drugs a challenge. As a consequence, most protein-based drugs must be delivered intravenously or subcutaneously.
This new patented invention describes new compositions of matter that stabilize proteins and bioactive agents so they can be delivered by any route of drug administration – including oral, and inhalation routes – providing new drug delivery solutions. 
The invention involves embedding bioactive agents in a new nanoparticle – a crystalline matrix. The crystalline matrix confers enhanced stability to the embedded bioactive agents making them capable of passing through the stomach without substantial degradation.
Exclusive license option to Bolden for research in Justin Fallon's Lab

August, 2020. Justin Fallon, Professor of Medical Science, Professor of Psychiatry and Human Behavior, has optioned intellectual property to Bolden, his newest startup. Dr. Fallon's lab studies neurogenesis, targeting Alzeimers and other secondary conditions. The Executive Chairman of Bolden, Charlie Polsky, a prominent member of the Chicago life sciences start-up ecosystem, will be key to maximizing the potential of this license agreement. Brown Technology Innovations is continuing to explore with Dr. Fallon how Bolden could use the license.
Leaders in Regenerative Medicine: Kareen Coulombe and Diane Hoffman-Kim

July 2020. Regenerative medicine, an emerging field, allows a broad range of testing for toxicity and other health threats without using animal testing. Two Brown researchers, Dr. Kareen Coulombe and Dr. Diane Hoffman-Kim have been part of the Bioengineering Research Partnerships project, funded in 2016 by the NHLBI (National Heart Lung and Blood Institute). In its final stages of the 5 year award, the Advisory Board selected 2 of the 5 teams to be the focal point of the remaining funds; Dr. Coulombe and Dr. Hoffman-Kim were selected. Coulombe studies heart tissue and Hoffman-Kim studies nerve fibers. Brown Technology Innovations has received interest from bioengineering companies for technologies that could emerge from their work.
A New Month, New Patents!

July 2020. Keeping our average of two patents per month, in June, Brown was awarded patents for discoveries by Derek Stein (Physics) for smart materials used in construction, and Nitin Padture and Yuanyuan Zhou (SoE) for the application of perovskite in solar panels. Stein's work on smart materials was also included in a license to TechStyle, a startup in construction products (US Patent #10,704,794). Padture and Zhou lead the research on perovskite in solar panels  (US Patent #10,714,269). An innovation that could make solar panels more affordable, it also makes them more flexible. While it has not yet been licensed, Brown Technology Innovations has entertained interest from the renewable energy industry.
Q4 Wrap Up

Brown Technology Innovations puts Brown University's Technology First to drive commercial outcomes that benefit the University and society. This wrap-up highlights our initiatives, results and lessons learned in 4Q20. 
Our First Virtual Open House

June 2020. At our first virtual open house June 17, faculty met Executive Director Neil Veloso, heard success stories about Brown startups from Derek Stein and Jake Kurtis, and gained insights on commercialization from alum Kris Brown '89 P '22. See it here.  Stay tuned for our next one- we will announce it on our listserv (email Betsy Loucks to join) as well as in OVPR Research Notes and through [email protected].
Brown at BIO 2020

June 2020. One of the largest biomedical and technology conventions in the world with 3,245 companies and 5,713 delegates this year, BIO 2020 was virtual. Dave Potter represented over thirty researchers at Brown to over fifty biotechnology companies, including research in neurology, oncology, digital health, the biology of aging, and vaccines.
Energy Storage: New Patent Issued for Research by Palmore

June 2020. Brown was issued a US patent for research done by Dr. Tayhas Palmore (Engineering) and her graduate student Dan Liu (alum, Chemistry) (US 10,763,065). The disclosure relates to energy storage compositions that can be used as cathode materials as well as methods of making energy storage compositions using hydrothermal processes.
COVID-19 Clinical Trial Industry Contract

May, 2020. Brown Technology Innovations executed a contract with an industry sponsor for a clinical trial to be overseen by Dr. Stefan Gravenstein, Professor of Medicine and Director, Division of Geriatrics and Palliative Care. The trial is a randomized, double-blind, placebo-controlled study to evaluate whether prophylaxis with the industry sponsor's therapeutic compound reduces the incidence of COVID-19 among residents of nursing home facilities. The name of the company is being kept confidential for now.
Brown Technology Innovations at BIO 2020...Online

May, 2020. Brown Technology Innovations, the commercialization arm of the university, will showcase several life science inventions from Brown at the 2020 Biotechnology Industry Organization conference (BIO). Normally one of the largest fixtures of the life sciences international conference trail each year, this year's event will be online. BIO will feature partnering/networking opportunities for Brown to connect with potential investors and collaborators from life science and pharma companies. Please contact Betsy Stubblefield Loucks and David Potter if you have interesting news or company connections related to BIO 2020. https://www.bio.org/events/bio-digital
Brown Technology Innovations- Our name change is official!

May, 2020. We have officially changed our name to Brown Technology Innovations. You formerly knew us as the Office of Industry Engagement and Commercial Venturing, and some may recall the predecessor of IECV, known as the Tech Ventures Office (T-VO). Under new leadership from Neil Veloso but with the same staff, our team will pursue a new strategy to bring inventions from Brown research teams to have an impact through commercial channels. More about us: new strategy, same team.
Creating Quantum Safe Signatures

April, 2020. With the concurrent rise of cryptocurrency and quantum computing, an inevitable collision will occur, as quantum computing will break existing cryptocurrency/blockchain security measures. Jeffrey Hoffstein and Joseph Silverman, professors in the Brown Mathematics Department, are working on solutions that compress quantum safe signatures and utilize lattice technology to provide safe and effective blockchain security solutions. The project is attracting venture capital interest.
With existing quantum safe signatures, a direct transition to blockchains will decrease the "transactions per second" by orders of magnitude. This is because these quantum safe signatures are orders of magnitude larger than non-quantum safe signatures, and transactions per second is inversely proportional to the size of the signature.  For both crypto assets and exchanges, $2 trillion and $19 trillion markets respectively, if this transition is not made, existing crypto secure technology will be broken in seconds. Any solution to protect blockchains against quantum threats needs to be both secure and efficient to maintain and improve blockchain performance.
The Lattice Based approach for blockchain security developed by Hoffstein and his colleagues is intended as an improvement over existing methods. Technologies such as ECDSA, the one presently in primary in use for protecting blockchains, have excellent Public Key and Signature Sizes, but will be broken by quantum computers.  Existing Lattice Based quantum safe approaches have such large signature sizes that they would be impractical if used.
For these reasons Brown researchers, and collaborators Berk Sunar and Yarkin Doraz at Worcester Polytechnic, believe developing a secure blockchain methodology in a post quantum computing world has both academic and practical applications. It furthers Brown's contributions to mathematics knowledge and in practical terms could help protect the future of finance for years to come.
Jeffrey Hoffstein                            Joseph Silverman
Cheaper and Better: Invention of an Industrial 3-D Scanner ​

March, 2020. Imagine a tool that looks like a small projector that can scan your water bottle and tell you what you need to know to build it from scratch...or a rare part for your old car...or a piece of machinery for which you need to figure out a new supplier. Dr. Gabriel Taubin (Engineering and Computer Science) has identified algorithms that enable the capture of information about 3-D objects that would help designers understand how they are made. 
Dr. Taubin's breakthrough means that scans could be done using commercially available hardware that is much less expensive than current solutions.
This month, Brown was issued a patent for Dr. Taubin's work. The intellectual property in the patent has been licensed to an early stage startup called Riven, who raised $2 million in seed capital last year, and is on track to raise $10 million this year to get to the next stage.
Dr. Taubin's current research projects emphasize low cost precise 3D scanning systems, 3D scanning for 3D printing, industrial applications of 3D scanning systems, and more generally digital fabrication. A demonstration video can be found here.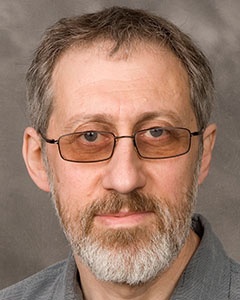 The Patent Parade Continues

March, 2020. Each month, our office will share the latest patents that Brown is awarded for inventions by our faculty. This month, we are glad to share that Brown was issued a U.S. patent for an invention by Dr. Gilead Barnea called "Methods for Labeling and Manipulating a Cellular Circuit" (Allowed U.S. Utility Patent, application no. 15/558/90). This invention for understanding the brain adds another important component to the Carney Brain Science Center's innovation platform for leadership in neurological cellular technology.
Neil Veloso Arrives as New IECV Executive Director

January, 2020. Neil Veloso is the new Executive Director of Brown's Office of Industry Engagement and Commercial Venturing. The Executive Director is the most senior officer in the University focused on commercializing Brown innovations through new venture creation, industry collaborations and licensing with strategic partners.
Neil has spent two decades at the intersection of academic research, healthcare and commercialization. As a consultant and advisor, he worked with leading academic medical centers and institutions, private and public universities, and investors. Neil has held senior roles in commercialization as the Executive Director of technology transfer at Johns Hopkins University and a Senior Director at Cleveland Clinic Innovations. He has transactional experience in the fields of therapeutics, information technology, engineering and diagnostics with both established companies and venture-backed startups. 
The University's official announcement in [email protected] is here.


 

Brown Receives Two Patents, One for Breakthrough in Cancer Therapeutics, One For Chromatography
 

February 2020. Brown has been issued two patents this month. The first is for a possible breakthrough tool for cancer therapeutics. Dr. Karl Kelsey and his colleague, John Wienecke, at the University of California San Francisco, have invented a new methodology for understanding cellular response to cancer diagnostics and treatment. The current state of the art methods were developed in 2004, and are widely understood to be insufficient. 
 
Dr. Kelsey's method provides information about cellular activity using a process that is much faster, more reliable, and cost efficient. Understanding the response of the immune system to disease, injury and therapy can significantly impact health care outcomes. The patent will make it easier for Dr. Kelsey to attract proof of concept funding from industry and other research partners.
Chromatography: No More Silver Nitrate

Brown also received a patent for a novel material for use in chromatography called metal thiolate chromatographic material, or MTCM. Discovered by a research team led by Dr. Yongsong Huang, Professor of Geological Sciences, MTCM will improve upon a process developed half a century ago. Chromatography is used to separate organic compounds. Beyond applications in academic and pharmaceutical research, chromatography is used most frequently for quality control and research in the food industry. 
The current approach to chromatography involves silver nitrate, which is notorious for its limitations. Challenges include material instability, unwanted staining, silver ion bleeding and leaching into resulting compounds, and incompatibility with mass spectrometry. Silver nitrate has a short shelf life, and is not reusable. 
MTCM solves all those problems and is superior to silver nitrate in every respect. Because it acts on carbon-carbon double bonds (pi bonds), it can be used in every separation application where silver nitrate was formerly used--and more--but without any of the problems associated with silver nitrate. Currently, silver nitrate is the only stationary phase media available on the market that targets pi bonds for separation, which means there is a ready need and opportunity to introduce MTCM to the market.
RIHub launches new accelerator: Innovations in Urban Living

January 2020. RIHub has partnered with The CoWrks Foundry to launch the Innovations in Urban Living Accelerator (IULA).
IULA is a 24-week startup accelerator designed to help entrepreneurs improve the urban infrastructure and systems in India and in other emerging economies by leveraging a combination of technology, policy and local ingenuity. Teams will receive up to $40,000 and must have an incorporated company by the time the program starts. Anyone may apply (no need to be affiliated with Brown). Apply here by January 31, 2020. 



$200,000 from Hyundai awarded to Brown's Bat flight and Aeromechanics Laboratory
 

January 2020. Starting Phase III of the Brown-Hyundai Research Collaboration, Hyundai awarded $200,000 to a research team jointly led by Dr. Kenny Breuer in Engineering and Dr. Sharon Swartz in Ecology and Evolutionary Biology. Their collaborative team will develop an enhanced understanding of bat flight and apply it to the modeling and design of flying robots.
This award comes at the end of a 1.5 year process which began with the Hyundai Visionary Challenge. Led by Alberto Bortoni and Xiaozhou Fan, PhD candidates in EEB and Engineering respectively, and undergrad neuroscience and biology concentrator Undergrad Alexander (Sascha) Morris -  the team, successfully competed in the fall of 2018, and presented at the Hyundai Mobility Innovators Challenge that November. This past fall, Alberto and Xiaozhou returned to San Francisco to share the team's vision for how bat flight can inform the future of drone technology.
 
Fourteen UK Companies Visit Brown SoE

December, 2019. On December 5, fourteen companies from the UK visited Brown to learn about our research on graphene and its commercial potential. Although it has many applications, one exciting aspect of graphene is that it can be used to make a stretchable, breathable micro-barrier that allows you to keep tiny, unwanted molecules out, or keep precious ones in. This highly versatile material has a wide array of applications including packaging, textiles and flexible devices, multi-functional fabrics (chemical protection, sensing and actuation).  The technology can also be used to create selective barriers, membranes, stretchable electronics or soft robotics. Other applications could include food/drug packaging, protective fabrics, wearable electronics, packaging/encapsulation of complex shapes or mechanically dynamic devices, or lightweight inflatables. 
Dean Larry Larson, Professor Robert Hurt and Professor Nitin Padture provided a strategic overview of the School's direction along with details on specific graphene related research programs. The visit was made possible through collaboration with the RI Commerce Corporation, Innovate UK, the School of Engineering and the office of Industry Engagement and Commercial Venturing at Brown.


Danish Renewable Energy Company Visits Brown

December, 2019. A Danish renewable energy company, Ørsted, visited Brown in October to learn about our research capacities in engineering, data science and materials research related to wind energy. Ørsted is ranked seventh on the HBR's list of "Top 20 Business Transformations of the Last Decade". With their acquisition of Deepwater Wind in 2018, the company now has an RI presence, and is looking to expand their operational excellence in off-shore wind energy. 
The Ørsted vision is a world that runs entirely on green energy. Ørsted develops, constructs and operates offshore and onshore wind farms, bioenergy plants and provides energy products to its customers. Headquartered in Denmark, Ørsted employs 6,300 people. Ørsted's shares are listed on Nasdaq Copenhagen (Ørsted). In 2018, the group's revenue was DKK 76.9 billion (EUR 10.3 billion).
Along with RI Commerce, Jill Pipher, Larry Larson, Björn Sandstede and Nitin Padture discussed Brown's research  at South Street Landing on October 17th.


Smart Mobility - The View from Brown

November, 2019. Brown took the stage in San Francisco on November 7 at the Hyundai Mobility Innovator's Forum. The forum showcased moonshots for all kinds of transport: from kickboards, cars, and buses to drones and flying taxis, with about 650 in the audience.
Speakers shared ideas not just about electric vehicles but new ways of thinking about where we will travel—rethinking urban developments of single-story buildings on obsolete highways and creating new freeways in the sky. Along with speakers like Mate Rimac of Croatia--the innovator, entrepreneur, and founder of the electric car company Rimac-- Brown had two faculty members and two graduate students present their visions for the future of smart mobility.
As the only speakers from an academic institution, Brown researchers were introduced using the image shown here:


In the upper left corner, the red trace is from a bat in flight. Doctoral student Alberto Bortoni, shared how bats—some of the world's best fliers—could transform how we think about flying robots—and one day—flying cars. Bertoni spoke for his lab team, fellow student Xiaozhou Fan and professors Kenny Breuer (Engineering) and Sharon Swartz (Evolutionary Biology).
The brain indicates Professor David Sheinberg's neuroscience lab and the Carney Institute for Brain Science. Sheinberg described how he and his students, Diana Burk and Aarit Ahuja, are working to understand how machines—not known for their high emotional intelligence—could learn to read and react to human perceptions. 
Eric Rosen, a doctoral student in Professor Stefanie Tellex's computer science lab, described how robots—even cars—could be operated by the casual language we use with other humans to get the help we need every day. 
In the final image, a person stands in virtual reality, connected to Professor Bill Warren's Virtual Environmental Navigation (VEN) Lab, where his graduate students Brittany Baxter (PhD '20) and Meghan Willcoxon (PhD '21) are working on the Hyundai project. Warren presented how his lab models pedestrian behavior so that vehicles—from kickboards and cars to personal airplanes—can safely navigate crowds, possibly in three dimensions. 
Brown's collaboration with Hyundai, coordinated by the Office of Industry Engagement and Commercial Venturing, began with a student competition last fall, the Hyundai Visionary Challenge, in which student teams from these labs won cash awards totaling $45,000 and presented at the Mobility Innovator's Forum last year. Brown's presentations at the 2019 Forum closed the second phase of the collaboration between Brown and Hyundai, Idea Incubation, where each of these four labs received $50,000 for a six-month pilot project. The third phase is in design; with details to be announced in January.
Brown-Hyundai Research Collaboration

November, 2019. Brown's relationship with Hyundai Motor Group is quickly becoming a model for University-Industry partnerships that deepen understandings between scientists, and expands Hyundai's investment in Brown over time. We completed the Hyundai Visionary Challenge last fall, and have funded four pilot research projects ($50,000) for Drs. Kenny Breuer and Sharon Swartz, David Sheinberg, Stefanie Tellex and William Warren. These teams will present at the Hyundai Mobility Innovator's Forum in San Francisco in November. The next phase will be announced later this fall (roughly $200,000 for four projects for 1 year, with potential for additional year).
Industry Interests

Reversing Age-Associated Inflammation

October, 2019. Leading life sciences venture capital firms Canaan Partners and Domain Ventures visited Brown with Dr. John Sedivy and IECV team members in October. Next up: IECV will facilitate a scientific and commercial exploration to license and fund a company based upon Dr. Sedivy's patent-pending intellectual property for compositions and methods for preventing and reversing age-associated inflammation.
 
Cancer Medical Device Technology Gains

October, 2019. IECV is working with licensee Theromics Inc. to source a $1.2 million seed equity investment from Launchpad Ventures, New England's largest angel investment organization. With anticipated follow-on syndicated investment from two other angel groups of up to $800,000, Theromics is now expected to be able to complete FDA "smart device" regulatory approval and enter the cancer thermal ablation marketplace in early 2022. Brown faculty founders include Dr. Damian Dupuy, Dr. Ed Walsh, and Dr. William Park (emeritus). Launchpad Chairman Hambleton Lord, Brown '83, has expressed continued interest in having Brown-licensed start-ups join the Launchpad portfolio.​
 
Nutritionally Enhanced Food and Beverages Explored

October, 2019. Ocean Spray Inc. has agreed to send a team to further develop collaborative research plans with Brown's Microbiome Consortium and Biomed faculty specializing in nutrition. Ocean Spray has committed to developing a major new product line of nutritionally enhanced food and beverage products, based upon rigorous evidence-based experimentation and testing. They will be back for more later in November.​