---
Microarray Platform
Affymetrix GeneChip Instrument System
The Affymetrix GeneChip system consists of a gene or probe array, hybridization oven, fluidics station, scanner, and a computer workstation. For more details please see the "Services" page.
Use of the Affymetrix equipment is limited to the Genomics and Proteomics Laboratory Manager.
---
Bioanalyzer
Agilent Bioanalyzer 2100
The Genomics Core Facility offers quality/integrity analysis for RNA and DNA samples. Please see "Services" for more information.
---
Real Time qPCR / PCR Thermal Cycler
Applied Biosystems ViiA 7 Real Time System
Two ViiA 7 Real Time Systems are available for use. The ViiA 7 systems use fluorescent-based PCR to provide quantitative detection of nucleic acid sequences using real-time analysis and qualitative detection of nucleic acid sequences using end-point and melting curve analysis. They can be used with TaqMan probe-based chemistry or intercalating dyes such as SYBR Green. The ViiA 7 qPCR machines can be run with a 96, 384 and TLDA block configuration.
---
Droplet Digital PCR System
Bio-Rad QX200 Droplet Digital PCR (ddPCR) System
The QX200 Droplet Digital PCR (ddPCR™) System provides absolute quantification of target DNA or RNA molecules for EvaGreen or probe-based digital PCR applications.
---
Ultracentrifuge
Beckman Coulter Optima Max Ultracentrifuge
The Optima Max Ultracentrifuge is capable of handling volumes from just a few µl up to 6.4 ml. Applications include differential gradient separations of proteins, DNA and RNA, lipoproteins, subcellular fractionation, membrane fractionation and sedimentation of viruses. Both fixed angle and swing bucket rotors are available. The following rotors are available for use: TLA100, TLA110, MLA130 (all fixed angle), TLS55 (swing bucket).
---
Flow Cytometry / Fluorescence Activated Cell Sorter (FACS)
Becton Dickinson (BD) Biosciences FACSCalibur Flow Cytometer
The BD FACSCalibur Flow Cytometer is frequently used for cell cycle analysis, protein expression, and measurement of metabolic activity. The FACSCalibur has one laser with an excitation line at 488 nm, allowing three color fluorescence analysis. Emission signals are centered at 530 nm, 585 nm, and 682 nm. Software used with the cytometer includes CellQuestPro, FACScomp, and ModFit LT.
---
Fluorescent Western Scanning / Imaging System
LiCor Odyssey Clx Infrared Imaging System
The Odyssey Infrared Imaging System allows multiplex Western Blotting and accurate protein detection and quantification using secondary antibodies labeled with IRDye near-infrared (NIR) fluorescent dyes.
---
Cell Counter
Life Technologies Automated Countess Cell Counter
The Invitrogen Countess provides quick determination of viability and concentration of cells in suspension derived from tissue culture and/or isolated from tissue. It is a convenient alternative to performing time consuming cell counts with a hemocytometer. The Countess uses trypan blue exclusion to distinguish between dead and living cells. Users are charged for slides used.
Please contact Christoph Schorl to discuss biological safety prior to use.
---
Scanning of Glass Slide-Based Arrays / Microarray Scanner
AXON Molecular Devices GenePix4000B Scanner
The Axon 4000B instrument scans individual slides in 2 colors (cy3 & cy5) using Genepix Software and simultaneously scans arrays on glass slides at two wavelengths using a dual laser scanning system, which dramatically reduces scan time.
The Core Facility also has the equipment required for hybridization of glass slide based arrays.
Download the Quick User's Guide for the GenePix4000B Scanner
---
Cell Imaging Multi-Mode Reader
BioTek Cytation™ 3 Cell Imaging Multi-Mode Reader
The Cytation 3 is a cell imaging multi-mode reader. Detection modes include fluorescence intensity (FI), fluorescence polarization (FP), time-resolved fluorescence (TRF), luminescence, UV-visible absorbance, and imaging.
Download the Cytation 3 Operators Manual
---
Spectrophotometer
Thermo Scientific NanoDrop One
The NanoDrop One measure absorbance and is an alternative to a traditional cuvette spectrophotometer and allows the convenient measurement of small volumes (approximately 1.5 ul) to determine accurately RNA and DNA concentrations. The software displays the concentration in ng/ul together with some QC metrix.
The use of the Core Facility Nanodrop is restricted to nucleic acid measurement.
Download the NanoDrop One User Guide
---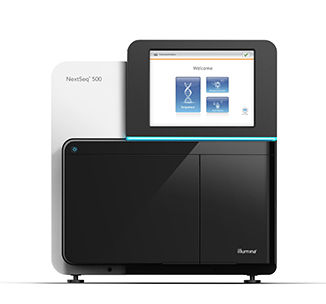 DNA Sequencer
Illumina NextSq550
This system is a high throughput benchtop sequencer that provides accurate fast sequencing data, and by employing flexible run configurations it can be easily adopted to a researcher's needs depending on their required read length and sequencing depth.
---