Celebrate Rhode Island's Archaeology Month with the Haffenreffer Museum of Anthropology! Inspired by 2020's centennial commemoration of the 19th Amendment, we're highlighting the work of women archaeologists and anthropologists affiliated with the Museum.
Dr. Jen Thum |
Exploring Ancient Egypt
in New England's Academic Museums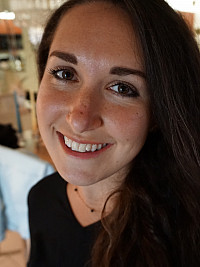 More than five thousand miles away from the Nile, New England boasts a number of impressive collections of ancient Egyptian artifacts across several world-class museums. Join Egyptologist Jen Thum for an interactive close look at three Egyptian objects from the Haffenreffer Museum, RISD Museum, and Harvard Art Museums.
Jen Thum is Assistant Director of Academic Engagement and Assistant Research Curator at the Harvard Art Museums. She received her PhD from the Joukowsky Institute at Brown in 2019 and is a specialist in the art and archaeology of ancient Egypt. Jen's work has included a range of object-based studies in various museums and a dissertation on Egyptian royal stelae carved into living-rock features. She is dedicated to fostering public dialogue about the ancient world and is a member of the Archaeological Institute of America's Outreach and Education Committee, as well as a frequent participant in Skype a Scientist.
This event is free and open to the public. Supported by generous donors to Friends of the Haffenreffer Museum.