Celebrate Rhode Island's Archaeology Month with the Haffenreffer Museum of Anthropology! Inspired by 2020's centennial commemoration of the 19th Amendment, we're highlighting the work of women archaeologists and anthropologists affiliated with the Museum.
Dr. Pinar Durgun | Woman the Tool Maker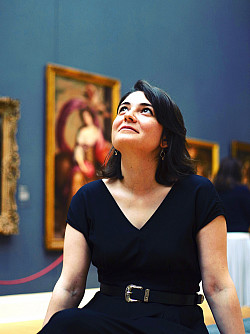 In this conversation, Dr. Pınar Durgun will tell us about the evolution of stone tool technologies. She will demonstrate flint-knapping techniques she teaches in her Experimental Archaeology course and discuss some of the misconceptions about stone tools and their makers.
Dr. Pınar Durgun is an archaeologist with a strong background in anthropology and museums, passionate about outreach and education. Her research focuses on death and burial, image and identity-making, and ethics of museum display. She teaches about ancient art, makers, and materials. Read More.
This event is free and open to the public. Supported by generous donors to Friends of the Haffenreffer Museum.