We will be using Excel and Maple. Most of you have used these before in ENG0030.Link to the Maple FEM code description and download
A tutorial is available here to help you get up to speed with MAPLE.
To set up MAPLE on your computer in your dorm, link to the CIS Computational Solftware Download site: http://software.brown.edu/dist/tw-compute.html and choose Maple 11. The software is License Managed---this means that you must be connected to the Brown Network in order to use it. You can connect via secure wireless or an Ethernet cable.
Your download will include 2 versions of Maple 11. Please use Classic Worksheet Maple 11 (with the yellow icon) .
<![if !vml]>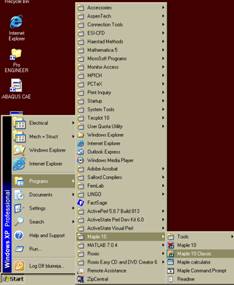 <![endif]>
Notice to Mac users: Unfortunately, Maplesoft does not provide the Maple 11 Classic Worksheet interface for Macs. There are a few options:
R

un Maple using your account in the Engineering facility (room 191). See the computing page on how to log in. This is what we recommend!

You can use the regular interface (red). It will look and behave most (but not exactly) like the Classic interface if you use it in Worksheet Mode, rather than Document mode. To do this, create a new file and select "worksheet mode."
The company website http://www.maplesoft.com/products/maple/index.aspx has Maple 11 training videos (linked from the right side of the page) and http://www.maplesoft.com/products/maple/manuals/index.aspx has downloadable manuals and tutorials
EXCEL: Instructions on loading the Solver on a PC: Excel 2007 Excel 2003 or on a Mac
Excel 2007 Solver If the solver has been loaded into Excel, it appears in the analysis group under the data tab. If not, you must load the solver. The screen shot below is from the Excel help.

<![if !vml]><![endif]>

<![if !vml]><![endif]>

<![if !vml]><![endif]>

<![if !vml]><![endif]>

EXCEL 2003:The Solver. If installed, Solver will appear on your Tools menu. If you do not see Solver on your Tools menu, you must install it. To do so, find the Add Ins... option on the Tools menu and select it. Then scroll down the list of add ins until you find the Solver Add-In and check the box as shown below. Then hit OK. If you are asked whether you want to install the add-in, reply Yes...

If the installation is successful, you will find that Solver... has been added to your Tools.... menu.

Solver for Excel on the Mac: Newer versions of Excel for the Mac do not include the solver. It is available for download from http://www.solver.com/mac/dwnmacsolver.htm IT DOES NOT WORK VERY WELL. You should consider running Excel on a PC. You can always use the machines in room 191.

If you haven't used EXCEL, there are several good tutorials available online, including
Basic EXCEL spreadhseet tutorials:
http://www.usd.edu/trio/tut/excel/
http://homepage.cs.uri.edu/tutorials/csc101/pc/excel97/excel.html
http://www.baycongroup.com/el0.htm
http://david.horner.faculty.noctrl.edu/Excel_tutorial/home.html
http://phoenix.phys.clemson.edu/tutorials/excel/index.html

Advanced

Basic EXCEL solver tutorial http://www.kem.ae.poznan.pl/Books/Excel-Solver/T2/T2.htm
Advanced EXCEL solver tutorial http://www.solver.com/tutorial.htm