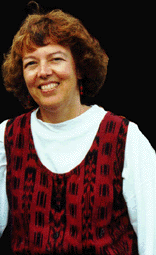 Brown University
Bio-Med Center, 502
(401) 863-3478
Elaine_Bearer@brown.edu
---
Associate Professor
University of California,
San Francisco, 1983

B.M.
Manhattan School of Music

M.A. in Music
New York University, 1973

Elaine Bearer, M.D., Ph.D.
Course || Research || Guatamala || Music || Email
Course information
Bio280: Systemic Pathology, reading.

Biomedical research


In the Bearer lab, we are interested in cell movements. We use a combination of video microscopy, cell culture, and molecular biology. Currently we are focusing on the actin-cytoskeleton to investigate three types of dynamic cellular behavior:
Transport of organelles down the axon from the neuronal cell body to the synaptic terminal requires cytoskeleton. We have identified a novel transport mechanism--on actin filaments--and are characterizing a unique myosin motor that powers it.
Platelet activation. This involves cell-shape changes in which actin filaments form in response to agonist stimulation. We have identified several novel proteins that control this shape-change and are studying their individual roles.
Transformation of the radially symmetric egg into a complex life-form involves shape-changes and migrations of specific populations of cells. We are studying the cytoskeletal machinery that permits these cellular movements. We have found a transcription factor, Xrel-1, that regulates the expression of proteins responsible for cell movements. We have cloned this factor and plan to study its function by specifically poisoning it using dominant negative mutations.
Retrograde axonal transport of Herpes simplex virus. Bearer, et al, Proc. Nat. Acad. Sci. (in press for publication in July, 2000). Digital movie sequence.
I am interested in consulting for Biotechnology in molecular biology, cell culture, hemostasis and am in the process of patenting two of my discoveries.
Bearer, E.L., DeGiorgis, J.A., Medeiros, N.A., Jaffe, H. and Reese, T.S. (1996) An axoplasmic myosin with a calmodulin-like light chain. Proc. Nat. Acad. Sci. USA 93: 6064 - 6068.
Bearer, E.L. Cytoskeletal domains in the activated platelet. Cell Motil. and Cytoskel. 30:50-66, 1995.
Bearer, E.L. (1994) Distribution of Xrel in the early Xenopus embryo: a cytoplasmic and nuclear gradient. Euro. J. Cell Biol 63: 255 - 268.

Elective clinical clerkship in Guatamala


In addition to the lab work, I am also Director of an Elective Clerkship for medical students in Guatemala which is sponsored by the Dept. of Community Health at Brown, although it is open to students from other Universities.

Musical compositions


I am also faculty of the Music Department. To access more information about my musical compositions (now out on two CDs), please visit my music page.