General Guidelines for Eating To-Go
When you arrive at the dining hall, inform your cashier that you will be taking your meal "to-go" and have your ID card swiped.
Each to-go meal comes with three containers, found at the to-go station adjacent to the cashier area:

1 large container (Eco To-Go participants should use their Eco To-Go containers. Learn more about the program below.)
1 cold drink cup
1 hot drink cup
Disposable utensils and napkins are available.
You may also take one piece of fruit.

Bottles, jars and bulk containers, such as those containing spices, oils, vinegars, soy milk and honey, should not be removed from the dining hall.
Please exit the dining hall via the same door as you entered.
You may not dine in and take out at the same meal period. Misuse of the program may result in loss of privileges.
Learn about Eco To-Go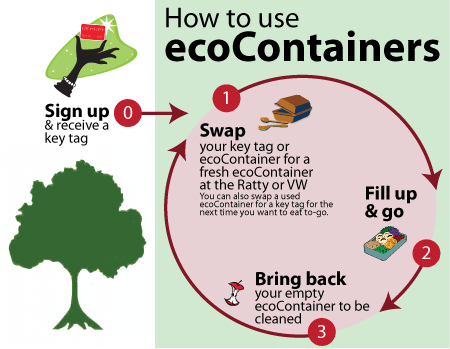 Mission
By providing Brown Students who are currently on meal plan reusable, environmentally-safe, sustainable to-go containers, Brown Dining Services is hoping to decrease the volume of waste that currently fills our landfills. The switch to reusable To-Go containers takes us one step closer to going green!
Why Eco To-Go
Why switch to reusable to-go containers, you wonder?
Eco To-Go makes Brown Dining Services that much greener by helping decrease the volume of waste that currently fills our landfills through reducing the usage of disposable containers.
In addition, the Eco To-Go program continues to provide you the convenience of carrying out your food when you are on the run. Whether you're late for class or grabbing a bite between meetings, Eco To-Go lets you get food when you need it.
General Guidelines
Eco To-Go makes going green easy. All you need to know are these simple guidelines:

ecoContainers may be used at both the Sharpe Refectory and the Verney-Woolley Dining Halls whenever you are eating to-go

Note: ecoContainers are currently not yet available for use at any of the retail eateries

Students are allowed one container per meal

Note: ecoContainers are designed for take-out meals only. If you're not eating on the run, don't worry - you can swap a dirty ecoContainer for a keytag for the next time you eat to-go.

We will wash and sanitize the container after each use
ecoContainers are both microwave and dishwasher-safe

And don't forget to return your ecoContainer at the end of the school year!
Questions?
Contact Jean Couto at Brown Dining's Sustainability Program.