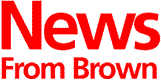 The Brown University News Bureau
38 Brown Street / Box R
Providence, RI 02912
401 / 863-2476
Fax: 401 / 863-9595
1995-1996 index
---
Distributed August 18, 1995 (See other documents linked to Title IX Chronology)
Contact: Mark Nickel
---
Court's rejection of Title IX plan is a reversal of court's own statements; Brown will renew appeal in landmark athletic discrimination case
Senior Judge Raymond Pettine's rejection of Brown's Title IX compliance plan unfairly dismisses the University's good-faith effort, inappropriately micromanages the University's financial affairs and compounds errors of an earlier ruling which the University has appealed to a higher court.
PROVIDENCE, R.I. -- U.S. District Court Senior Judge Raymond Pettine yesterday (Thursday, Aug. 17) rejected the Title IX compliance plan Brown University filed on July 7. In its place, Pettine instructed the University to fully fund four women's varsity teams, three of which are now funded by donors, then stayed his own order pending Brown's appeal to the First Circuit Court of Appeals in Boston.

The First Circuit had dismissed an earlier appeal, filed by the University April 19, because Pettine's March 29 final ruling and order did not contain a specific remedy for the plaintiffs. Groups representing nearly 2,000 American colleges and universities and groups representing several national sports organizations had filed friend-of-the-court briefs supporting Brown's appeal. Those briefs will also be refiled with the court in Boston when the University renews its appeal.

Until yesterday, I had faith that objectivity and judiciousness would prevail in the District Court. I find now that my faith was sadly misplaced. Senior Judge Raymond Pettine has rejected Brown University's good faith plan for compliance with his March 29th order - an order with which we have profound and numerous disagreements. In yesterday's ruling, I was amazed to read that the court did not believe Brown was acting in good faith and that it thought the University "flagrantly violates the spirit and letter of Title IX." Brown University deserves far better.

As a federal district judge, Judge Pettine is free to make such accusations, however inappropriate, but as president of Brown University, I have an obligation to defend both the University's good and honest intentions and its long history as one of the nation's premier and widely acknowledged champions of women's athletics. Brown's early leadership and record of achievement are incontestable and were above reproach before this case was brought to the court. Although Brown is and will remain one of the nation's best schools for female athletes in spite of what has been a distinctly unpleasant and at times unfair legal and public spectacle, its record of achievement and leadership has received only grudging and trivial attention.

Judge Pettine has done what he said he would not do. He has told the University which teams it must offer and has defined the level at which the University must support them financially. This is precisely the kind of micromanagement Judge Pettine said he would avoid. His ruling tramples upon and undermines the University's autonomy in designing its programs and setting its priorities. It is obvious to me that Judge Pettine did not mean what he said. Rather than adopt the University's full plan or request revisions, he has acceded to the plaintiffs' demands, willingly embraced micromanagement and sent the case on to Boston.

I have said - and the University's governing body has concurred - that Brown cannot and will not devote any additional discretionary funds to athletics. Our compliance plan attempted to satisfy Pettine's order within limited budgetary and physical resources - including, if absolutely unavoidable, the elimination of one or more men's teams in addition to capping team sizes. Now, by judicial fiat, womens' water polo, skiing, fencing and gymnastics teams have risen past all other priorities including undergraduate scholarship, faculty salaries and libraries. The salaries and benefits for four coaches, the wages for several assistant coaches, the money for uniforms, travel, per diem and other costs required by Judge Pettine's remedy - perhaps as much as $200,000 annually - will have to come from somewhere. Our resources cannot support ever-increasing numbers of sports.

Brown's primary obligation is to provide an education of international caliber for all its students. I am proud to report that the nation's most talented young women are applying and gaining admission to Brown in growing numbers. Their interests and abilities have brought them into leadership positions throughout the full range of University programs - in academics as well as extra-curricular activities. I will continue to support them vigorously even as I will continue to protest this unwarranted intrusion by the court.

I have been dismayed to see how the court's various rulings and orders in this case have utterly ignored the actual interests and abilities of our students - men as well as women. The University is being asked to provide participation opportunities to meet inappropriate numerical targets without regard for the expressed interests of all our students. We are being judged by a quota standard, but we are not being allowed to choose our own method of reaching that standard. Worse, by requiring the University to fully fund women's teams in water polo, skiing and fencing while leaving the corresponding men's teams without funds, the court is requiring the different and unequal treatment of students based on gender.

There is no consolation to be had from the fact that Judge Pettine's ruling would increase to 19 the number of varsity teams on which women can compete. Brown has led the nation in that category since 1980, when it offered twice as many teams as the average NCAA Division I school does today. Even though women at Brown participate in intercollegiate sports at three times the national average, every one of our women's teams has room for additional players. The desire to compete cannot be manufactured or dictated. Adding new sports to what is already one of the nation's broadest programs of women's athletics will do nothing to make use of the University's existing unused varsity opportunities.

We are also left with gross inconsistencies. Yesterday's ruling suggested that Brown improperly eliminated donor-funded varsity teams from its plan in order to drive down the number of male athletes. Donor-funded teams must be counted, the court said. Yet the same ruling said donor-funded teams cannot be counted as opportunities for women because such teams are inferior. Donor-funded teams, it appears, can be counted only against men, but not for women. Similar inconsistencies persist with regard to counting junior varsity players. I would reiterate my testimony last spring before a Congressional subcommittee: Colleges and universities need clarity; they cannot fairly be asked to comply with a jumble of contradictory, inconsistent and whimsical standards.

Although Judge Pettine said he was ordering relief "consistent with Brown's stated objectives," nothing in the ruling is remotely consistent with those objectives, which prominently include limiting the overall size of our athletic program. The remedy announced by the court yesterday is a stunning reversal of the court's consistent statement that Brown would be free to design its own solution within its own priorities. The suddenness with which the court abandoned Brown's right to choose and the willingness of the court to micromanage leave us no choice but to challenge the ruling as an abuse of judicial discretion when the University pursues its appeal.
######
95/012