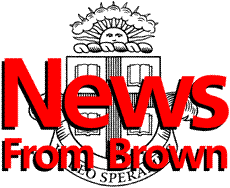 ---
The Brown University News Bureau
Contact: Tracie Sweeney

From Wile E. Coyote to the game of pool
Brown Summer High School helps area students stretch their minds
From July 1 to 26, Brown Summer High School will offer students entering ninth through 12th grades a taste of the college experience through 17 hands-on, interdisciplinary classes ranging from studies of boat design and mechanical engineering to a mathematical look at the game of pool.
For four weeks this summer, Rhode Island teenagers have a chance to challenge their minds and stretch their abilities through the Brown Summer High School.
This year's session, the program's 28th, will be held at Brown University from July 1 to 26 from 8 a.m. until noon Mondays through Fridays. Classes are open to students who will enter grades nine through 12 in September. The $75 fee covers books and materials, which the students may keep. A limited amount of financial aid is available.
Students select two classes from a list of 17 interdisciplinary courses that combine small group discussions, reading, writing and hands-on lab work. The courses include:
Is It Alive? - Students will use the tools of science to explore living things under the microscope, in tidal pools and other environments.
Who Makes History? - Students will explore the questions of who decides what should be included in history textbooks and how they decide.
What Floats Your Boat? - Students will design and build a water craft strong enough to hold one student.
Is It Really So Simple? Using "Simple" Tools to Perform Difficult Tasks - Through lab experiments and other activities, students will learn how simple tools work and will create machines to help make difficult tasks easier.
Pool: What's the Angle? - The class will use the concepts of geometry, trigonometry and physics to understand - and play - the game of pool.
Can Wile E. Coyote Ever Catch the Roadrunner?: Creating Complex Inventions to Perform Simple Tasks - Students will build devices that use a complex combination of simple machines to perform a simple task, a la cartoon character Wile E. Coyote and cartoonist Rube Goldberg.
What Is the "Joint" Effort of Muscles, Tendons, Ligaments and Bones? - Students will work in the lab, library and classroom to explore how the body performs athletic tasks.
Enrollment is limited to 350, with a faculty of more than 70. Courses are taught primarily by teams of students enrolled in the Master of Arts in Teaching and Undergraduate Teacher Education programs at Brown. Teaching teams are led by exemplary mentor teachers from local schools. In addition, several courses are taught by teams of master teachers from around the country whose schools are members of the Coalition of Essential Schools, a national secondary-school reform movement based at Brown.

The deadline to apply for Brown Summer High School is June 1. For more information or to request application material, contact the Brown Summer High School Office at 401/863-1677 or the Brown Education Department at 401/863-2407, or write to Brown Summer High School, Box 1938, Providence, R.I. 02912.

######
95-135

(See also the Brown Summer High School story idea)