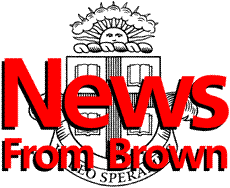 ---
The Brown University News Bureau
Contact: Tracie Sweeney

Brown Summer High School praised by students and teachers alike
For 28 years, Brown Summer High School, which this year runs from July 1 to 26, has earned high marks from the area high school students and teachers who take part in the program's unique, interdisciplinary courses.
PROVIDENCE, R.I. -- For many high school students and teachers, summer offers a break from academics. But the unique hands-on courses offered through the Brown Summer High School (BSHS), now in its 28th year, are so enticing that some 350 students and 70 teachers take four weeks out of their vacations each summer to participate.
Reporters and editors are welcomed to visit some of the interdisciplinary courses being taught from July 1 to 26 and chat with some of the students and teachers, many of whom are returning for their second and even third sessions. The courses cover a broad range of topics. One course allows students to build boats. In another, students design machines. A third explores the world of physics and mathematics through the game of pool.
Editors: To make arrangements to attend a class or to speak with any of the students and teachers mentioned below, contact the Brown University News Bureau at 401/863-2476. A news release and a brochure describing the course offerings are available through the News Bureau.
Many high school students get their first taste of life on a campus
Linda Laohasakthaworn of Classical High School, Michelle Sanchez of Hope High School, Jason Hanson of Bishop Hendricken High School and Grace Khouri of Cranston West High School are BSHS alums. Each says BSHS has had a positive effect on their interests and the work they do in their regular high schools.
BSHS allows students to develop critical thinking and problem-solving skills and to participate in collaborative, interdisciplinary project-based courses. For a number of students, especially the 100 or so who attend BSHS each year through scholarships provided by the L.G. Balfour Foundation and the University's education department, BSHS opened their eyes to the possibility that a college degree could be in their future.
BSHS alum returns - this time to teach
Daphne Clarke, a native Rhode Islander, attended BSHS as a teen-ager. Clarke says her participation in BSHS sparked an interest in becoming a teacher. She currently is enrolled in Brown's Undergraduate Teacher Education Program and will return to BSHS this year as a teacher.
A community-University partnership
A number of area teachers serve as mentors for BSHS, assisting student teachers with curriculum and lesson planning. Providence-area mentor teachers who have given their time to BSHS include Paul Cartier of Classical High School, Ellen Anderson of Central High School and Robin Yates of Central Falls Junior/Senior High School. In addition, several courses are taught by teams of master teachers from around the country whose schools are members of the Coalition of Essential Schools, a national secondary-school reform movement based at Brown. These Coalition teachers are working at BSHS with support by a grant from the National Science Foundation.

######
95-136i

(See also the Brown Summer High School news release)