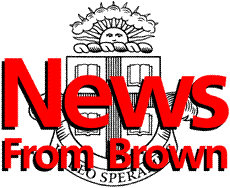 ---
The Brown University News Bureau
Contact: Tracie Sweeney

Two key leaders of successful campaign receive President's Medals
Artemis A.W. Joukowsky and H. Anthony Ittleson, who helped lead Brown University's Campaign for the Rising Generation to its successful $534-million conclusion, have received the President's Medal, the highest honor a Brown president may bestow.
PROVIDENCE, R.I. -- At a celebratory dinner Friday, Oct. 11, marking the successful completion of the Campaign for the Rising Generation, Brown University President Vartan Gregorian presented to Artemis A.W. Joukowsky and H. Anthony Ittleson the President's Medal, the highest honor a Brown president may bestow.
Joukowsky, vice chancellor of the University, and Ittleson, a member of the Brown Corporation's Board of Fellows, were instrumental in helping the campaign exceed its $450-million goal by $84 million. Joukowsky was national chairman of the campaign; Ittleson was its executive chairman.
The President's Medal honors a person who has achieved distinction in a particular field, including education, scholarship, public service, the arts, or philanthropy. Awarded at the president's discretion, the medal recognizes individuals for their achievements without regard to their service or relationship to Brown. Previous recipients include philanthropists Carl Haffenreffer and Alan Shawn Feinstein, and educator Theodore R. Sizer, University professor emeritus.
Artemis A.W. Joukowsky
Artemis A.W. Joukowsky, a 1955 graduate of Brown, developed his expertise in international business during his long tenure at the American International Group Inc. (AIG). His positions in various divisions and subsidiaries of AIG took him to many countries including Austria, Hong Kong, Thailand, Turkey, Lebanon and Italy. He also served as president of the Special World Markets Division and the Socialist Countries Division at the AIG head office in New York for 10 years.
Joukowsky has been broadly involved in many areas of the University. He has worked to strengthen Brown's athletic programs as a co-founder of the Brown Sports Foundation. He has been concerned with the aesthetics of the University's physical plant, commissioning works of sculpture and supporting improvements in public spaces, particularly in the Sciences Quadrangle. He has been involved with many committees and activities of the University, serving currently as vice chancellor. He and his wife, Martha, associate professor at Brown's Center for Old World Archaeology and Art, received the Elwood E. Leonard Distinguished Achievement Award in recognition of their outstanding leadership and service to the University. In 1985, they received honorary doctorate degrees, conferred by former President Howard R. Swearer.
H. Anthony Ittleson
H. Anthony Ittleson of New York City is chairman of the board of Travel Ventures Ltd. He recently retired as executive for special projects of The CIT Group. He began his career with CIT shortly after graduating from Brown University in 1960, and advanced through CIT's business and consumer finance subsidiaries. By 1981 Ittleson was executive vice president with responsibility for CIT's business financing activities, and in 1984 he became executive vice president for corporate development. Ittleson serves on Brown's Board of Fellows. Before assuming his role in the campaign, Ittleson had served a four-year term as national chair of the Brown Annual Fund.

######
96-035