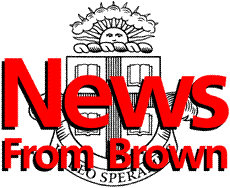 ---
The Brown University News Bureau
Contact: Mark Nickel

State of the University Address
Gregorian reflects on University's past and future development
In a State of the University Address delivered Thursday, March 6, to faculty, students, staff and friends, President Vartan Gregorian reviewed accomplishments, discussed current issues, and pronounced Brown University in good health.
PROVIDENCE, R.I. -- Brown University is in excellent health well positioned to continue its development as a university of international caliber. That was the overall theme of President Vartan Gregorian's State of the University Address, delivered at 4 p.m. Thursday, March 6, 1997, in the Meeting House of the First Baptist Church in America.
Addressing several hundred faculty, students, staff, alumni and friends of the University, who listened to the address either in the Meeting House or at a live video setup in the Salomon Center for Teaching, Gregorian reviewed the University's academic programs, financial health and physical plant and examined issues facing Brown and higher education generally.
Editors: The full text of Gregorian's address is available through the News Bureau.
Academic excellence
Gregorian spoke first of the faculty, the "heart and soul" of Brown. He cited Brown's success in attracting and retaining scholars of the greatest distinction, including more than 100 appointments to endowed chairs and lectureships in the last eight years. Brown's faculty-to-student ratio of 1 to eight has helped the University earn a reputation for excellent undergraduate instruction, a category in which Brown has been ranked No. 2 in the nation.
Brown's student body, the other half of the academic enterprise, represents "the finest and most promising talent in the country," Gregorian said. The application pool has risen steadily, setting an all-time record last year of 15,012 applicants for 1,390 positions, and indicators of academic excellence, including rank in high school class, testify to an extraordinary pool of talent.
Diversity is one of the keys to Brown's academic excellence, Gregorian said. He cited many categories of diversity - intellectual, social racial, ethnic, ideological, gender and economic diversity - as a reason for Brown's robust academic and intellectual campus life. "We would not be half the University we are today if we did not have such a diverse student body."
Financial affairs
The 1990s have been difficult years for higher education in America, with many colleges and universities retrenching, downsizing and refocusing their efforts. Brown, Gregorian said, has not allowed reality to depress its imagination nor to undermine its efforts. It has restrained budget growth and tuition increases, reallocated resources to fund pressing new priorities, and completed 18 successive fiscal years with a balanced budget. Brown's net worth (more than $1 billion), endowment ($893 million) and bond rating (Moody's Aa1) have never been higher.
Gregorian attributed Brown's good financial news to shrewd management by the Corporation's investment committee and to the success of Brown's $534-million Campaign for the Rising Generation. In addition to the money it raised, the campaign attracted historic levels of support, with contributions from 92 percent of students, 73 percent of faculty, and 52 percent of alumni. Gregorian was particularly delighted by Brown parents who, in addition to paying tuition, contributed an additional $44.8 million to the campaign. Such a level of broad support is a strong indicator of future financial stability.
Physical Plant
Brown's historic East Side campus contains 70 percent more buildings than campuses of comparable size. Many of the buildings are small and historically significant, which makes them more expensive to maintain and improve. Nevertheless, the smaller scale of Brown's buildings fosters a valuable sense of intimacy in many of Brown's academic programs. "We have reason to take great pride in our campus, not only for its historical and aesthetic significance, but for the vibrant community it nourishes," Gregorian said.
During the last decade, Brown has spent approximately $100 million on new buildings, renovations and deferred maintenance, including the renovation of more than 60 percent of campus residential space since 1991. Gregorian also cited the new high-speed computer network that unites all buildings on campus, providing excellent and widespread access to information and the resources of the Internet. He also congratulated the men and women who keep the University's infrastructure in good repair and operating smoothly.
Issues facing higher education
In addition to inevitable financial pressures, Gregorian discussed several issues that the nation's colleges and universities will face in coming years.
Free speech. Brown and all institutions of higher learning must be the guarantors of the First Amendment, Gregorian said. They must be a sanctuary for ideas, even unpopular ones. "The free discourse and debate offered at our universities is our best hope for nurturing in each and every succeeding generation a respect for the rights of each individual to form, espouse and defend his or her own beliefs and thoughts."


Citizenship. A national lack of knowledge about our own democratic institutions produces cynicism, which destroys creativity. It encourages people to drop out of the political process. "This continues to be a major challenge to higher education," Gregorian said. "We need to educate not only good minds but good citizens."


Explosion of information. The gush of new information threatens to overwhelm us, to leave us with factual fragments rather than structured knowledge. "We are being overfed with facts, but we are starved for truths," Gregorian said. The power of rational analysis and the ability to integrate and synthesize knowledge from many disciplines are antidotes that a good education can offer to the mounting fragmentation of knowledge.
Gregorian closed his address by paraphrasing the American writer Thomas Wolfe, whose observations on the American dream had been particularly poignant for Gregorian when he became an American citizen. "I think the true fulfillment of Brown's role in higher education is yet to come," Gregorian said. "I think the true discovery of Brown's potential is still before us, I think the true appreciation of a liberal education is before us, and I think that all these things are certain, as certain as the morning, as inevitable as the noon."

######
96-093