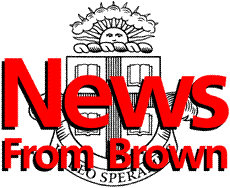 ---
The Brown University News Bureau
Mark Nickel
---

The State of the University Address

Vartan Gregorian
Sixteenth President of Brown University

Delivered at a University Convocation
Thursday, March 6, 1997
The Meeting House of the First Baptist Church in America

---
Chancellor Joukowsky, Senior Fellow Tillinghast, Fellows and Trustees of Brown University, members of the faculty, alumni, students, staff, honorable guests, my dear colleagues, wonderful friends and family. Thank you all for your generous support. Thank you for your friendship and of course, for your attendance here today in this historic place.
Brown University is a unique institution. Throughout its history, Brown has prided itself on being a teaching university - namely a University-College.
We are a University because our faculty is committed to scholarship of the quality that distinguishes the best academies in the world. We are a College because we are dedicated to teaching and mentoring.
Brown has always been one community, one University-College, rather than a collection of schools with separate interests under a shared umbrella. Responsibility, choice and independence are characteristics that have attracted our exceptional student body, who represent a diverse range of ethnic, religious, ideological, cultural, geographic and economic backgrounds.
The roots of our current curriculum date back 170 years, to when Brown's fourth president, Francis Wayland, took office. At that time Brown was a community of three professors, two tutors and 90 students. Brown had two buildings that served as classrooms and dormitories. One only has to glance around us to see how far our University has come since those days.
We have more than 225 buildings and a community of 10,000 people. Despite the obvious and necessary growth, the underpinnings of our educational philosophy have remained constant. Brown's potentials have continually overshadowed its limitations. From President Wayland to President Swearer, Brown has always been willing to take risks that were educationally sound. I have always been proud to follow in their footsteps, and to work to ensure that in the future, as in the past, innovation will continue to be a Brown tradition.
Like many of you and many before you, I came to Brown with a vision. I wanted:
to allow Brown to compete effectively without losing its character or mortgaging its soul due to financial instability;


to achieve excellence without making painful and unnecessary compromises;


to achieve future success without sacrificing current stability;


to continue providing freedom of choice in the curriculum without compromising standards;


to thrive in a small state, without limiting our vision or losing site of the enormity of the issues we face in our country and our world;


to live not only as a group of faculty and students, but as a community that must make contributions to our city, our state, our country and our world;


to accomplish our goals without resorting to faddism or opportunism;


to respect the character and history of Brown while coping with the realities and challenges of the modern world.
During the last nine years, working in harmony with the faculty, the students and the staff, we have taken risks while assuming responsibility for Brown's unique traditions and culture. We have competed successfully for faculty and students with the best institutions of higher education in the country.
This has been a collective effort, built upon the work that went before us. Without the efforts of the entire faculty, the student body, members of the administration, alumni, the Corporation, parents and friends the world over, Brown would not have realized the progress it has recently achieved.
I have often said that a great university must have three ingredients: an excellent faculty, a student body of the highest caliber, and a great library. During the next few minutes, I want to review with you the state of our University - in particular the state of our academy - focusing on our faculty, students and library, the state of our finances and the state of our physical plant.
Our highest priority has always been and must remain to sustain and enhance the quality of academic and intellectual life at Brown.
The greatest challenge of all institutions of higher education is to recruit and, yes, retain outstanding faculty.
Faculty are the heart and soul of Brown, and it is our great responsibly to nourish and encourage our most valuable resource. The fact that we have such a stable faculty is evidence of Brown's success in this area. During the last eight years, 72 senior professors have been appointed to endowed and named chairs. Twenty assistant professorships and 10 lectureships have been endowed. We have recruited more than 270 new faculty. In the last eight years, our faculty has obtained research grants totaling $325 million.
More impressive than the numbers is the fact that our faculty members are not only dedicated scholars, but are dedicated teachers as well.
I am particularly pleased that Brown has a faculty-student ratio of 1 to 8. Even though I do not relish national rankings, I am pleased that we were recently ranked number two in the country for the quality of our teaching. We have more faculty per student than the vast majority of our competitors, and we owe our faculty gratitude for their commitment, for their dedication to teaching and to scholarship. They have proved that teaching and research are not mutually exclusive.
Finding the most talented students in the world is not an easy task, but I do not think we have to be shy about admitting that we have accomplished that goal. Brown continues to attract a large number of the nation's most talented high school graduates. Last year we received 15,012 applications for 1,390 places. Eighty-six percent of applicants whose schools report rank in class were in the top 10th of their class. This fall we topped that figure with 88 percent of our applicants in the top 10th of their class. It was the largest applicant pool in our history, and we experienced the largest yield. Nearly 53 percent of admitted applicants chose to attend Brown.
Our student body is simply extraordinary. Our only problem is that we are now so selective that we are only able to accept 19 percent of our applicants. This is not entirely to the good. As we become more selective, we leave out by necessity the admission of many wonderful students. But I am proud that Brown is among only five other institutions that are so selective.
Our students are also wonderful citizens. Each year one in every four students undertakes a sustained community service project - devoting anywhere from 2 to 15 hours per week to volunteer service.
Our students are also exceptional athletes. During the past three years alone, the University teams have won four national titles, 15 Ivy titles, have participated in seven NCAA championships and won seven Ivy Player of the year awards. At last summer's Olympic Games in Atlanta, nine members of the Brown community participated for various national teams. One of them earned a gold medal, another a bronze.
I am pleased to report that today, 49 percent of Brown student athletes on University-funded varsity teams are female. Today we have 17 women's and 16 men's and two coed teams. Our women's teams are achieving a level of success in the Ivy League and beyond that honors a legacy in which we should all take great pride. Brown and many of its sister institutions in the Ivy League led this nation in developing athletic programs for women. In 1975 - three years after Title IX passed - Brown was fielding 13 women's varsity teams.
While we are proud of the central role of women at Brown, on the faculty, in the administration and on our teams, we are equally proud of our autonomy. That is why more than four years ago our faculty and administration asked the court to allow us to govern ourselves rather than to continue to be controlled by the Lamphere consent decree, and why Brown sided with MIT on the anti-trust lawsuit, the only institution to do so. We must continually guard our autonomy, and that is what we are doing now by taking the Title IX matter to the Supreme Court.
We are seeking a clear and consistent interpretation, so that colleges and universities across the country will know how to reconcile issues of autonomy, academic freedom, resource allocation, program design and Title IX compliance. The issue that divides us is proportionality, not equity.
Nine years ago my administration recommended that the Corporation renew its commitment to provide as much scholarship funding as possible to our students.
It is gratifying to report that the financial aid budget has doubled in the last eight years, from $12 million to $24 million. And next year, I am pleased to report that figure will increase to $25.3 million. The overall scholarship fund is at an all-time high of $33.5 million, thanks to the generosity of our donors. These figures do not include all the pledges from our national campaign that totaled $73 million for scholarship funding. This year alone, Brown was able to provide 225 new undergraduate scholarships and graduate fellowships. Thirty-nine percent of our entering freshman receive financial aid. Nearly one-third of our students who receive Brown scholarships come from families with incomes of more than $80,000, so we know that our aid is not only reaching the poor or the rich, but also members of the middle class who have financial need. Today, 35 percent of our student body is receiving scholarship funding from Brown, an all-time high.
Our scholarship fund raising must continue to grow so that we can free up tuition revenue and devote our resources to our educational programs while ensuring equal opportunity to our talented student body. We are committed to educating a student body whose presence transcends race, gender, class, geography or income.
It is not surprising that Brown's diverse, inquisitive, independent students continue to excel in intercollegiate competitions, receiving Rhodes, Churchill, Marshall, Fulbright, Goldwater, Truman, Wilson, Luce and other scholarships and fellowships too numerous to mention.
Our academic curriculum - perhaps the single most defining element of Brown University's undergraduate experience - has proven to be both flexible and rigorous. Our interdisciplinary courses are models for other universities, and we have been able to add 11 new departments, including Portuguese and Brazilian studies, Modern Culture and Media, American Civilization, Neuroscience, Ecology and Evolutionary Biology, Molecular Biology, Cell Biology and Biochemistry.
The 1990s have been difficult years for higher education. In contrast to the rapid growth of the 1980s, American universities have spent the current decade retrenching, downsizing and refocusing their efforts.
Brown has always faced the dialectical interplay between unlimited aspiration and limited resources. But we have not allowed reality to depress our imagination nor to undermine our effort. Brown has been able to restrain its overall budget growth and tuition increases while reallocating existing resources to fund high-priority needs and new ventures. For the first time, the University's net worth now exceeds $1 billion and Brown's investment credit rating is Aa1, an all-time high.
Fiscal 1995-96 was Brown's 18th consecutive year with a balanced budget. With your help, planning and support, we managed to limit the University's overall budget growth to less than 5 percent during the last five fiscal years. This contrasts with more than 12 percent growth during the early 1980s. We also have held the line on tuition increases, although we must continue our vigilance.
We haven't lived on borrowed money or borrowed time. Next year, the draw on the endowment will be 4.9 percent, the lowest level in 20 years. Lower levels of endowment spending ensure that Brown will have adequate resources in the years ahead. As of the most recent report by our treasurer, our endowment has reached $893 million, the highest figure in our history.
This is due in part to the intelligence of our investment committee and to the success of the Campaign for the Rising Generation. More than 52 percent of our alumni participated, and a record high of 73 percent of our faculty demonstrated their loyalty to Brown by providing direct, personal support to the campaign. This spirited dedication and devotion has enabled us to fulfill our responsibility to succeeding generations.
Our $534 million fund-raising initiative has helped us to strengthen teaching and scholarship, the core of Brown's mission. The campaign raised $52.5 million in support of faculty and academic programs, with an additional $54 million for academic facilities and $23 million for libraries. Overall in eight and one-half years we have raised more than $600 million for Brown.
Eight years ago our library celebrated the acquisition of its two-millionth volume. In a few months we will celebrate our three-millionth volume.
The devotion of parents to Brown continues to surprise and delight me. Their devotion is unparalleled to my knowledge. In addition to paying four years of tuition and fees, they have found kindness in their hearts to provide an additional $44.8 million to make Brown - the home away from home for so many of you - a better place for future generations. In that connection, once again our students lived up to their reputation for direct involvement, with 92 percent contributing to the campaign.
Finally, we have kept our eyes on the prize, to quote a cliché.
Every vision needs implementation, every implementation plan needs organization. To accomplish our goals we reorganized many areas of our administration. New structures have been put in place in human resources, career services, summer school, admissions, financial aid, our international programs, and many others. Academically, we have increased the instructional share of the University's budget from 36 percent to 40 percent, and from 1988 to 1996 the faculty compensation pool has increased by 48.8 percent, excluding equity adjustments. We have competed effectively for assistant and associate professors, but we redouble our efforts and actions to ensure our competitiveness for senior professors.
Last month, at our Corporation meeting, Vincent Buonanno, head of the Corporation's facilities and design committee, gave an eloquent presentation about the Brown campus. He spoke of our campus as the fabric of the University, reflected on the state of our 143-acre campus, and reminded us that although Brown's campus covers approximately the same area as some of our peer institutions, we have 70 percent more buildings. The small size of our buildings allows us to have a very intimate community - but more than 100 of them are of historic significance, which makes them costly to maintain and improve.
But as Mr. Buonanno reminded us, maintaining our intimate campus is a financial and planning challenge. Deferred maintenance, unless properly planned, becomes planned neglect. I am pleased to thank the hundreds of employees who have worked year-round, 24 hours a day to make our campus beautiful, safe and well-preserved.
Although bricks and mortar are not as critical as the people they house, many of the nation's colleges neglected their physical plants in the 1970s and early 1980s, creating a nationwide financial exposure estimated now at $70 billion. During the last decade Brown concentrated on rebuilding its infrastructure, spending approximately $100 million for new buildings, renovations, deferred maintenance, equipment for classrooms and classroom renovation.
More than 60 percent of our residential space has been renovated since 1991, and work has been done on our teaching halls and centers for the performing arts, including the Salomon Center, Faunce House, Sayles Hall, Robinson Hall and others.
Also, we have all enjoyed the high-speed campus network and access to the Web. Our entire campus is now wired.
Finally, new buildings within the last nine years include the Thayer Quad, additions to the John Carter Brown Library and the Math Department, the new Grimshaw-Gudewicz Building and MacMillan Hall, which is under construction. Projects we hope to begin work on in the next few years include a new home for the Watson Institute, the renovation of the Old Stone Bank to house the Brown University Haffenreffer Museum, a new building for the English Department, which has been in exile for almost 20 years, and a new wing for engineering.
We have reason to take great pride in our campus, not only for its historical and aesthetic significance, but for the vibrant community it nourishes. Ours is a community of scholars, a community of students, a community of administrators, staff members, alumni and friends.
I have had many opportunities to pay homage to our faculty and our students, but I would like to take this opportunity to pay tribute to our staff. The Brown staff provides all of us with so much each and every day - from our daily bread, to our security, our technological infrastructure, our communications, our budget preparation, our maintenance. We are indeed a small city, and we depend on our staff to provide us with essential services 365 days a year.
Several years ago we instituted a staff development day so that our staff could become students for a day and learn more about Brown. We have also addressed some essential concerns of our staff by instituting day care centers and maternity leaves, and by extending tuition benefits. We have recognized in a symbolic way the importance of the staff by naming buildings in their honor, as well as minting medals for distinguished service in their honor. But we must do more. We must continue to address the new needs of our staff.
Brown, like all institutions of higher learning, has an obligation to look beyond its borders and respond to urgent societal needs. Our obligation to our nation includes more than research, scholarship and preparing our nation's next generation of leaders. We must also address issues that our society has not yet resolved. One issue that was singled out by my predecessor, the late Howard Swearer, was the need to improve primary and secondary education.
Under his guidance, and the leadership of Ted Sizer, the Coalition of Essential Schools was established 10 years ago. Brown became the headquarters of the Campus Compact, a coalition of colleges and universities committed to integrating civic responsibility with higher education.
In 1993, thanks to a $5-million anonymous gift, a National Institute for School Reform was established on campus as a catalyst and source of support for school reformers nationwide. Shortly after its creation, the institute received a $50-million endowment from the Annenberg Challenge and was renamed in honor of Ambassador Walter Annenberg.
Today, the Annenberg Institute is an independent, non-partisan voice for school reform and critical assessment of progress in our nation's schools. Most recently, Brown was chosen as the home of a five-year, $24-million project named the Northeast and Islands Regional Laboratory. The lab was established by the U.S. Department of Education to help children in grades K through 12 achieve academic excellence.
Brown is also home of the Leadership Alliance. This group of 23 Ivy League schools, historically black colleges and other universities, is working together to increase the number of minorities earning doctoral degrees. For we are tired of revolving doors; the pool of minority faculty must increase. The Leadership Alliance is trying to provide minorities with the education they need to become candidates for faculty positions in our nation's high schools, colleges and graduate schools.
Taken together, these ongoing programs have made Brown University a dynamic leader in school reform. Our success in school reform and leadership development underscores the importance of not only being able to develop new ideas but of being ready to defend those ideas in public and translate them into action. I am pleased to report that the fulfillment of Brown's public mission in school reform has reached every corner of the nation. An estimated 1,500 Brown students volunteer more than 60,000 hours of their time each year in public service projects throughout the city, state and nation. Our center for public service, renamed the Howard Swearer Center in 1991, has become a renowned clearinghouse for community and national service projects, matching students with volunteer opportunities and helping them to link their experiences with academic learning. Today, we have more that 240 partnerships with our neighboring communities.
We have much to be proud of and much to congratulate ourselves about. But we cannot tally up our achievements and stop there.
There are many significant issues facing Brown today. While our college is healthy and our curriculum is robust, we need to strengthen our University-College by focusing on our Graduate School as well. Although we have already taken many measures to strengthen our graduate programs, such as providing endowments for travel, scholarship and research, we need to do more.
As our strategic planning task forces note, increased support and better planning for graduate students at Brown will enhance the University's capacity to compete for the best students. Obviously, improvements in our graduate programs will have a positive affect on undergraduate teaching and the University culture in general.
For the last 25 years, we have witnessed a continual improvement in the national standing of our undergraduate College. During the next decade, we must work for a similar trend in our Graduate School. A strong graduate school will be essential to our continued success.
Our medical school is a unique institution, well known for its innovative curriculum, research and programs in primary care. It is Rhode Island's only medical school. Working with affiliated hospitals, Brown has improved the quality of health care for all Rhode Islanders. But Brown cannot rest on that achievement. We need to protect the quality of medical education by strengthening biological sciences and clinical medicine. We are currently preparing a major campaign to ensure the future of the Medical School.
As we enter the 21st century, we must examine what Brown is, and where it should be headed. Our strategic planning task forces must explore our ideals and our principles with an awareness of the challenges our students will be facing in the future. Having just finished one phase of our planning, we must now begin the next phase of planning for the future. Inevitably, our best plans and predictions will not be 100 percent accurate, but the process of considering the demands of the future will help us to ensure that we maintain our quality in the future.
Universities are very fragile organizations and are continually vulnerable to external and internal pressures. We must seek to avoid the easy solutions.
We must not succumb to artificial peace and harmony at the expense of academic freedom and freedom of speech. Brown - and all universities across the nation - must be the guarantors of the First Amendment. The courts alone cannot succeed.
Our University is and must remain a sanctuary for ideas, even unpopular ones. We cannot and must not compromise this principle. Intellectual freedom - freedom of speech - cannot be rationed. It cannot be dispensed piecemeal or granted in limited fashion. No university can provide intellectual freedom just for liberals or just for conservatives or just for radicals or organized groups. As Bertrand Russell reminded us, we must respect the rights of even "a minority of one." The free discourse and debate offered at our universities is our best hope for nurturing in each and every succeeding generation a respect for the rights of each individual to form, espouse and defend his or her own beliefs and thoughts.
At the start of each academic year, I have made a commitment to addressing the incoming class and reminding them that our universities are and must continue to be sanctuaries for the exchange of ideas - all ideas. We must continue our commitment to the broadest possible range of ideas, opinions and positions, all freely expressed and earnestly defended. Imposed orthodoxies of any sort, including so-called "political correctness," are anathema to our enterprise because they trivialize and marginalize the real problems our society faces such as injustice, racism, sexism, homophobia and others. Imposed orthodoxies often avoid rather than addresses issues. Here, we are not engaged in making ideas safe for students; we are engaged in educating students so they are safe for ideas.
Colleges and universities must defend the right of all members of the community to advance popular or unpopular thoughts or opinions. But we must also remember that threatening, disruptive, drunken or abusive behavior, racial or sexual harassment directed against individual students or anyone else are not components of public or private discourse nor civil society.
For me, diversity is not a catchword. Diversity means intellectual diversity, social diversity, racial diversity, ethnic diversity, ideological diversity, gender diversity and economic diversity. The diversity of Brown's student body is well known and well respected. We would not be half the university we are today if we did not have a diverse student body.
Therefore, scholarships are critical to maintaining and enhancing diversity now and in Brown's future. We must continue to provide opportunities for all so that our country's best institutions of higher learning do not become the sole preserve of the talented few who are wealthy enough to afford tuition or poor enough to qualify for aid. We must provide opportunities for the entire spectrum of our society. For America is a microcosm of the world and Brown must be a microcosm of America.
In addition, if we cherish the diversity of our student body, we must cherish and develop the diversity of our faculty and our staff. I am pleased to report that in the last nine years, women and minorities have flourished at Brown. The number of women on our faculty has increased by 40 percent, and the number of women managers has increased by 35 percent. Today 53 percent of our faculty and staff members are women.
The number of minorities on our faculty has increased by 17 percent; the number of minority managers has increased by 17 percent; and the number of minority non-faculty members has increased by 53 percent. Today, 15.7 percent of our faculty and staff members are minorities, which means we have more to do.
Finally, although I can report with all honesty and humility that our University is very strong, there are urgent national problems that we must address.
Our national lack of historical knowledge and understanding of the world is not only wasteful of human potential, but dangerous. Our lack of knowledge about our own democratic institutions produces cynicism, and cynicism destroys creativity. It encourages people to drop out of the political process. This continues to be a major challenge to higher education. We need to educate not only good minds but good citizens.
At Brown, as elsewhere in the nation and the world, there is a need for an exploration of the concept of citizenship. Proper and balanced education is not to be conceived as a passive act, an end unto itself. It is a means to action. As I noted in my inaugural address, it is not all that good to be cool. It is important not only to engage in new ideas, but to be willing to make a public declaration of one's conviction and commitment, and then translate that declaration into actions.
As Oliver Wendell Holmes Jr. once said, "As life is action and passion, it is required of an individual that he or she should share the passion and action of his or her times at peril of being judged not to have lived."
One of our greatest challenges is the explosion of information and new technologies. We need to transform this information into structured knowledge, rather than factual fragments with no clear hierarchy of reason or coherence. The explosion of information and technologies to translate and transport that information makes having a liberal education even more critical. We are being overfed with facts, but we are starved for truths.
The value of an education at Brown or anywhere else lies in enhancing a man or woman's power of rational analysis, intellectual precision and independent judgment. Education is the use of the mind. Our students need to learn how to integrate and synthesize the knowledge of disparate fields. Paramount to their success will be the ability to make connections among seemingly disparate disciplines, discoveries, events and trends and to integrate them in ways that benefit the commonwealth of learning. We must strive continuously to cope with the fragmentation of knowledge into narrow specializations. Our mission is not to prepare graduates for the first year of their careers but to prepare them for the rest of their lives - to teach students to think critically, to give them perspective for reflection upon their own lives and a standard by which to measure their achievements.
As president of Brown, I have seen nearly 20,000 graduate and undergraduate students become alumni. We have not taken lightly the task of educating responsible citizens of our country and the world. Ours is not an unreasonable or esoteric goal. A proper liberal education must serve as a tool of enlightenment, an instrument to enhance individual as well as collective self-determination and liberation from political, economic and social ills. If our students are educated well, they will view service as an opportunity for the future rather than as an obligation, and their time here will have provided the advantage that we hoped for.
We are gathered today to assess ourselves, and to measure our achievements. Although I do not intend this as a valedictory address, I take considerable pride in telling you today that the state of the University is healthy. When my successor arrives, he or she will find:
a faculty of extraordinary distinction and international renown;


a student body that represents the finest and most promising talent in the country;


a challenging curriculum;


financial resources that, while modest by some standards, are the strongest the University has ever had;


a dedicated, experienced and very talented staff;


libraries and information technologies that do justice to Brown's academic enterprise;


a magnificent historical campus that is now being well cared for and regularly improved.
As the facts I recited a moment ago remind us, we have intellectual wealth, great talent and financial resources. For Brown, the issue is not survival. Rather, the issue is to maintain and support our highest aspirations and integrity and to continue to excel at every endeavor upon which we choose to embark. We must prepare ourselves for an era of rapid change. That is our obligation to those who have been creating Brown since its creation, and it is our obligation to generations of students and faculty who will gather in this Meeting House in the years to come.

When I became an American citizen, I quoted Thomas Wolfe's assertion of America's dream when he wrote, "I think the true discovery of America is before us. I think the true fulfillment of our spirit, our mighty and immortal lamp, is yet to come. I think the true discovery of our own democracy is still before us and I think that all these things are certain, as certain as the morning, as inevitable as the noon."

This afternoon, let me paraphrase Wolfe's eloquent observation on potential. I think the true fulfillment of Brown's role in higher education is yet to come. I think the true discovery of Brown's potential is still before us, I think the true appreciation of a liberal education is before us, and I think that all these things are certain, as certain as the morning, as inevitable as the noon.

Brown, like America, is not a past, but a future. It is not only an actuality but a potentiality. We have all shared in Brown's heritage and we all have a responsibility for its future mission.

Thank you very much. It's been a wonderful nine years.

(Return to release 96-093.)