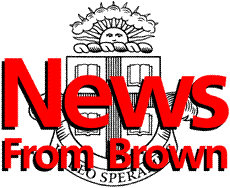 ---
The Brown University News Bureau
Contact: Mark Nickel

A Title IX compliance plan
Brown files a plan to meet court's gender ratio requirements for athletics
Brown University has filed a Title IX compliance plan with the District Court in a case alleging gender bias in athletics. Brown hopes to meet the District Court's requirements for gender proportionality without adding any University-funded teams or eliminating any men's teams.
PROVIDENCE, R.I. -- In a document filed with the U.S. District Court today (Monday, April 21, 1997), Brown University has described a plan to adjust the ratio of women to men among its varsity athletes in order to mirror as closely as possible the overall gender ratio of the undergraduate student body. The District Court established "substantial mirroring" as a Title IX compliance goal in an opinion issued March 29, 1995, after a three-month trial involving allegations of gender bias in athletics.
Brown filed its plan in response to the First Circuit Court of Appeals, which struck down a remedy that had been ordered by the District Court. Rather than require Brown to provide new funding for additional University-funded teams, as the District Court had proposed, the First Circuit affirmed Brown's right to devise its own compliance plan.
To achieve substantial mirroring of gender ratios between athletes and the overall student body, Brown's plan calls for:
expanding women's opportunities within the existing program, but without adding teams in sports not currently offered;
establishing and enforcing minimum roster sizes for all teams;
establishing and enforcing firm limits on the roster sizes of all men's teams;
a formula for determining the target number of male athletes that would result in absolute rather than substantial mirroring.
Editors: A copy of Brown's compliance plan as submitted to the court is available from the News Bureau by fax or through the News Bureau web site.
"Brown offers one of the widest arrays of varsity teams in the nation - 17 women's teams, 16 men's teams and two coed teams," said Laura Freid, executive vice president for external affairs. "Neither our main athletic facilities nor the University's budget can support additional teams in the few sports we do not already offer.
"We expect our compliance plan to bring the gender ratio among athletes to within one percent of the overall undergraduate ratio," Freid said. "That should certainly meet the court's substantial mirroring goal. It is the best the University can do without eliminating a men's varsity team."
Expanded opportunities
At least three factors will lead to increased participation of women athletes in the 1997-98 academic year. First, Brown announced the creation of a donor-funded varsity equestrian team last year. Although nominally a coed team, most equestrian competitors at the intercollegiate level are women. Thirty-one women competed on Brown's team during the first season. The University was able to establish an equestrian team because the funding came entirely from donors and the team did not place additional burdens on Brown's existing athletic facilities.
Second, Brown intends to establish a new lightweight women's crew within the existing crew program. Lightweight crew is an emerging sport for women and may be supported to some degree by the U.S. Olympic Committee. Funding for an additional assistant crew coach will be available, in part, because a change in Ivy League rules eliminated one assistant football coaching position. Based on the experience of other universities, Brown anticipates that at least 25 more women will compete. Because the men's and women's crew practices at the recently expanded Marston Boat House, these additional competitors will not put additional pressure on the main athletic facilities.
Third, Brown will reclassify the existing women's water polo club team as a donor-funded varsity. The Brown University Sports Foundation will raise the necessary funds to support the team and has sufficient resources to guarantee funding for the 1997-98 season. The change in status will not significantly increase demands on the facilities at the Smith Swim Center.
How the plan will work
All teams - men's and women's - will be assigned minimum squad sizes, which will be rigorously enforced. University-funded teams that repeatedly fail to attract a sufficient number participants will be reclassified as donor-funded teams; donor-funded teams with similar shortfalls will be reclassified as club sports. Such teams will continue in their new classifications until they reestablish consistently acceptable participation.
Using the previous year's participation and the established minimums as a guide, the University will calculate the number of female athletes expected to participate on varsity teams during the coming season. The permissible number of male athletes that would lead to absolute mirroring will be determined by the following equation, where everything but the number of male athletes is known:

 Number of female athletes         Percent of female undergraduates
---------------------------   =   ----------------------------------
  Number of male athletes           Percent of male undergraduates

For the 1997-98 season, the calculation would proceed as follows:
Determine actual participation of female athletes for 1996-97 year. Squad lists for the 1996-97 season show that 429 women participated on varsity teams (see table below). Three teams (lacrosse, track and equestrian) had actual participation that would have exceeded the 1997-98 minimums. There were 13 such participants.
Make any adjustments to roster minimums in light of anticipated changes. The women's lightweight crew and water polo teams will add 41 positions to the 1996-97 minimum total. The number of female athletes expected to participate in the 1997-98 season is:


| | |
| --- | --- |
| 474 | minimum roster total (includes 25 lightweight crew, 16 water polo) |
| 13 | participants in excess of minimum roster sizes |
| 487 | TOTAL women participating on varsity teams for 1997-98 |

Determine gender ratio of undergraduate student body. The Registrar's Office has reported that Brown's undergraduate student body for 1996-97 was 46.2 percent male and 53.8 percent female.
Apply the formula. The above figures, when computed, indicate that 418 male athletes would exactly mirror the undergraduate student body gender ratio.

       487               53.8
-----------------   =   ------
418 male athletes        46.2

Adjust the maximum roster sizes for men's teams. Brown has assigned maximum sizes for all men's varsity teams (see chart below) so that the theoretical maximum of male athletes would be 468. In reality, however, not all teams reach their maximum allowable roster sizes, although no one can predict which teams will have shortfalls. Based on Brown's experience in 1996-97, the actual participation rate would be 92.1 percent of the theoretical maximum - or 431.
Under the plan, Brown's intercollegiate varsity athletic program would be 53.1 percent female (487 athletes) and 46.9 percent male (431 athletes), leaving a variance of less than one percent. The University believes that such a ratio mirrors as closely as possible the undergraduate student body gender ratio as required by the District Court given the limits imposed by Brown's financial resources and existing athletic facilities and the University's goal of not eliminating any existing varsity teams.
1997-98 roster sizes under the proposed plan
University-Funded
Varsity Teams
Women's
1996-97 Actual
Women's 1997-98
Minimum
Men's 1997-98
Maximum
Men's 1997-98
Minimum
Basketball
14
16
16
14
Crew
51
55
46
45
Cross-Country
25
25
20
18
Field Hockey
36
36
-
-
Football
-
-
99
85
Ice Hockey
18
22
33
25
Lacrosse
35
32
39
32
Lightweight Crew
-
25
-
-
Soccer
25
26
26
24
Softball/Baseball
18
20
26
20
Squash
16
17
-
-
Swimming
28
28
20
16
Tennis
11
11
10
9
Track
53
50
50
40
Volleyball
17
18
-
-
Wrestling
-
30
20
Donor-Funded
Varsity Teams
Equestrian
31
26
2
0
Fencing
15
15
15
10
Golf
7
5
10
5
Gymnastics
16
16
-
-
Squash
-
-
10
8
Skiing
13
15
-
-
Water Polo
-
16
16
14
TOTAL Athletes
429
474
468
385
Alternative plans
In the event that the District Court does not approve the compliance plan, Brown has proposed two alternatives. The University reiterated, however, that it cannot create any additional University-funded sports under any circumstances.

The first alternative would come into play if the court chooses to differentiate between University-funded teams and donor-funded teams and to require gender balancing within those categories. Brown would propose changing one or more University-funded men's teams to donor-funded status.

The second alternative would come into play if the court required absolute rather than substantial proportionality. Because Brown does not believe further reductions to the total number of male athletes would be feasible, it would eliminate one or more men's teams.

######
96-xxx