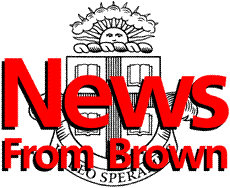 ---
Distributed April 21, 1997
Contact: Mark Nickel

---
Following is the text of a Title IX compliance plan filed in U.S. District Court April 21, 1997, by Brown University. Line endings may differ, but the pagination conforms with the document as filed. Footnotes appear here as linked endnotes. (See also news release 96-114.)
---
UNITED STATES DISTRICT COURT
DISTRICT OF RHODE ISLAND
C.A. No. 92-0197-
AMY COHEN, et al.,
Plaintiffs,
v.
BROWN UNIVERSITY,
VARTAN GREGORIAN and
DAVID ROACH,
Defendants.
BROWN UNIVERSITY'S PROPOSED COMPLIANCE PLAN
I. INTRODUCTION
This Compliance Plan is submitted by Brown University in accordance with the Mandate of the Court of Appeals for the First Circuit and the Order of the District Court entered February 24, 1997. Since Brown has asserted, and continues to assert that its program does not violate Title IX, this Plan is submitted without prejudice to Brown University's rights to Appeal from any Orders entered concerning Title IX compliance and/or the previous decisions of the District Court or Court of Appeals.
Brown's Criteria
The Compliance Plan is fashioned with consideration for the longstanding guiding principles which Brown has incorporated in its athletics programs, and these principles represent Brown's institutional preferences and priorities:
Since Brown's current lineup of intercollegiate teams is principally the result of historical development of teams based upon student interest and ability, and reflects investment of University resources, development of donor support and fosters strong alumni loyalty and support, it is Brown's desire to avoid eliminating any existing teams which continue to meet the minimum requirements for operation within the University's priorities.

==========
End Page 1
==========

Offer the maximum number of opportunities to participate in intercollegiate competition within the practical limits of facilities and budgets and with regard to the availability of competition within the Ivy League and within practical geographic limits.
Add no additional sports which would further distress already overtaxed facilities, taking into consideration the intramural, physical education and recreational needs of the entire University Community.
Attempt to maintain matched sports in the same funding category if possible.
In light of the number of intercollegiate teams currently offered, which are approximately double the national average, comply with Court requirements through Prong One or Prong Two1 to the extent possible.
Offer new intercollegiate competition only to those teams which demonstrate increasing interest, sustained and sustainable ability to attract suitable numbers of athletes, demonstrated fundraising abilities, and appropriate competitive opportunities.
Given the expense of maintaining University-funded status, those teams which repeatedly fail to achieve minimum team sizes will be reclassified to Donor-funded status until such time as they reestablish stability at a level justifying University-funded status. Donor-funded teams which are unable to achieve participation within minimums or fundraising ability will be subject to reclassification as Club teams.
==========
End Page 2
==========

If the District Court rejects this Compliance Plan or the proposed Alternative Plan for any reason, Brown would like the opportunity to evaluate and address the basis for such rejection. Without waiving any and all appellate rights, Brown is desirous of submitting a plan of its own devise which is both satisfactory to the Court and consistent with Brown's academic freedom, within its economic limitations and consistent with its own priorities, academic and athletic.2 Therefore, Brown respectfully requests that it be given the opportunity to respond to any perceived shortcomings in this document, by way of modified proposal, additional supporting evidence and/or hearings, as necessary.
The Court's Criteria
This Compliance Plan seeks to achieve compliance with the District Court's March 29, 1995 decision, reported at 879 F.Supp. 185(D.R.I. 1995), within the guidelines set forth in the District Court's August 17, 1995 decision rejecting Brown's first Proposed Compliance Plan.3 The District Court's findings include:
"Brown may achieve compliance ... [by] demot[ing] or eliminat[ing] the requisite number of men's positions...." March 29, 1995 Opinion, p. 67.

==========
End Page 3
==========

Title IX compliance can be achieved by a program where "intercollegiate level participation opportunities for male and female students are provided in numbers substantially proportionate to their respective enrollments." (Quoting Prong One).
Under the District Court's Prong One analysis, the ratio of male and female student-athletes must "mirror[] the student enrollment as closely as possible." March 29, 1995 Opinion, at 37.
Participation is measured by the number of student-athletes whose names appear on Squad Lists for Varsity teams, excluding those who were cut or quit (except if "very late" in the season), but does include injured team members.
Creation of new Junior Varsity teams for women will not be counted.
II. OVERVIEW OF COMPLIANCE PLAN
Through a combination of significant and substantial increases in the intercollegiate participation of women at Brown, as noted in Brown's evidence and Post-Hearing Memorandum, and experience in imposing maximum squad sizes on men's teams, Brown has determined that, under the conditions stated in this Plan, and within the requirements imposed by the Court, Prong One compliance remains possible without having to entirely eliminate men's teams or having to create additional University-funded varsity teams.
The Compliance Plan achieves compliance with Prong One by:
eliminating men's positions without eliminating any men's teams.
enforcing team minimums and maximums to stabilize relative proportions of men and women.
creating additional women's intercollegiate opportunities consistent with both the District Court's analysis and Brown's physical and budgetary limitations. This Compliance Plan offers Brown's students, athletes and non-athletes, the broadest possible educational/athletic offering and retains continuity in Brown's


==========
End Page 4
==========

sports program and its tradition of offering the broadest possible range of sports within the limits of facility and budgetary constraints.4
The Compliance Plan results in intercollegiate participation on University-Funded and Donor-Funded teams of 487 women and 431 men, a ratio of 53.1% women to 46.9% men. The undergraduate student body ratio for 1996-1997 was 53.8% women and 46.2% men.
While Brown believes that this Compliance Plan "mirrors" the undergraduate student body ratio of women and men, Brown has also proposed Alternatives A and B, which would change the funding status of or eliminate men's teams if this Compliance Plan is not acceptable to the Court.
Compliance Plan Methodology
The Compliance Plan uses the following methodology:5
Step 1: Count the number of women who participated in 1996-1997 on Varsity teams, using the District Court's methodology;6
Step 2: Ascertain whether there is any reasonable basis to conclude that those participation numbers will differ significantly in the next academic year, and, if so, adjust the number derived in Step One;
==========
End Page 5
==========

Step 3: Calculate ratio of men to women in current academic year's undergraduate student body;
Step 4: Determine number of male athletes which will result in gender ratio of student-athletes being exactly proportionate to undergraduate student body ratio, according to the following formula:

# of female athletes      % of female undergraduates
--------------------  =  ----------------------------
# of male athletes        % of male undergraduates

In applying the formula, all values except "# of male athletes" are known, and the formula is solved to render the number of male athletes which would achieve exact proportionality; and
Step 5: The number of male athletes permitted is allocated among existing teams as a maximum number per team. Under the Compliance Plan, the maximums are allocated to result in participation which mirrors, as closely as possible, the undergraduate student body ratio, given the selection of existing sports, the interest historically shown in those sports and the desire to offer athletic opportunity to student-athletes to the maximum extent possible within the limits set by the Court. This maximum is strictly enforced by requiring coaches to cut rosters to the stated maximum prior to the first regular competition, which comports with the District Court's method of counting.7
==========
End Page 6
==========

Alternative Compliance Plans
In the event that the District Court rejects Brown's Compliance Plan, Brown reiterates its position that it cannot create additional University-Funded teams under any circumstances.
Therefore, the Court is advised that, if the Compliance Plan, as submitted or modified by Brown in response to specific concerns of the Court, is not acceptable, then Brown proposes the following alternatives:
A. In the event that this Court chooses to apply an analysis which differentiates between University-funded and Donor-funded teams, and such analysis requires gender balancing within one or both of those categories for purposes of Prong One compliance, then Brown proposes to change the status of one or more men's teams from University-funded to Donor-Funded Status; or
B. Outright elimination of one or more men's Varsity teams.8
III. APPLICATION OF COMPLIANCE PLAN
Step One: Following are 1996-1997 actual female participation figures9 as calculated from Squad Lists as counted by the District Court10 and 1996-1997 minimums:
==========
End Page 7
==========

Women's 1996-97
Participation
Women's 1996-97
Minimums
University-funded
Basketball
14
15
Crew
51
45
Cross-Country
25
20
Field Hockey
36
25
Gymnastics
16
n/a
Ice Hockey
18
22
Lacrosse
35
27
Soccer
25
26
Softball
18
18
Squash
16
16
Swimming
28
24
Tennis
11
10
Track
53
40
Volleyball
17
18
Donor-funded
Equestrian
31
n/a
Fencing
15
n/a
Skiing
13
n/a
Golf
7
n/a
TOTAL Varsity Women
429
Step Two: The anticipated participation for women in the 1997-1998 academic year is expected to differ from the 1996-1997 participation in the following respects:
Women's Lightweight Crew will be added as a Varsity division to the Women's Crew Team. This is an emerging sport which offers the opportunity for new athletes to compete at the varsity level in regular season competition.11 Based upon the needs of a team, the

==========
End Page 8
==========

experience Brown has in recruiting women's Crew teams and the experience of other institutions which have sponsored Women's Lightweight Crew teams, expected participation in this sport for 1997-1998 is at least 25 women;
Women's Water Polo will be changed to a Donor-Funded Varsity team. Participation is expected to be at least 16 women;12
Given the stringent requirement that participation numbers mirror undergraduate participation, minimum participation numbers will be strictly enforced. Based upon previous experience, it is clear that many coaches are able to exceed their minimums. However, certain coaches have failed to meet their minimums for reasons beyond the control of the University. Therefore, minimum roster sizes will be adjusted/imposed and enforced as follows:
==========
End Page 9
==========

1997-1998 Minimum Roster Sizes for Women's Teams
University-funded
Basketball:
16
Crew:
55
Cross-Country:
25
Field Hockey:
36
Ice Hockey:
22
Lacrosse:
32
Light. Crew:
25
Soccer:
26
Softball:
20
Squash:
17
Swimming:
28
Tennis:
11
Track:
50
Volleyball:
18
Donor-funded
Equestrian:
26
Fencing:
15
Gymnastics:
1613
Skiing:
15
Water Polo:
16
Golf:
5
Minimum varsity women
474
===========
End Page 10
===========

Experience reveals that minimums will be exceeded, program-wide, but the exact distribution of those individuals beyond the minimums cannot be anticipated.
Given the strict numerical balancing required by the Court, minimums will be strictly enforced under this Compliance Plan.
Actual participation for women in 1997-1998 will be the total of 1997-98 minimums plus the number of athletes over those minimums who can be expected to participate. For purposes of this Compliance Plan, Brown assumes that the number of women athletes participating in excess of the minimums will be the same (although not necessarily on the same teams) as the number of actual participants in 1996-1997 on individual teams which exceed the 1997-1998 minimums, which are as follows:
Women's Participation in Excess of Minimums
| | |
| --- | --- |
| Lacrosse | 3 |
| Track | 3 |
| Golf | 2 |
| Equestrian | 5 |
| TOTAL Additional Women's Participation | 13 |
In sum, enforcement of minimums plus expected participation over minimums should result in actual participation in 1997-1998 of 487.
Step Three: According to figures obtained from the Registrar, the undergraduate student body gender ratio for the 1996-1997 academic year was 46.2% male and 53.8% female.
Step Four: Apply formula:

# of female athletes      % of female undergraduates
--------------------  =  ----------------------------
# of male athletes        % of male undergraduates

which is calculated as follows:

        487               53.8
--------------------  =  ------
 # of male athletes       46.2

===========
End Page 11
===========

and renders the following: # of male athletes = 418, which is the number of male athletes that would result in exact proportionality.
Step Five: Brown imposes the following maximum and minimum roster sizes on men's teams:14
Men's Maximums
Men's Minimums
University-Funded
Baseball
26
20
Basketball
16
14
Crew
46
45
Cross=Country
20
18
Football
99
85
Ice Hockey
33
25
Lacrosse
39
32
Soccer
26
24
Swimming
20
16
Tennis
10
9
Track
50
40
Wrestling
30
20
Donor-Funded
Equestrian
2
0
Fencing
15
10
Golf
10
5
Squash
10
8
Water Polo
16
14
Total
468
385
Experience during the 1996-1997 academic year with the application of team maximums reveals that, program-wide, it can be anticipated that the


===========
End Page 12
===========

total number of participants, as counted by the District Court, will be less than the total maximum number of athletes permitted, but it cannot be anticipated on which specific teams those shortfalls will occur. For example, in 1996-1997, while the maximum number of Men's University-Funded Athletes was 417, the actual participation number on those teams was 384, which renders an expected participation rate of not more than 92.1% of total permitted maximums. 15
Based upon this experience, the actual participation produced by the application of the stated maximums is expected to result in participation at 92.1% of 468, or 431.
Assuming a program which has 431 male participants and 487 women, the relative percentages of men and women would be 46.9% male and 53.1% female, which Brown believes mirrors as closely as possible, within the meaning of the District Court, the 46.2% male to 53.8% female ratio of the undergraduate student body.
IV. CONCLUDING REMARKS
Brown has exerted its best good faith efforts to propose a Compliance Plan which comports with the District Court's analysis. It has never been Brown's desire to deny opportunities to any student-athlete with the ability and interest to compete intercollegiately. In fact, the genesis of this suit was Brown's decision, based upon budgetary constraints, to change the funding status of four teams, two men's and two women's, without eliminating the opportunity for Brown students to compete in the affected sports.
The Compliance Plan is as consistent with that philosophy as Brown believes that the District Court's analysis permits. Brown takes no comfort in proposing this Compliance Plan, which denies participation to many interested and able student-athletes, but, as between the 'rock' of the District Court's analysis and the 'hard place' of the financial reality of running a University, Brown has proposed a plan which, among distasteful alternatives, is the least distasteful.
===========
End Page 13
===========

Respectfully submitted

Brown University, by its attorneys
Jeffrey S. Michaelson
MICHAELSON, MICHAELSON & ZURIER
321 South Main Street
Providence, R.I. 02903
(401)277-9300
(fax)331-2945
Beverly E. Ledbetter
General Counsel
103 University Hall
Brown University
Providence, R.I. 02912

===========
End Page 14
===========

Comparative Table
Women's
Minimum
Roster Size
Men's
Maximum
Roster Size
Men's
Minimum
Roster Size
University-Funded
Basketball
16
16
14
Crew
55
46
45
Cross-Country
25
20
18
Field Hockey
36
--
--
Football
--
99
85
Ice Hockey
22
33
25
Lacrosse
32
39
32
Lightweight Crew
25
--
--
Soccer
26
26
24
Softball/Baseball
20
26
20
Squash
17
--
--
Swimming
28
20
16
Tennis
11
10
9
Track
50
50
40
Volleyball
18
--
--
Wrestling
--
30
20
Donor-Funded
Equestrian
26
2
0
Fencing
15
15
10
Golf
5
10
5
Gymnastics
16
--
--
Squash
--
10
8
Skiing
15
--
--
Water Polo
16
16
14

===========
End Page 15
===========

CERTIFICATE OF SERVICE
I hereby certify that I caused a copy of the foregoing document to be mailed, by first class mail, postage prepaid, to the following attorneys of record on the _____ day of _________, 1997:
Lynette Labinger
Roney & Labinger
344 Wickenden Street
Providence, RI 02903
Amato A. DeLuca
DeLuca & Weizenbaum
36 Exchange Terrace
Providence, RI 02903


Sandra Duggan Esq.
31 North Columbus Blvd.
Suite 104
Philadelphia, PA 19106
Raymond Marcaccio
Blish & Cavanagh
30 Exchange Terrace
Providence, R.I 02903


Arthur H. Bryant
Trial Lawyers For Public Justice
1625 Massachusetts Avenue, N.W.
Suite 100
Washington, D.C. 20036

===========
End Page 16
===========

(Return to news release 96-114.)
Notes
1 As both the District Court and the Court of Appeals have noted, Brown's program was marked by explosive growth in women's sports in the 1970's, which made the Court's interpretation of Prong Two as requiring continuous, slow growth impractical for Brown and inconsistent with Brown's commitment to women's sports.

Nevertheless, the number of women participating in Brown's intercollegiate athletics has continued to grow as existing women's teams attract greater numbers of athletes. This growth is a positive reflection on Brown's commitment to women's athletics as it affects Brown's ability to attract, through recruited and non-recruited athletes, greater numbers of participants on existing teams.

Ironically, Brown's commitment to women, in such programs as the WISE (Women In Science And Engineering) program, which specifically seeks to increase women's participation in those studies, as well as the attractiveness of the entire Brown experience to women, have combined to increase the undergraduate percentage of women, with the result that Brown is now forced to mirror that growth in its intercollegiate athletics program.

2 Brown has consistently expressed, and continues to express that limitations on facilities and funds make it impractical and inconsistent with Brown's overall priorities to create new varsity teams as the University-funded level.

3 While Brown believes that the Compliance Plan comports with the District Court's analysis, the District Court previously rejected two alternatives which were offered to the District Court in good faith based upon Brown's interpretation of the District Court's method of counting opportunities, type and level of opportunity which the District Court counted and an assumption that such methods of counting would be applied equally to men's teams and women's team. The District Court summarily rejected both alternatives in the first Proposed Compliance Plan and, instead, Ordered a Plan of the Court's own devise, which was inconsistent with Brown's priorities, and was reversed by the Court of Appeals.

4 In this respect, Brown has maintained, and continues to maintain, that its facilities, while clearly outstanding, are severely strained given the demands of recreational, physical education, intramural, club and varsity programs. Under these circumstances, Brown has virtually nowhere left to grow, with the exception of specialized, exclusive use facilities, such as the Marston Boathouse, which are not subject to competing demands.

5 The chosen methodology lends itself to annual recalculation, and Brown anticipates that it will be employed annually in order to maintain compliance with the District Court's analysis of Prong One so long as Brown remains bound by that analysis.

6 Brown will continue to promulgate and enforce rules which will ensure that Women's teams attract and support athletes. These minimum requirements are consistent with proven past capacity of women's teams, barring circumstances justifying such increased minimums.

7 If required by the District Court, these maximums could be adjusted mid-season to offset any shortfall in the number of female athletes. Conversely, if permitted by the District Court, maximums could be increased mid-season to account for any increases in female participation over anticipated levels. However, Brown believes that such mid-season adjustments are both impractical and beyond the requirements of the Court's analysis. To the extent that actual participation varies and, with it, relative participation rates for men and women, Brown believes that such variance is within the Court's contemplation in its requirement that the proportions mirror "as closely as possible" undergraduate student body ratios. Furthermore, given the methodology which the Compliance Plan employs, adjustments will be made on an annual basis, thereby limiting any methodological error to one year.

8 If either Alternative A or B should ever be required, Brown proposes announcing which team is to be changed in status or eliminated before the beginning of the 1997-1998 academic year, to be effective commencing the 1998-1999 academic year. However, if this one year delay were not acceptable to the Court, Brown would change the status or eliminate the team effective the 1997-1998 year.

9 Actual participation figures included 5 women who fill positions on the Men's Crew team.

10 While the District Court's analysis of Prong One does not distinguish between University and Donor-funded teams, Brown designates funding levels as a convenience and because the District Court did so in its decision.

11 With the addition of Women's Lightweight Crew as part of the University-funded Women's Crew team, an additional Assistant Coach will be added. Funding for this additional position is available, in part, from the elimination of an Assistant Men's Football Coach. In addition, the U.S. Olympic Committee is considering a proposal to fund Lightweight Crew programs through grants.

12 Funding for the Donor-funded Women's Water Polo team will be provided by the Brown University Sports Foundation which, through restricted and unrestricted funding, as well as the existing funding guarantees available to all Donor-funded teams, are sufficient to insure funding for the 1997-1998 season. In that respect, inclusion of Donor-funded teams in the Compliance Plan analysis for the following academic year is predicated on the availability of funding.

13 Funding for the Donor-funded Women's Gymnastics team will be provided by the Brown University Sports Foundation which, through restricted and unrestricted funding, as well as the existing funding guarantees available to all Donor-funded teams, are sufficient to insure funding for the 1997-1998 season.

14 Because the Women's and Men's Track teams share coaching, and because the Coach would, if permitted by the Court, permit essentially unlimited membership, the maximum number of men will be increased by one man for each two women by which the Women's Track team exceeds its minimum. This would apply to both Cross-country and Indoor/Outdoor Track. A similar rule would apply to Men's Fencing and Swimming, which also share coaching with the matched Women's teams.

15 Men's cross-country's 1996-97 maximum was increased to 22 based upon increased women's participation.

(Return to news release 96-114.)