The 238th Commencement
Greta Pemberton and Ari Savitzky To Deliver Senior Orations
Greta Pemberton of Silver Spring, Md., and Ari Savitzky of Providence, R.I., will deliver senior orations to their classmates on Sunday, May 28, 2006, at 12:50 p.m. on The College Green. Pemberton's address is titled "Consider Play," and Savitzky's is titled "Save the Oration (for Tomorrow)."
---
PROVIDENCE, R.I. — Brown University's graduating Class of 2006 will hear orations from two classmates – the first from a social and political activist, the second from a theologian and future minister – during the University's 238th Commencement Ceremony Sunday, May 28, 2006, at 12:50 p.m. on The College Green.
Ari Savitzky of Providence, R.I., and Greta Pemberton of Silver Spring, Md., have been selected as senior orators, a traditional highlight of Brown's Commencement Weekend. They were chosen from more than 50 applicants by a group of faculty, deans and graduating seniors.
"Everyone will enjoy these two quite different speeches immensely," said Steven Cornish, associate dean of the College and a member of the selection committee. "Greta's speech is a very amusing yet meaningful rumination on the meaning of play in our lives, while Ari will weave together historical and contemporary themes as he reveals the 'town and gown' history of the Brown University Commencement address."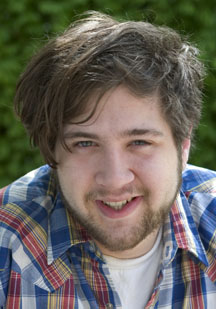 ---
---
Providence native Savitzky is a local history buff who has attended school since kindergarten within walking distance of Brown. He's spent his undergraduate life steeped in politics: working on the presidential campaign of Howard Dean, serving as senior class co-president, and on the Undergraduate Council of Students. This pivotal player in the intramural softball team The Sock Puppets also has written for The Brown Daily Herald and illustrated for The College Hill Independent.
"I feel a little sorry for the people who have to listen to me ... but I'll try and touch on the meaning of being up there on the podium as much as possible," Savitzky says. In his speech, titled "Save the Oration (for Tomorrow)," Savitzky will explain the interesting evolution of the Commencement speech at Brown and in Rhode Island, and how important a milestone it really is.
He remains undecided on his post-graduation plans – seeking his fortune around the world, considering a job on Capitol Hill in Washington, D.C., or delving into local Rhode Island politics. His parents, Eve and David Savitzky, live in Providence.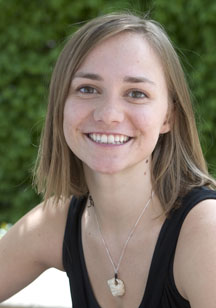 ---
---
Pemberton is also a history major, but with very different post-graduation plans. Since graduating from Richard Montgomery High School in Rockville, Md., Pemberton has decided to become a Unitarian minister. "It's something that I came to over my time here at Brown," she says. When she is not helping other students with writing as a teaching fellow, she acts in improvisational comedy troupes on campus. Pemberton has led many groups in BOLT, the Brown Outdoor Leadership Training program.
In her speech, Pemberton will unpack her reasons for her decision to become a Unitarian minister, weaving that commentary into an exposition on the importance of play – spiritual, academic, or purely for amusement itself. Post graduation, she hopes to "write and do a lot of social justice." She will also shepherd Web and production aspects of the award-winning Public Radio International syndicated radio show "Open Source" with Christopher Lydon. Her parents Miriam and Alan Pemberton live in Silver Spring, Md.
######
---
Media Relations Home | Top of File | e-Subscribe | Brown Home Page