Orations of the 238th Commencement
Ari Savitzky '06: "Save the Oration (for Tomorrow)"
Ari Savitzky, son of Eve and David Savitzky of Providence, R.I., delivered one of two senior orations to the Class of 2006 during Commencement ceremonies Sunday, May 28, 2006, on The College Green at Brown University. The text of his address, titled "Save the Oration (for Tomorrow)," follows here.
[See also the student oration news release and text of the oration by Greta Pemberton.]
---
Look around you. This ceremony, in the 19th century, was one raucous shindig.
The Commencements of the early 1800s were a city-wide event; throngs reveled (and drank) in the streets in a disorderly celebration of Rhode Island's highest born sons. Brown Commencement was the biggest of local affairs, and Brown itself the locus of local power. The chief constable of the city police became part of the official commencement procession to help quell the jubilant masses of Providence.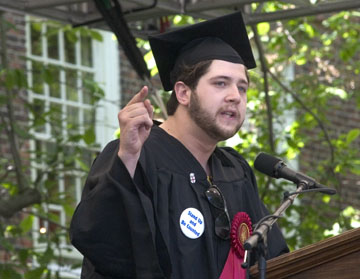 ---
---
The tradition of senior oration began at the First Baptist church. As a requirement for graduation, each senior would stand before President Manning and his entourage and recite a chunk of the Bible in Greek or Latin. The townspeople crammed the church to watch. The ritual was pre-modern and downright ecclesiastical, but it was still a test. Students had to speak the gospel truth to an assembly of power.
Now, you have to listen to me, which is arguably more difficult.
I think there was something very good in that original idea: that in order to "discharge the offices of life with usefulness and reputation," Brown students should be able to speak before a public audience, before our peers and elders, before the authorities and the townspeople who come in from the street.
I am from Providence, and I've spent some time studying connections between Brown and my home. T. F. Green first appeared in my undergraduate life when I moved into Hope College. His poem on the 1887 gate right outside my first-year dorm was a warm introduction to campus, even before I got the Dante reference(s):
"All entering here find hope endures,
the fount of knowledge still allures,
and here good fellowship abides
to cheer and help whate'er betides."
If Green thought this place was a special world, it was not because of geography: He came here from his home on John Street – an even shorter distance than I traveled to Brown. Thirty years after writing the poem, Green was governor, soon to be a senator and then an airport. He came to this Commencement ceremony almost one hundred times, from infancy to the age of 98.
But as an undergraduate in the 1880s, Green doubted the oration. He doubted that it could help Brown students to lead – or even communicate with – the public.
To kick off a student oration on how to give an oration, Green asked a serious question: "Who is able to convince men and move them to action?"
He answered with cutting sarcasm: The finest speech was the kind that was finished and pre-ordained and esoteric and delivered with "the best exhibition of elocution and gesture." The most galvanizing public speaker was the one who best subordinated substance to style.
Across the top of his paper, his professor wrote "not an acceptable theme." Formal oratory was rote and stuffy and a major part of the college curriculum. After Green's graduation in 1887 the number of senior Commencement orators was winnowed from most of the class down to ten.
The dry format left some room for courageous criticism: In 1896 Emma Bradford Stanton, as far as I can tell the first woman student orator at Commencement, spoke about the history of her hometown of Bristol, R.I. There was a time there, she told her fellow graduates, when "everybody who could engaged in [the slave trade], and apparently with clear conscience."
The orators grew fewer and fewer. Commencement became the oration's last bastion, as well as its pedestal. Graduating seniors began to use the oration to speak about the events right in front of them.
On the eve of the Second World War future R.I. governor Frank Licht told the Brown Community that "America must choose." At Commencement in 1942, Irving Rubin called for America to recognize the brave Russians fighting beside her, and to stop using the term communism "as a 'bogeyman' to frighten the masses."
In 1969, Ira Magaziner argued for "the necessity of cultural revolution in the United States."
Do we use this day to speak to the society around us? Will they listen? A senior orator in 1943 told seniors departing for war: "Fight for a league of nations, but fight for a league of nations with some teeth in it." In 2004, another senior orator discussed the injustice of the Patriot Act.
I hope the latter criticism is more successful than the former. But maybe we should cut the pretenses.
All around us, we are told, things are ending: truth, modernity, fiscal sanity, history, peace, America's dominance, even this earthly kingdom itself. But we don't act like it – we invest importance in the things that move us, we claim citizenship in great cities. We make the future –Brown's future, Providence's, America's – our business. We know no other way.
So I want to ask T. F. Green's question, but seriously. How do you transform thoughts and ideas into action, into habit, into something that lives on in people and not just the University archives? How do you "convince men," women, minds and bodies, "and move them to action?"
Let me propose that you don't do it here, like this.
This ritual – the undergraduate Commencement speaker – is rooted in pedagogy. It has been kept alive at Brown and has developed a sort of frugal novelty in the era of the $100,000 celebrity commencement speech. It has been subsumed by celebration.
And why not? Today is a joyous occasion. The jumbotron is up. Something really is ending. How can the substance of a speech outlive the celebration?
Here is my idea: We will give our orations later. Make a note-to-self.
Brown graduates have long needed to know how to defend their positions. Just like the earliest Brown seniors, we also have to stand up and speak, to prove that we can influence the world, that we can discharge the offices of life with purpose, with power, with effect.
So let's all make a promise to one another, right now. We will take the indescribable feelings of this moment, born of the realization that all these years of education are behind us – as will be Brown, unbelievably, tomorrow – and save them.
There will be a point – perhaps more than one – for all of us, when something needs to be defended crucially, and we will be in a position to stand up and do so, and we will feel it absolutely viscerally. That thing that moves us will well up inside without higher thought or critical consideration – it will grab us and make its importance felt. I'm sure some of you have been gripped by it already, and it has shaken you to your foundations like homes in a storm.
Save the intensity of this moment – the feeling of the future's promise, of personal purpose (however fleeting). Save it for later.
Save it for a moment when you can change the course of history, for Brown or Bristol or Brazil, for Providence or America, in your neighborhood, in your firm, in your family, in your government. Save it for your oration.
The oration was meant to give us the power to speak in ways that change the world around us. Today, we celebrate our newfound power. But we have yet to pass the final test, and the ritual will not do. Promise me, promise us all, that you too will give an oration, that you will speak from the heart when it matters most.
One oration can only be mimesis, it goes through the motions, it symbolizes the thing that we might do. But 1,600 well-placed orations, in the boardrooms and city halls of our post-graduate existences, can change lives and the planet itself.
Today we celebrate. Hope endures. Good fellowship abides. Tomorrow will be the first day of a new existence. Let us save the oration for then.
######
---
Media Relations Home | Top of File | e-Subscribe | Brown Home Page