Habits of Living: Networked Affects, Glocal Effects
an international, interdisciplinary collaboration located at Brown University and traveling through different international locations in Bangalore, Oslo and London. It is an inquiry into the networked conditions of our times, and how they produce ways, conditions and habits of life and living which need to be unpacked beyond mapping and analyzing networks as producing seamless globalizations. Through a series of workshops, art residences, and dialogues, Habits of Living seeks to change the focus of network analyses away from catastrophic events or their possibility towards generative habitual actions that negotiate and transform the constant stream of information to which we are exposed.
Conference: Habits of Living (Brown University, March 21-23, 2013)
Watch: Video from Katherine Moriwaki and Jonah Brucker-Cohen's Scrapyard Challenge (4.21.13)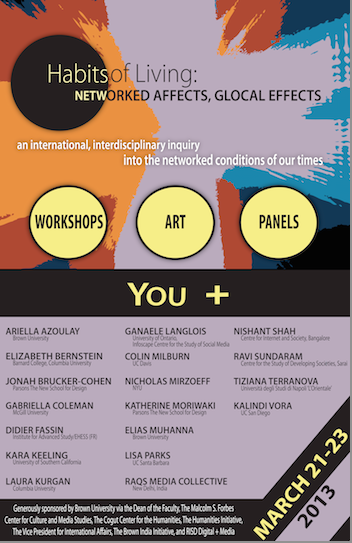 Unconferences/Workshops:
Thursday, March 21, 5:30pm - 7:00

CAVE Virtual Environment Tour
(Click to sign up)

Friday, March 22, 1:00pm - 2:20

FemTechNet dialogue: Race and Sexuality (Faith Wilding, Kara Keeling)
Location: Martinos Auditorium, Granoff Center


Saturday, March 23, 12:00pm - 1:15

FemTechNet dialogue: Machine (Wendy Hui Kyong Chun, Kelly Dobson)
Location: Martinos Auditorium, Granoff Center
Saturday, March 23, 1:15pm - 2:30

FemTechNet dialogue: Race and Technology (Lisa Nakamura, Maria Fernandez)
Location: Martinos Auditorium, Granoff Center
FemTechNet dialogues generously funded by the Pembroke Center Seed Grant Program
Propose or sign up for an unconference or workshop here
This international conference will bring together prominent and innovative scholars and artists at Brown University. There will be ninety-minute panels (each with two speakers), a keynote address by the RAQs Media Collective, a series of concurrent "unconferences" (informal sessions to be run by the audience), a scrapyard challenge, and an exhibition of work running in parallel. Speakers include Ariella Azoulay, Elizabeth Bernstein, Biella Coleman, Didier Fassin, Kara Keeling, Laura Kurgan, Ganaelle Langlois, Colin Milburn, Nicholas Mirzoeff, Elias Muhanna, Lisa Parks, Raqs Media Collective, Nishant Shah, Ravi Sundaram, Tiziana Terranova, and Kalindi Vora.
This event is designed as a large public conference whose major segments are participant-driven "unconferences." Unconferences are fluid events of casual five-minute "lightning" presentations and informal dialogue generated through group interactions. To facilitate discussion around networked societies, the multiple unconference sessions will focus around topics generated in advance by all the participants in the audience who will be guided through a quick and easy sign-up process. The unconferences are meant to take a more improvisational form, so the themes and locations will remain flexible, and entirely driven by audience participation.
Attendance at the conference is free, but please register here.
Habits of Living is generously sponsored by The Department of Modern Culture and Media at Brown University and via the Dean of the Faculty, The Malcolm S. Forbes Center for Culture and Media Studies, The Cogut Center for the Humanities, The Humanities Initiative, The Vice President for International Affairs, and The Brown India Initiative, Additional sponsorship provided by RISD Digital + Media.