Discussion points
Here is a provocative statement: landscapes are NOT representational entities. Departing with Isabel McBryde's discussion that it is always the easy way to think of certain landscape features as "representational, symbolic of the presence of ancestral beings" and that we need to move beyond this representational conundrum by suggesting that we need to start to accept "these features as embodying the actual living presence of spiritual power and involving embodied, direct interaction..." (156). How does this standpoint compare to Knapp and Ashmore's "ideational landscapes" from last week? Based on this idea, could it be also possible to discuss the pros and cons of the common understanding of landscapes as "artifacts" or "cultural artifacts" or "social constructs" or "cultural images"? In this way the Pintupi Dreaming is a fascinating concept which I'd like to discuss. There we are not talking about a symbolic cloak draped over a physical landscape, rather the opposite: the Dreaming is the foundation for the place-world (or all other phenomena) to come to being. Its connection of ancestral beings, place-specific practices, memory and storytelling seems to me hugely important.
McBryde's account of red ochre expeditions to the quarry Pukardu Hill in the Lake Eyre landscapes is a fascinating example that puts together rather well many of the issues we are concerned with: resourceful landscapes as we were discussing last week are far beyond simple economically driven habitats - they are socio-symbolic taskscapes that interweave an intricate world of significant places, routes, ancestral past, bodily performances and rituals, songs, stories and myths, interaction amongst animals and humans at odd geological formations, a lot of death and birth.
Conservation of "cultural landscapes" as a fairly recent phenomenon in international cultural heritage organizations. Cultural preservation has long focused on monuments and archaeological sites, as isolated islands of preservation. But how does one go about "conserving" sustaining "archaeological" or "ethnographic" landscapes?
What is the ontological status of The Dreaming in Pintupi country? How does it relate to the materiality of landscapes?
What is Whitridge's critique of the place/space dichotomies in the scholarly literature?
What does mapmaking look like if you know, as a mapmaker, you are part of the map and the places you are mapping are changing through your mapmaking practice?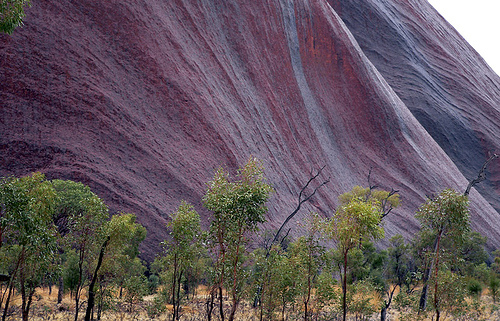 The sacred site of Uluru (Ayers Rock), Australia
---
Freeze Frame - James Doyle
Ancestors and the landscape - Ömür Harmansah
Imprint of Action - Claudia Moser
Depictions and movement - Brad Sekedat
Being Now Again - Tim Simonds
Dialogues between Dreamings - Jessica Nowlin
Passage of Place - Sarah Craft
Whose Ideal?: Conserving Landscapes - Emily Russo