Hi everyone, I'm a junior at Brown and a philosophy major. I'm 100% Greek, speak it fluently. Sadly, I've never been to Greece, always had soccer in the summers. I play Varsity Soccer for Brown as well, I'm from Connecticut, and i like long walks on the beach.
Key Terms to Define:
---
---
Posted at Nov 02/2007 11:50PM:
[D.M.]: The Greek Revival took place in the early 1800's and ended in the early 1900's, depending on who you ask. You can see the massive buildings, or works of art from as far as the eye can see, but people rarely know why or how they got there. The Greek revival is characterized by highly imitative buildings based off of Roman and Greek societies in their prime, but we will only be looking at the Greek influences (5th and 4th century B.C.E.), more specifically, those in Providence, RI. However, the infatuation with the Greek temple style in American architecture begins with Nicholas Biddle visiting Greece in 1806 and praising the architecture, and Thomas Jefferson owning a copy of the first volume of Antiquities of Athens. With this, Benjamin Latrobe designed many buildings in Washington, D.C. and helped the Greek revival flourish even more as more architects adopted this style, and American culture liked it as well. This brings us back to how they ended up in Providence, R.I., where we go to school and walk by these buildings everyday appreciating their grandeur, but unaware of the history behind them. The War of 1812 had just taken place and America began to move further and further away from British control and influence, and wanted to legitimize itself as a strong, civilized power among the relatively older nations. In addition, the Greek War of Independence was taking place in the 1820's and Greece celebrated its independence from the Ottoman (Turkish) empire. America found their inspiration and role model, which was the 5th and 4th centuries B.C.E. of Greece. What better way to become a legitimate staple in government, society, and civilization than to imitate those who created it. Soon, the Greek revival begins with the foundation being the Greek temple form or architecture (size, columns, friezes, individualism). We see the influences of the Greek revival every day in Providence, whether we are walking around campus or are taking a stroll past the courthouse, capital building, Athenaeum, and more. These spins on Greek architecture symbolized America being a civilized nation, and one focused on greatness. The Capital building began construction in 1895 and ended in 1904. As you can see in the pictures, it mirrors Greek architecture by the columns, friezes, and individuality, but with an America twist. Greek architecture had their own symbols, and America had its own as well, including: eagle, tobacco leaf, significant characters in American history, etc… The Masonic Temple, used as a meeting place for Freemasons, served a purpose of great importance. It was the gathering place of the brightest men in the nation at that time, and those who were considered power elites. These people wanted to associate themselves with rich Greek traditions in the hope that America would experience some of the great ages Greece had in the past. It was also a statement that America is here to stay as a nation, and a sense of fulfillment and pride went into building these incredible massive and decorative buildings. The Arcade is the oldest mall dating back to 1828. It was designed by Russell Warren and had ionic columns and a sense of organization that is evident in Greek temples and palaces with clearly designated areas for shops and other defined entities.
The pictures are meant to help draw comparison between Greek Architecture and the newly created Neo-Classical, which is what the Americans called theirs. It was to be America's foundation for their upcoming greatness, and setting goals for what they wanted to achieve as a nation. It is important to remember that although many buildings have many characteristics of Greek architecture that they are very different as well and boast American ingenuity as well. These were just a few examples, as I'd like to stress more the influence of Greece as a culture had on America at the time, and how Neo-Classical architecture was born out of Greek architecture. This is meant to give you a sense of things to look for, but more so to put you in the mind set of America as a nation so you can truly appreciate the goal and influence of Greece, rather than admiring how tall and beautiful the columns look you understand they stand for principles and intangibles America wanted to strive for: Democracy, Freedom, Happiness, etc…
---
Posted at Nov 02/2007 11:51PM:
[D.M.]: For some reason my pictures would not show up in the right places and after fooling around with this for a while with indentions and pictures and its getting late. Sorry for how it looks, and maybe a few pictures of other buildings might not be here, but i'll add them if i have time to get it in before 12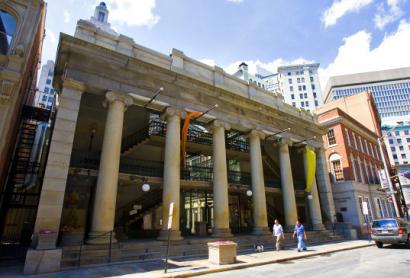 ---
Posted at Nov 02/2007 11:52PM:
[D.M.]: Arcade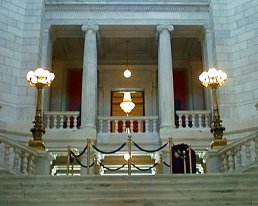 ---
Posted at Nov 02/2007 11:54PM:
[D.M.]: Capital building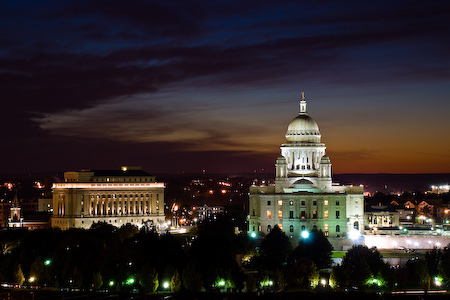 ---
Posted at Nov 02/2007 11:56PM:
[D.M.]: capital again, and look to the left!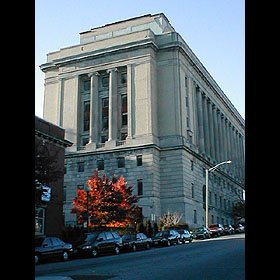 ---
Posted at Nov 02/2007 11:58PM:
[D.M.]: masonic temple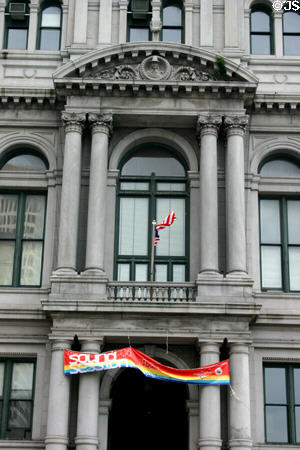 ---
Posted at Nov 02/2007 11:59PM:
[D.M.]: city hall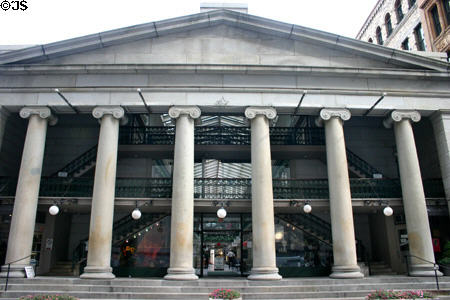 ---
Posted at Nov 03/2007 12:00AM:
[D.M.]: arcade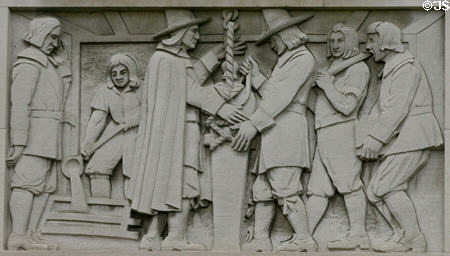 ---
Posted at Nov 03/2007 12:01AM:
[D.M.]: relief of bank of america building