Temple Architectural Features
In the beginning of the Geometric Period, there was a movement towards a canonical temple layout. It began with regularizing the rectangular shape as the main plan. The inner rectangular structure is called the CELLA. The cult statue is housed here.
Around the cella, there is a colonnade or peristyle which is a row of columns.
There are both front and back porches. The front is called the PRONAOS, while the back is called the OPISTHADOMOS. These were formed by the extending and thickening the walls of the cella.
The columns around the perimeter of the entire building also had a formal design. The number of columns on the flank numbered two times plus one of the number of columns on the front. The ideal ratio was 6:13.
The two columns in the front and back which are side by side are known to be in antis.
There were two styles that temple architecture fell under: Doric order and Ionic. The Doric was seen on the mainland in the Dorian areas and likely in the Corinthian area, and the Ionic was more often in the East and the coast cities along Asia Minor.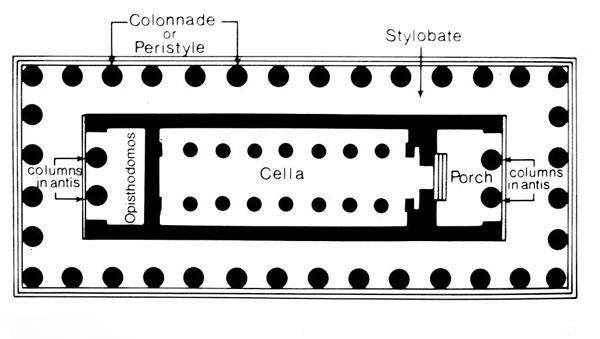 This plan was fully finalized around the 5th century.
http://www.odysseyadventures.ca/articles/greektemple/paestum_temple_plan.jpg Biers, William R. The Archaeology of Greece. Ithaca: Cornell University Press, 1996.
---
Posted at Dec 15/2007 09:53PM:
Rachel Griffith: This is a really useful reference to learn about temple features-- something thats pretty important to know when learning about ancient Greece!