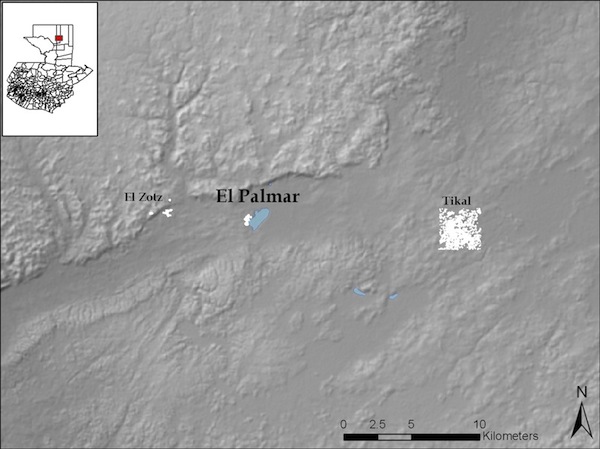 The site of El Palmar, Petén is located approximately 15km to the west of Tikal in the Biotopo San Miguel la Palotada "El Zotz." Robert Carr of the Tikal Mapping Project originally visited and sketched the site in the early 1960s, identifying the two largest building complexes on the edge of the Laguna El Palmar, located in the Buenavista Valley that connects the sites of Tikal and El Zotz. The Proyecto Nacional Tikal also conducted research in the area during regional investigations. In the early 2000s, Oscar Quintana visited and created an initial map of the central groups. Beginning in 2007, the El Zotz Archaeological project has conducted systematic total station survey and remote sensing of the site and surrounding areas, including radar elevation (SRTM, ASTER, and AIRSAR) and high-resolution satellite imagery (LANDSAT, IKONOS, and GeoEYE-1). The technical team has also conducted three field seasons of test pit, vertical, and horizontal excavations throughout the settlement to acquire the occupational history and construction sequence of El Palmar.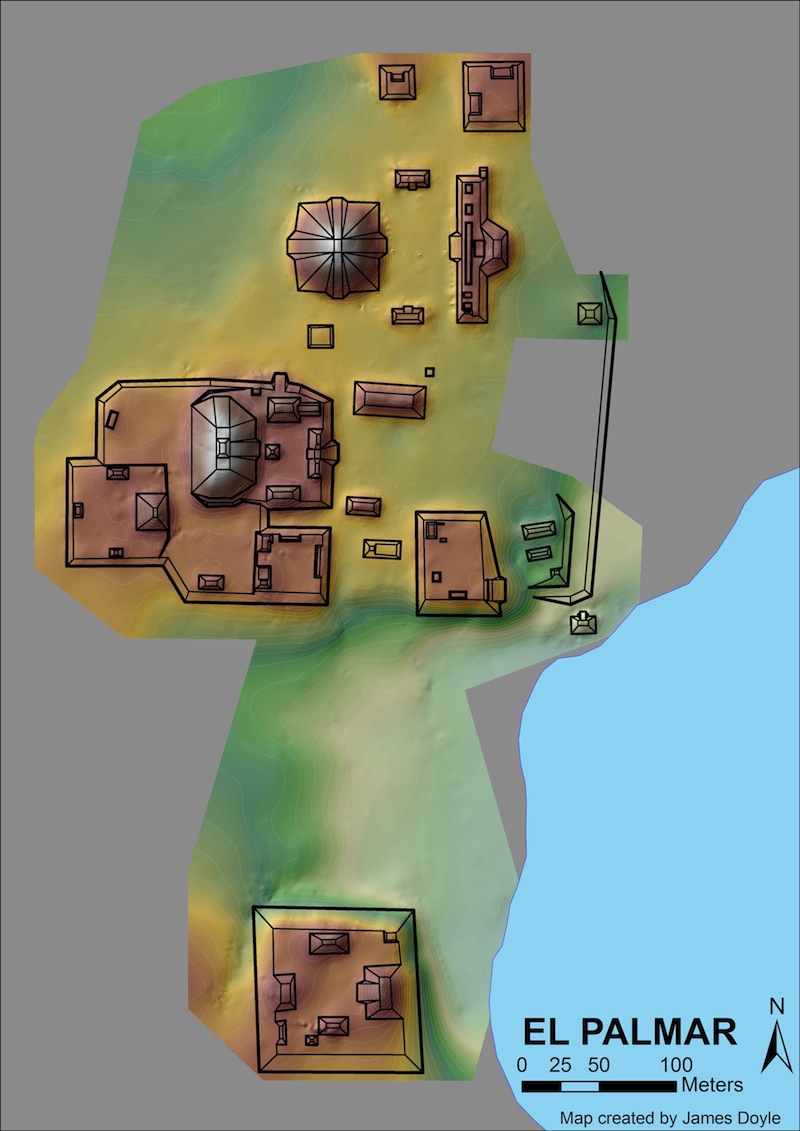 The PAEZ investigations have shown that the settlement of El Palmar covers at least 25 hectares and began during the Middle Preclassic, with the construction of an architectural complex known commonly as an "E-Group" or "complejo de conmemoración astronómico". During the Late Preclassic, the residents greatly enlarged the "E-Group" and constructed a large platform containing what is known as a "Triadic Group," as well as other large residential platforms in the central precinct. Architectural additions in the "E-Group" also occurred in the Terminal Preclassic and the early years of the Early Classic. During the early years of the Early Classic, El Palmar residents conducted a massive termination ritual deposit at a small temple, known to archaeologists as the "Templo de Agua," on the shore of the laguna. Shortly thereafter, the population completely abandoned the site.  Survey, excavations, and reconnaissance have not yet identified any reoccupation in subsequent periods, as occurred during the Late Classic at El Mirador, Nakbe, and San Bartolo. Below is a timeline, complete with radiocarbon dates.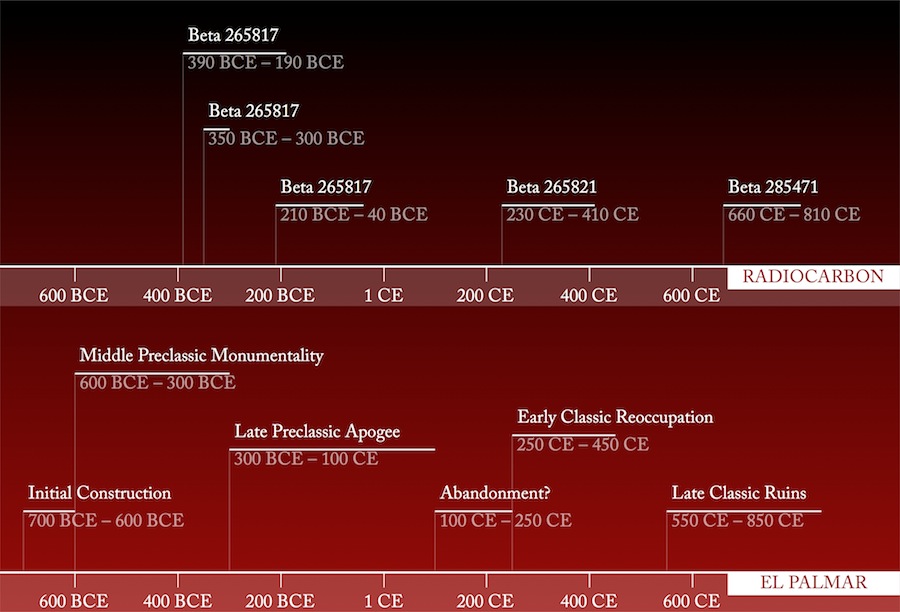 Thus, El Palmar is an ideal site to test hypotheses about the Preclassic-to-Classic transition because of its apparent complete lack of Late Classic Period overburden and its proximity to Tikal and El Zotz. The laguna, which still holds water today, also has great potential to contribute paleoenvironmental data about the entire Holocene epoch in the Central Petén. PAEZ investigations in 2010-2011, under the direction of Drs. Timothy Beach and Sheryl Luzzadder-Beach, will investigate the human impact on the laguna, and natural cycles of drying and flooding that could have contributed to its unpredictability as a reliable source of water.
---
Video animation of the topographic model of El Palmar.
---
See also: Gigapan of Laguna El Palmar. By Alex Smith.
---