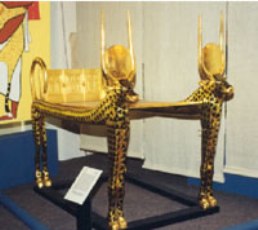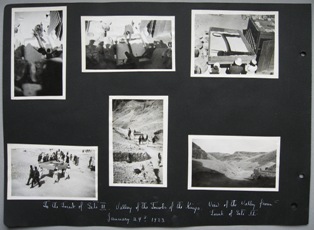 The 3,000 year old Cow Couch that JNB photographed emerging from Tutankhamen's Tomb in 1923 represented the ancient Egyptian goddess Hathor. The Hathor Cow was a goddess of love, happiness, music and the heavens, "whose speckled belly formed the starry sky," (Saqqara Online) Above, this reproduction of the ritual couch is exhibited online by the International Museum Institute of Texas.
To zoom and pan into any photograph below:
Click on the text to stay in the same window. Click on the image to open a new window.
The Sacred Hathor Cow: January 24, 1923

Preparing to box the Sacred Hathor Cow

The Cow is boxed while a crowd looks on: January 24, 1923
The Sacred Hathor Cow moves away from the Tomb

Armed guards escort the Hathor Cow: January 24, 1923


Who was John Nicholas Brown?

View JNB's Travel Itinerary in Egypt or flip through the Album Pages

Bibliography and Links
---
[[Home]]
---