Treatment
Adolescents present unique challenges to the treatment and justice systems because of the physical, psychological, and developmental changes associated with their age group, in addition to the factors associated with their delinquency. There is no one method of treatment that is most effective for treating adolescents with alcohol and other drug problems. In order to increase successful outcomes, treatment programs should be specifically designed to meet an individual's short and long term needs.
Knowledge of the needs of treating adolescent substance abuse and defining appropriate treatment continues to increase, and with this knowledge comes a clearer understanding of our shortcomings. While the capacity for treatment continues to grow, only 1 in 10 adolescents receives treatment and, of those who do receive treatment, only 25% receive enough (CSAT). It is imperative to address the lack of treatment availability and evaluate current and new treatment methods to determine their effectiveness in reducing adolescent substance use disorders.
Five Things To Remember About Treatment For Adolescents
Relapse is common. Most adolescents initiate treatment 2-4 times before they are able to maintain recovery.
Learn to recognize the signs of relapse (spending time with using friends, breaking rules, staying out, inattention, anger, poor hygiene, declining grades) and get adolescents back into treatment and on the road to recovery right away.
Helping adolescents participate in continuing care and other recovery support services during the first 90 days after treatment (and ideally the first year) is a key factor in helping them to maintain recovery.
While treatment is focused on getting an addicted person to stop, self-help groups, recovery schools and other recovery support services are typically designed to help maintain recovery. It is important to try to link adolescents to continuing care services with other adolescents.
Most adolescents are seen in an outpatient setting several hours a week. Residential treatment is usually reserved for adolescents who are not succeeding in outpatient treatment and/or who have an environment (peers, home) that is making it very difficult for them to stop.
When adolescents do receive treatment, it is most often not evidence-based. Recent research indicates most services in the juvenile justice setting are not provided when an adolescent first becomes involved in the system and do not involve families in the treatment process. Yet even if evidence-based treatment approaches are provided, there is often a lack of cooperation among service providers resulting in fragmented services that are not effective (Young et al., 2007).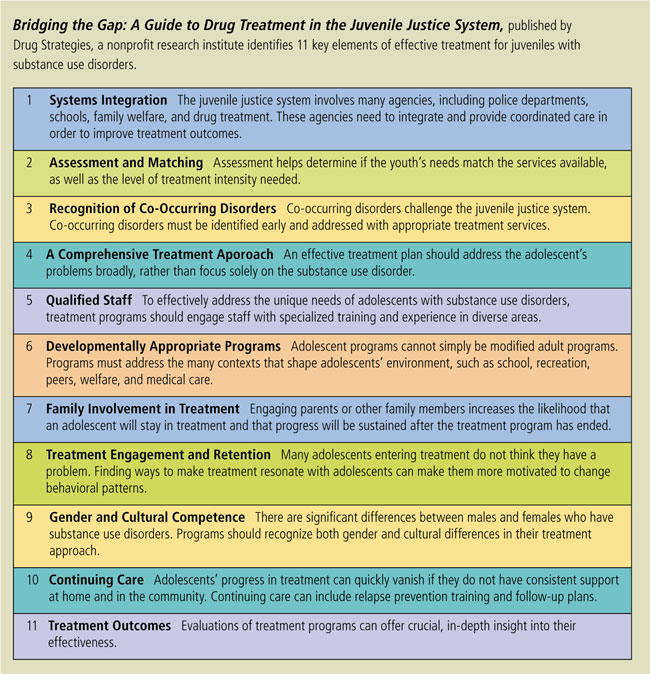 While the majority of treatment services are focused on a single episode of care, achieving long-term recovery involves an average of 3 or 4 episodes of care (Dennis et al., 2002). Biological, psychological, psychiatric, and sociological factors interact to influence the risk of relapse for any individual, therefore successful recovery involves the maintenance of new skills and lifestyle patterns that promote positive, independent patterns of behavior. The integration of these behaviors into regular day-to-day activities is the essence of effective relapse prevention. Yet, because adolescents are minors, they do not have the luxury to choose another home, community, or school to return to after treatment and they may have to return an environment that is far from ideal from a relapse prevention perspective.
For more information on determining appropriate evidence-based interventions for the treatment of alcohol and other drug problems:
SAMSHA's National Registry of Evidence-based Programs and Practices (NREPP)
www.nrepp.samhsa.gov