Infrequently Queried Interruptions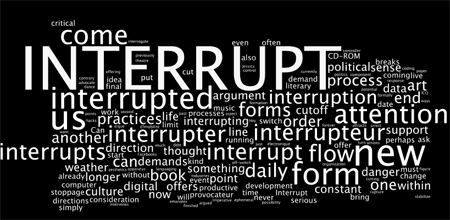 Texts on Interrupt by the Organizers
Interrupt: Questions Towards Determining Why We Are Doing This.
Where are we?
How will the weather change?
Who is in control?
How much will the weather change?

-> Empirical: What can be interrupted? / What can't be interrupted?
-> Imperative: What should be interrupted? / What shouldn't be interrupted?
What flows unimpeded?
What can flow impeded?

What is this interrupting?
What will never be interrupted?
If it's interrupted will it start again?
If it's interrupted will it start?
Jessica Laser
-> Ontological: Who is interrupting?
"In the circumstances contrary to the Order of the World which have now arisen...the weather is now to a certain extent dependent on my actions and and thoughts..."
(Daniel Paul Schreber,
Memoirs of My Nervous Illness
)
Friedrich Kittler has written that "Time determines the limit of all art, which first has to arrest the daily data flow in order to turn it into images or signs." Here, the interrupter enacts the arresting of the flow of daily data to stabilize the artwork within its form. The interrupter interrupts a process - a temporality - that comes before, just as "hardware interrupts" operating within our computer systems demand attention by interrupting currently running processes. This interruption offers a new direction, a new process to consider, often at the expense of the process that was previously running. When humans interrupt an event - a conversation, the conventional, our everyday sense of the daily flow of life - they often direct attention to a new line of thought or argument. The interrupter demands attention: "Hey! Look over here! What about this idea?" The interrupter breaks off or closes off what has come before in order to focus attention on a new, productive direction.
There is, of course, a danger that accompanies interruption. This is the danger of constant interruption where the possibility of coming to an end (a decision, a finished form) is forever foreclosed. This is, it seems, the paradigm of our current media and political culture. Our "daily data flow" is not one which is periodically interrupted ("We interrupt your regular programming to bring you this important announcement...about the attack of the killer tomatoes!") but one in which interruption is a structural component of the daily flow: thus we live within a culture of "catastrophe," a culture which no longer offers a conclusion or "final event" but which expresses itself as a constant overturning. The danger is that this form of constant interruption attracts us to the point of distracting us. The interrupter as a political figure must not simply put an end to what has come before, but she must respond to the processes already underway, attracting our attention to new arguments and productive lines of thought. The "interrupteur" is not the saboteur who breaks off (interrupts) a line of development without offering a new direction for consideration. Nor is the "interrupteur" an advocate (défenseur) who blindly attempts to continue the development of a line of thought. Nor is the "interrupteur" a simple provocateur who demands attention only to incite disturbance. The one who interrupts is perhaps a provocateur with an argument, with a critical argument (critical also in the sense of "urgent"), with an idea that demands serious consideration and responds to what has come before. Forgive the pun in what is meant to be serious, but let us read IRQ as we do ICQ ( "I seek you"), that is, "I argue." The one who interrupts creates a break between what has come before and what shall come after; she is a "switch" (an interrupteur électronique) between the past and the future, switching directions while launching an argued position that seeks not simply to "cut off" debate but to interrogate the politics and aesthetics of the forms in which she intervenes. Is this not also what the digital offers us? Not a complete and radical new rupture, but a chance to intervene in the history of analog forms, forcibly bringing to our attention new possibilities of shaping form through which we can engage the aesthetic and political directions which demand our attuned response?
"The book is both the apparatus and the expiration date that make us have to cut off the computer process, put an end to it. This stoppage dictates the end to us ... and there is a date, a limit, a law, a duty, a debt. It has to be transferred to another kind of support. ... For the time being, the book is the moment of this stoppage, the pressure to switch off. The day is coming, will come, when the off-switch or cutoff point -- the interrupteur -- which will never disappear (it is essentially impossible), will no longer be the order of another kind of support, paper, but another audiovisual device, perhaps the CD-ROM. This will be like another arrangement of the cutoff points. The word interrupteur -- cutoff point -- doesn't have a negative meaning in my view. There have to be cutoffs, that's the condition of any form, the very formation of form." (Derrida 28)
Even as he lights bizarrely on the CD-ROM (it's 1996) as a new potential 'interrupter,' Derrida reveals an aspect of the necessities to which he gestures. There has to be something, there has to have been something, there will always have to have been something that interrupts our work in order to offer us final form, even after and because we have gone, even though the support for our chosen form may be as ephemeral as a 'tained' disk encoding pulses of laser light.
The Pounding neo-Beat of Young-Hae Chang Heavy Industries and their Flash-languaged jazz world; Alan Sondheim's misdirections of abject 'second life' languaging into the avatar dance of Foofwa d'Imobilité; Laetitia Sonami's alternative controller sculpted music theatre; Eugenio Tisselli's web-based hacks, cutting and pasting, plugging and hiding gobbets of real life and death into our glossy Facebooks; Marko Niemi coding Concrete for the screen. These are the initial provocations that we will interrupt and ask to interrupt us. Interrupt chooses to present digital art work that is, in some sense, language-driven. While in active cooperation with other disciplines — music, cultural studies, performance — Interrupt's organization and curation emanates from Brown University's Literary Arts Program. For some time now we have been confronted with questions of where 'the literary' will be found in practices of digital art. Now we ask, "Can we interrupt these practices in ways that will leave us with forms in which the literary can live and die? Can we create events to formally interrupt practices that we already value as art, and allow them to reveal their necessary forms, but do so without harm to new cultures that these practices offer?" We no longer want to bring them to book, but to see whether on not they hold out forms for a book to come.
Derrida, Jacques. "The Word Processor." Trans. Rachel Bowlby. Paper Machine. La Quinzaine Littéraire, August 1996. Stanford: Stanford University Press, 2005. 19-32.