The Trial
Related Document
(expect a brief loading delay)
In December of 1871, the federal government indicted a hundred residents of Tucson and nearby San Xavier del Bac for the murder earlier that year of the Apaches camped under U.S. Army protection in Aravaipa Canyon. The trial, held from December 6th to 11th inside Tucson's adobe courthouse, attracted a considerable local audience, including a sizeable contingent of Tohono O'odham Indians. Those in attendance heard testimony from many leading figures in southern Arizona, from U.S. Army officers to members of the predominantly Mexican-American local population.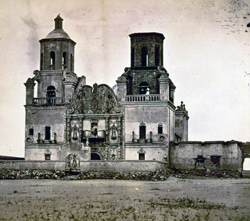 The only group not to participate in the proceedings, ironically, was the very people for whom the trial sought to achieve justice, the Apache. The federal government did not call any Apaches as witnesses, and it remained far too dangerous for the survivors of the Camp Grant Massacre, as the April 30th attack on the Apache encampment in Aravaiapa Canyon came to be known, to travel to Tucson to observe the proceedings.
The court case was called U.S. v. Sidney R. DeLong after one of the defendants, Sidney R. DeLong. In addition to being a partner in the region's most important commercial enterprise, the freighting and manufacturing company Tully, Ochoa & DeLong, Delong was one of the handful of Anglo-Americans accused of taking part in the attack on the Apache in Aravaipa Canyon. Despite (or perhaps because of) his rumored participation in the Camp Grant Massacre, DeLong was elected Tucson's mayor only a few weeks afterwards. It was probably as a result of his local prominence that he was made lead defendant in the ensuing court case.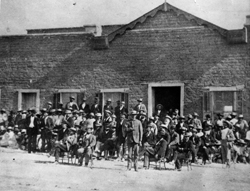 This site makes a page-by-page scan of the original handwritten manuscript, as well as a typed transcription. While the transcript records the answers of the prosecution and the defense witnesses, it does not show the questions they were asked. Nevertheless, these questions can sometimes be inferred from the statements the witnesses offered, particularly if one takes into account the probable paragraph breaks within the testimony.