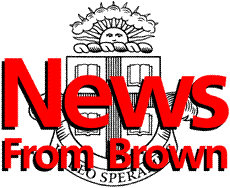 ---
The Brown University News Bureau
Contact: Mark Nickel

Brown President Vartan Gregorian named to head Carnegie Corporation
Vartan Gregorian, Brown's 16th president, will leave the University in July 1997 to become president of the Carnegie Corporation of New York. During his presidency, Gregorian successfully reendowed and enhanced the University's core academic activities of research, instruction and service.
PROVIDENCE, R.I. -- Vartan Gregorian, 16th president of Brown University, announced today that he will become president of the Carnegie Corporation of New York, one of the nation's largest and most prestigious grant-making foundations, in July. The Carnegie Board of Trustees will meet Thursday, January 9, to formalize the appointment.
Gregorian will continue his work at Brown through the current academic year and will assist the University during its search for his successor.
"The eight years of the Gregorian administration have been a time of tremendous rejuvenation for the University," said Brown Chancellor A. O. Way. "Our faculty, libraries and student body have achieved new levels of excellence and enjoy an unprecedented level of endowment support. President Gregorian has also instituted effective programs of strategic planning and resource management that have made Brown an efficient and well-run university. He leaves Brown a better and stronger institution."
Chancellor Way announced that he will chair the search committee for a new president. Names of committee members will be announced Friday, January 17.
In assuming the Carnegie presidency, Gregorian will return to New York City. Prior to his appointment at Brown, Gregorian was president of the New York Public Library and was widely credited with saving one of the city's and nation's most significant cultural and intellectual treasures. At Carnegie, Gregorian will lead a foundation with an endowment of more than $1.3 billion, dedicated to identifying and addressing critical social issues, such as education and international peace. In fiscal 1994-95, the Carnegie Corporation awarded 273 grants totaling $55 million.
"Members of the board join me in congratulating Vartan Gregorian wholeheartedly on his election as the Corporation's president," said Carnegie's chairman-elect Thomas Kean. "The twenty-first century will usher in dramatic new challenges for education and human resource development. It demands a leadership that will balance the needs for continuity and change in the Corporation's programs but that will also bring a fresh conceptual eye to the consideration of each. We are confident that Gregorian is the ideal choice for maintaining this balance."
"On behalf of the faculty, I thank Vartan Gregorian for all he has done and will continue to do for Brown and congratulate him on his new position as president of the Carnegie Corporation of New York," said William F. Wyatt Jr., professor of classics and chair of the Faculty Executive Committee at Brown. "He has been a great president and will leave Brown in excellent shape. We will miss him, his energy and his dedication, but we are delighted that he will continue his good work on a national scale - with strong Rhode Island ties."
Gregorian was chosen as Brown's 16th president in August 1988 and was sworn in on Jan. 11, 1989, succeeding Howard R. Swearer. He arrived at Brown with characteristic enthusiasm, declaring his intention to strengthen the faculty, expand support for the libraries and enhance the academic and intellectual experience of Brown students. During his tenure, Brown and Gregorian have:
enriched campus intellectual life. The President's Lecture Series has brought dozens of internationally acclaimed writers, artists and scholars to campus. Ten new lectureships have attracted additional distinguished scholars to campus for longer visits and interaction with students.


added new departments, centers and institutes. Eleven new academic departments were formed, and a variety of multidisciplinary centers and programs have been added, particularly for school reform, public service and outreach to minority scholars.


renewed the faculty. Two hundred and sixty-five new faculty members have taken positions at Brown. Seventy-two of Brown's most distinguished senior faculty have been appointed to endowed chairs. Twenty new endowed chairs are available to faculty at the assistant professor rank.


instituted the University Courses program. Brown's curriculum encourages students to become broadly educated by exploring all disciplinary areas. To that end, the College Curriculum Council identified and designated more than 270 undergraduate courses as University Courses, which share the common goal of introducing students not only to a particular subject matter but also to the distinctive ways of thinking and approaching knowledge that characterize different areas of scholarly inquiry. Brown's graduation requirement was also increased from 28 to 30 course credits.


recruited the most talented student body ever. The current first-year class was drawn from the largest applicant pool in the University's history -- 15,009 -- and is Brown's most highly rated group of young scholars.


increased diversity in the campus community. Brown's student body, drawn from every state in the Union and from 86 foreign countries, represents an ever-widening variety of racial, ethnic, religious, political, geographic and academic backgrounds. Twenty-nine percent of Brown students are minorities, 11 percent are international, 25 percent are children and grandchildren of Brown alumni and alumnae.


expanded the library. Brown students and faculty can now access an online catalog of library holdings from computers throughout campus. The library will celebrate acquisition of its three-millionth volume in the spring of 1997. A newly installed campuswide computer network makes the library and other information services available in dormitories, offices and classrooms.


expanded academic opportunity for students. The UTRA and Odyssey programs pair undergraduates with faculty in one-on-one relationships for research and scholarship. The WISE program has encouraged female students to explores the sciences through enhanced academic opportunities. The Royce Fellows program awards special research opportunities and stipends for the University's most outstanding young scholars.
In his inaugural address in April 1989, Gregorian explored themes of mutualism - the obligation all educational institutions have to support and improve the nation's ability to educate its youth. Excellence, Gregorian has frequently said, can never be the exclusive province of elite private institutions. Private institutions cannot succeed if public institutions, particularly primary and secondary schools, are allowed to fail. During Gregorian's presidency, Brown has:
established the Annenberg Institute for School Reform. The Annenberg Institute is a point of contact and coordination for a number of promising school-reform projects. It has worked with the Annenberg Foundation and Gregorian in deploying the $500-million Annenberg Challenge to the Nation, which supports school reform in major U.S. cities.


addressed the under-representation of minorities in the nation's professoriate. The Leadership Alliance, established by Gregorian early in his tenure and based at Brown, is a partnership of the Ivy League and other outstanding colleges with traditionally black colleges and universities, dedicated to increasing the presence of underrepresented minorities in the nation's colleges, graduate schools and faculties.


fostered programs of public service. Brown continues its leadership of the Campus Compact, an organization of more than 500 colleges and universities that facilitates community service and service-learning programs. The Venture Consortium, a Brown-based coalition of colleges and universities, provides students with a variety of experiences, from semesters away to teaching internships in the inner-city. This year Brown published a directory of more than 240 University-affiliated public-service initiatives in the Providence area.
Although Gregorian arrived at Brown saying he did not intend to become known as a fund-raising president, he established an admirable record for institutional advancement, reendowing the University and providing it with an unprecedented level of solid support. During his tenure, Gregorian and Brown have:
more than doubled Brown's endowment. The endowment, which stood at $373 million upon Gregorian's arrival, was valued at $803 million at the end of the fiscal year last June. Preliminary year-end estimates for 1996 set the endowment value at more than $850 million. (That figure does not include all pledges to the comprehensive campaign.)


successfully completed Brown's largest fund-raising campaign. Brown's five-year $450-million Campaign for the Rising Generation passed its goal in May 1995, six months early. Gregorian announced a six-month extension to fund remaining priorities, and the campaign closed in June 1996 at $534 million - 118 percent of the goal. Total fund raising during Gregorian's tenure totaled more than $600 million.


renovated much of the physical plant. Brown has invested approximately $100 million in renovations and deferred maintenance. Most dormitories and dining facilities have been extensively renovated, as have the Brown Bookstore, the Faunce House student center, the Dill Center for the Performing Arts and other public spaces.


doubled the undergraduate scholarship budget. From $12 million in 1988-89, the budget reached $24 million for the current academic year. The scholarship endowment has also doubled. The University's total scholarship budget for students at all levels reached $33.5 million, an all-time high.
"I have found Brown University to be an institution of surprising breadth and extraordinary quality," Gregorian said. "During our years here, Clare and I have found the Brown faculty, students and staff to be a constant source of delight and intellectual stimulation. And while leaving such an extraordinary place will not be easy, I firmly believe that Brown is ready to enter the twenty-first century with confidence, determination, vigor and optimism."

######
96-060

Related documents available from the News Bureau:

96-060a -- Biographical information about Vartan Gregorian
96-060b -- Accomplishments of the Gregorian administration
96-060c -- Statement by Brown Chancellor Alva O. Way
96-060d -- Historical timeline of the Gregorian years