---
Posted at Sep 09/2008 12:51PM:
tom leppard: Just so you all know; my office hours are now at 11am to 1pm on Fridays. Office is the 2nd Floor Graduate Office in the Joukowsky Institute (70 Waterman St) - go to the end of the corridor and take a right...
- Tom
---
Posted at Sep 11/2008 11:45AM:
tleppard: FYI - all of Tilley 2004 is now uploaded. - tpl
---
Posted at Sep 15/2008 04:29PM:
sarah baker: http://www.youtube.com/watch?v=olqVWrkc0ds
I was curious about the construction of Stonehenge; this was one thing that turned up in my search.
---
Posted at Sep 15/2008 04:50PM:
chris witmore: Here are some sample projects for how we might deal with the things: [link] If this link is broken, try this one: [link]
---
Posted at Sep 17/2008 08:36PM:
tleppard: Shanks in CAJ (reading for next week) should be up and legible... - tpl
---
Posted at Sep 20/2008 05:49PM:
Ben Winkler: tom i'm having trouble finding the Shanks article - where did you post it?
---
Alexandra Ulmer: A long-lost medieval Jewish capital has just been unearthed!
http://news.yahoo.com/story//ap/20080920/ap_on_re_eu/russia_lost_capital
---
Posted at Sep 21/2008 08:00PM:
chris witmore: More on Stonehenge: http://news.bbc.co.uk/2/hi/science/nature/7625145.stm
---
Posted at Sep 21/2008 08:05PM:
chris witmore: Hi Ben, the Shanks article is in the private class forum. Here: [link]
---
Posted at Sep 21/2008 08:17PM:
Alexander Sayer Gard-Murray: Better dating of Stonehenge and a theory that it was a 'center of healing': http://news.bbc.co.uk/2/hi/science/nature/7625145.stm
---
Posted at Sep 29/2008 08:11PM:
sarah baker: The following quote was on our slide list in Contemporary Architecture today...very interesting in light of Latour's thesis:
"My implication is that we ourselves, the human subjects who happen into this new space, have not kept pace with that evolution; there has been a mutation in the object unaccompanied as yet by any equivalent mutation in the subject...the newer architecture...stands as something like an imperative to grow new organs, to expand our sensorium and our body to some new, yet unimaginable, perhaps ultimately impossible, dimensions."
~ Frederic Jameson, "Postmodernism or the Cultural Logic of Late Capitalism" (1991); quoted from Neil Leach, "Rethinking Architecture (Routledge, 1997).
---
Posted at Sep 30/2008 09:06PM:
cw: We took this panorama of Acrocorinth this past summer :: http://gigapan.org/viewGigapan.php?id=7828
---
Posted at Oct 01/2008 03:52PM:
tleppard: Watermill readings are up...
---
sarah baker: Very interesting sculptural suggestion of a mill in Parc de la Villette in Paris (Designed by Bernard Tschumi):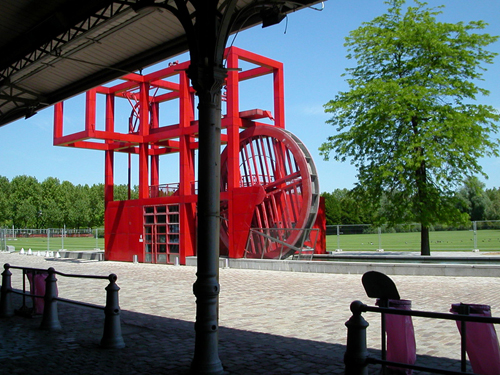 Lovely Sarah. I am a big fan of Tschumi's work. cw
---
Posted at Oct 15/2008 02:48PM:
Ben Winkler: interesting link to a site that lists several artists who incorporate maps into their work in various ways - MapArtists
---
Posted at Oct 15/2008 03:28PM:
tleppard: Turnbull is up....
---
Posted at Oct 24/2008 10:06PM:
mark: can anyone provide some help on how to best post video clips to the wiki? Specifically, I am referring to clips that I have made. I posted some as quicktime files, but would like to have a more direct interface for readers of my page.
---
Posted at Oct 25/2008 12:57AM:
Tom: Reading breakdown for next week is now posted on the schedule page.
---
Posted at Oct 27/2008 11:14AM:
chris witmore: Hey Mark, Don't attach them as a file. We can, in fact, embed videos in a few different ways. All are time consuming and involve uploading the file to a streaming server. However, the best way may simply be to upload the video to YouTube and add in a hyperlink through an image of the video in the wiki.
---
Posted at Oct 27/2008 05:28PM:
caroline: A neat little tidbit: One of my favorite buildings in Chicago, the Auditorium Building, still uses lightbulbs that are replicas of the original bulbs used when the theatre opened in 1889. http://auditoriumtheatre.org/wb/pages/home/education/chicagos-landmark-stage/art-architecture.php If you click on the interior interactive tour, you can see how the 3500 electric lights illuminate the space, and you can see a closeup of the bulb itself.
---
sarah baker: In The City (URBN0210) we were assigned a relevant article this week. The author is John Urry, and the title is "The System of Automobility". He explores the car as a gathering of things. The article/author might be relevant if your project is at all related to mobility. It's also another good example of how to unpack a thing. The abstract and full article download are available at the following link:
http://tcs.sagepub.com/cgi/content/abstract/21/4-5/25
He explores the concept of "automobility" and demonstrates how the gathering of social and technical aspects of a car make the thing "immensely flexible and wholly coercive." He also explores the possibility of a "post-car" society.
---
Posted at Oct 28/2008 10:33PM:
chris witmore: The fate of Topsy the Elephant: http://www.wired.com/science/discoveries/news/2008/01/dayintech_0104
---
Posted at Oct 28/2008 11:56PM:
Emma Whitford: I just thought of Invisible Man, and the underground apartment he creates with light bulbs on floor and ceiling. In his isolation he craves the stark illumination. Also, his power over electricity is his act of defiance against the city and its system. He exists off of the city's resources, takes advantage of them anonymously. Take without any give, so to speak.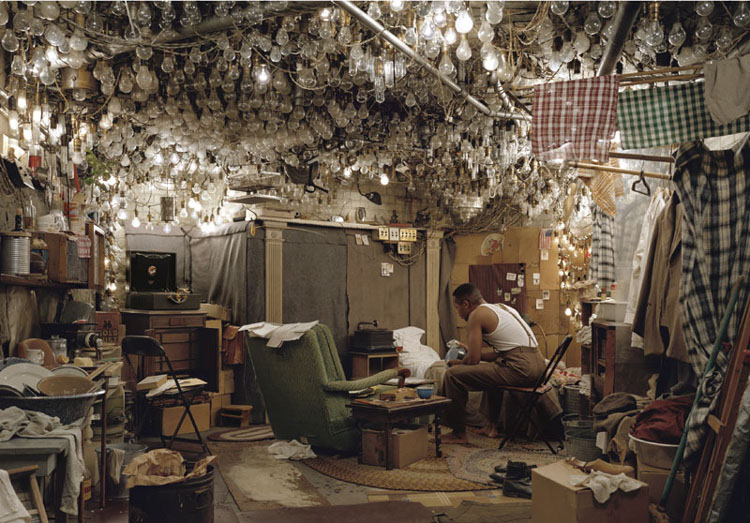 ---
Posted at Oct 29/2008 12:41AM:
Emma Whitford: Jeff Wall photograph entitled After 'Invisible Man'
"Writers have it very easy," Wall says. "They have the pleasure of imagining these scenes. Working on that picture, I really learned about what Ellison's 1,369 lightbulbs means. You can only have a few on at a time. I got to know that room as well as the Invisible Man would have, had he existed." --Melissa Denes interview, 2005
-->The photo shows 1,369 lightbulbs
---
Posted at Nov 02/2008 11:57PM:
sarah baker: I think it's interesting that there are three things on the list of final projects that cannot be held in human hands.
mark: Thanks Sarah, but now make it four. In remembrance of map week my project is trying a new identity.