Because the Providence Phoenix is free and readily available, it is inevitable that each issue seeps into the urban landscape of Providence over the course of each week. Just as there is no argument against picking an issue up from the newsstand, there is no argument against leaving that same issue on a table in a cafe or on a bus seat. Issues of the Phoenix lack monetary value, and are therefore seldom claimed as personal possessions. Constantly in transit, they pass from one individual to the next and often change form and function along the way. While one person may use his copy of the Phoenix to check movie listings, the next may use it to protect his hair from rain, or mop up spilled coffee, or wrap up a fragile vas that is being shipped across the country. Maybe a particular photograph will be clipped out of the paper and hung on a bulletin board as decoration. Over the course of its journey a particular copy of the Phoenix may lose some of its pull-out sections, or may be reduced to a few crumpled pages on the side of the road. Because it is made of thin, recycled paper and is folded rather than bound, it is highly unlikely that a single copy of the Phoenix will survive a complete seven-day cycle in its original form.
The Phoenix in print is in stark contrast to the Phoenix online, which can only serve the specific task assigned to it by the newspaper--that of being viewed and used as a source of information. By restricting its interactions to those which its editors intend, the Phoenix online plays a much smaller role in the greater system of human-thing interactions. It excludes individuals who do not interact with the Phoenix by folding and crumpling it, by sweeping with it and packing it into boxes. However, the Phoenix online has the unique capability of reaching beyond the paper's radius of distribution. It makes Phoenix-as-news-source available to readers worldwide.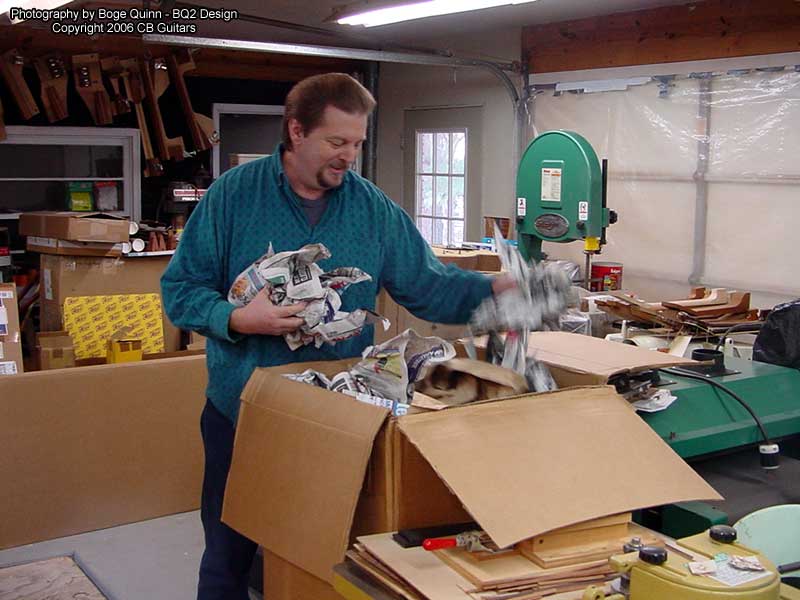 Man packing a CB Guitar (copyright 2006) (link)
---
Back to From the morning commute to the midnight study break: How and where does one absorb the Phoenix?