Discussion points
In his 1978 lecture, Foucault talks about biopower as a "set of mechanisms through which the basic biological features of the human species become the object of a political strategy, of a general strategy of power..." Let's unpack his understanding of power in general and biopower specifically. He is not so much interested in what power is, but more on the mechanisms of power intrinsic to all kinds (genres) of relationships such as familial, sexual, or production-based. What does he mean by this? What is surveillance and how is it integrated in the techniques of everyday power and governmentality? A striking example of subjection of bodies to state violence that Foucault mentions is the public execution of "guilty" individuals as a 'corrective and disciplinary technique" which has been extensively used in various countries in the first half of 20th c. In what may sound rather inhumane and gruesome today, public hangings were carried out as a public spectacle in the 1930s.
Foucault's discussion of "disciplinary space" or "milieu" (I prefer to call the realms of everyday living) is interesting for thinking about the disciplining of the body, and thinking about the body and its space as target sites for the intervention of disciplinary power. This we can discuss in relation to the performing agency of individual bodies, which then encounters the disciplinary power in much larger scale as a limiting and restricting force applied to a population. Can we elaborate on the nature of this intervention of disciplinary power of security and the creation of embodied subjects where that embodiment involves military, educational, hygienic, boy and girl scout, athletic training?
Here is the difficult part: reading Zainab Bahrani's chapter on Teumman's severed head, is it possible to link her work to Foucault's biopolitics- how does the representational space of the Assyrian war narratives of Til-Tuba work as technology of representation for performing the state discourse of disciplinary power?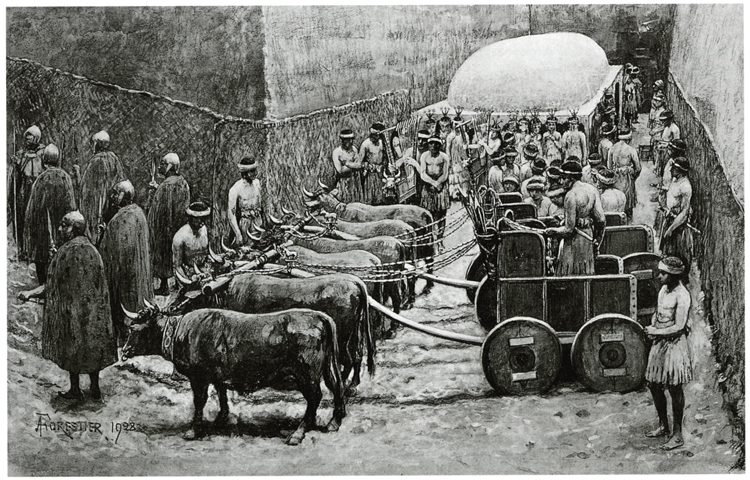 Reconstruction of funerary ceremony scene in the PG 789 at Ur, depicting so-called "royal retainers" just before their death. London News June 23, 1928.